Readers' Letters: Duke wasn't perfect but Harvie got it wrong
Who does Patrick Harvie think he is anyway? What a mealy mouthed "tribute" he made on the death of Prince Philip, who stood for those most unfashionable concepts of "duty" and "service" over a period of 80-plus years?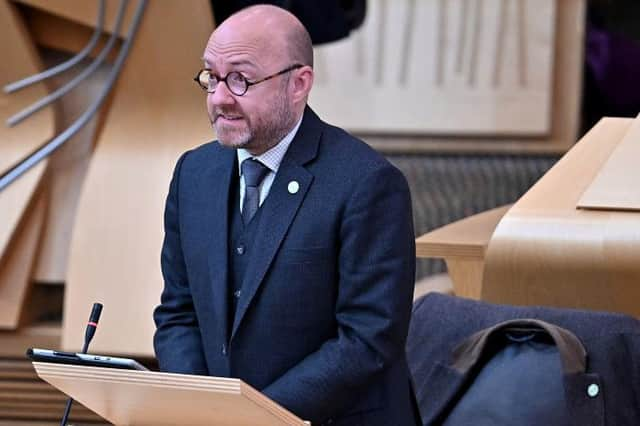 Patrick Harvie during the motion of condolence for The Duke of Edinburgh yesterday (Photo by Jeff J Mitchell/Getty Images)
Has Mr Harvie supported a major public figure – the Head of State – throughout his life without seeking the limelight himself and without making any gaffes? Or founded a movement for young people as widespread and formative as the Duke of Edinburgh's Award when it comes to getting young people active and out into the environment?
Yes, Prince Philip was a man of his time and made a number of remarks outrageous by today's standards, but Mr Harvie might find it difficult to adapt to today's world if he had been born 100 years ago, seen active service fighting against that tyrant Hitler, and lived through the immense changes unimaginable in 1951, let alone 1921.
Rather than sniping on the sidelines having been an MSP for just few years, Patrick Harvie needs a bit of perspective and imagination, even if he regards respect in public service for figures – who cannot answer back – as absurdly old-hat.
Rosemary Macrae, Buchanan Gardens, St Andrews
The Scottish tourist industry, which is valued at £10.5 billion per annum, depends mostly on holidaymakers from England, but thanks to the SNP government it is still illegal to travel for vacations across the Border. The SNP administration is damaging our tourist industry. Covid-19 rates are low and vaccination rates are high. They have made it illegal to travel to England to meet friends and relatives. Is this for health reasons or political reasons? Is it not an abuse of power and a signal of what life would be like in a nationalist Scotland?
There are no restrictions in place for travel into or out of Wales as long as you are travelling within the UK, Ireland, the Isle of Man or the Channel Islands.
Does Ms Sturgeon want to continue this hard border between Scotland and England as long as she can? Isn't this just another example of the SNP trying to divide Scotland from England where no division is necessary or advisable?
William Loneskie, Justice Park, Oxton, Lauder
Richard Allison criticises the Scottish Government over acknowledged mistakes in care homes (Letters, 12 April). Lost now in the mists of time is the pressure exerted on the government by the Conservatives and Labour to get elderly patients out of the hospitals to free up space for the expected influx of Covid patients. With lessons learned, the strategy to give top priority to the vaccination of residents and staff in care homes, has saved lives.
Gill Turner, Derby Street, Edinburgh
Ewen Peters is right that major changes are needed for Scotland to prosper but those will only be possible with the full powers of an independent nation (Letters, 12 April).
The report commissioned by Sir Tom Hunter's foundation recommends a wellbeing approach to economic development, which at its heart is about reducing poverty, restructuring the tax system to benefit all and not a wealthy few, investing in renewables and attracting immigrants. It is also sharply critical of the devastating impact that Brexit is having on Scotland's economy and estimates "GDP in Scotland and the UK as a whole will, by 2030, be 3 per cent lower than it would have been without Brexit." And the report rejects fears that spending for productive purposes will worsen future debt burdens, because such investment multiplies a nation's wealth.
Remaining part of the UK means Scotland won't have the powers to enact the transformational change required to prosper in a post-Covid world and address the existential threat posed by climate change. It also means more nuclear weapons, being cut off from our largest market and enduring the lowest state pension in the OECD.
There is no reason Scotland can't be like Denmark, Norway or Iceland, independent nations that consistently outperform the UK economically. But we first must break away from a Union that is failing us.
Leah Gunn Barrett, Merchiston Crescent, Edinburgh
Some years ago we were holidaying just south of Annecy in France, when I came across a French farmer, with excellent English. Talk turned to the constitutional questions then raging – the Basque experiment and the referendum in Scotland. My new friend then told me of the position in France. Apparently in the mid-1860s the semi independent regions of France – the Dukes of Savoi, the Dukes of Burgundy and of Breton - all agreed to join this new concept – France – and to reduce the taxation system which had endured for many years. They were promised a referendum in "100 years" to decide the future. Such was the success of the socialist republic of France that no one wanted to even consider a break up into small, independent, poverty-stricken states – as they would have been, according to French economist Thomas Piketty.
That then raises the question in Scotland – what are the precise details of the proposed fiscal model within the newly independent state, if that were ever to happen? Models from the small Scandinavian countries show stable mature economies but with much much higher taxation – try buying alcohol in Denmark or Norway – with breathtaking results. Again from Piketty, "other states, such as Denmark, finance all social spending with an enormous income tax", with the disclaimer of "be careful what you wish for, it may be expensive",
The professional economists are doubtful that we could manage on our own without swingeing increases in taxation – what we need from all parties (and sooner, rather than later) is an economic forecast for their vision of our future without Barnett consequentials and bearing some of the national debt which has helped us all through the pandemic. Remember France – it works as a cohesive nation with large "departements" having control over local matters.
Come on politicians, the economy matters so tell us the truth.
(Dr) Alan Naylor, Rullion Road, Penicuik
You can always rely on Henry McLeish to undermine his own side ("Scottish Labour and Anas Sarwar should back IndyRef2", Perspective, 12 April). That particular issue is the agenda of another political party. If the Labour Party in Scotland want to recover their previous position, they need to look like and sound like the Labour Party, and have their own distinctive policies. They need to set their own agenda. They cannot out-SNP the SNP.
We have seen the polls this weekend that say that fewer than one person in five sees IndyRef2 as a priority. People want to prioritise the economy, the health service and recovery after Covid. For the Labour Party, this should be a similar opportunity to that which presented itself after the Second World War. If they look like a credible party that can invest and rebuild, people will support them.
Anas Sarwar needs to work with his colleagues at a UK level and develop a big, bold common policy agenda that people can buy in to. They can be a bit more Scottish if they want to be, but ultimately, the Labour Party are supposed to believe that you are stronger if you work together. They are supposed to understand the value of a Union. If Mr McLeish wants us to be an independent country, why doesn't he just come out and say that?
Victor Clements, Aberfeldy, Perthshire
Anas Sarwar should heed the plea of Henry McLeish that the Labour Party in Scotland should abandon its blanket opposition to constitutional change.
One can understand Labour's initial abhorrence of anything espoused by the SNP after that party had the effrontery to replace it in government in Scotland, but that was a while ago now and Labour might at least consider what powers it would need to usher in the "more equitable society" it has been going on about for the last 150 years or so, if that is what it sincerely desires.
A Labour Government in Westminster cannot be guaranteed to realise the dream, as the Blair administration and the recent rejection of the Corbynistas has shown.For those sceptical of both the workers' paradise and independence the Conservative and Unionist Party, of course, continues to offer a secure home.
S Beck, Craigleith Drive, Edinburgh
I haven't noticed any of the correspondents who write in to criticise wind turbines complain about their own petrol or diesel vehicles shortening peoples' lives, or how said vehicles spoil the view. It is also utterly wrong of Geoff Moore (Letters, 10 April) to claim that the SNP promotion of hydrogen is a pipe dream. Hydrogen is already being used to supplement the gas we use because it makes it easier to light. Transport of energy by hydrogen is far cheaper than either by methane or electricity, and it is economic even to thread hydrogen pipes through the existing natural gas network. Conversion efficiencies are rising all the time.Now is the time to plan for the massive use of hydrogen to reduce carbon dioxide to methane. This way Scotland can not only become carbon neutral, but a net methane exporter.Carbon capture and storage is a dangerous waste of time as any large leak would quickly asphyxiate a significant area, whether on land or under the sea, due to the invisible, dense carbon dioxide clinging to the surface near any leak.
Henryk Belda, Kirkton Bank, Penicuik
We welcome your thoughts. Write to [email protected] including name, address and phone number. Keep letters under 300 words, with no attachments, and avoid Letters to the Editor in your subject line.
A message from the Editor
Thank you for reading this article. We're more reliant on your support than ever as the shift in consumer habits brought about by coronavirus impacts our advertisers.
If you haven't already, please consider supporting our trusted, fact-checked journalism by taking out a digital subscription.
Want to join the conversation? Please or to comment on this article.