Readers' Letters: Don't rewrite history, explain it
Any public committee set up to examine aspects of our history and the statues, monuments and street names associated with it is bound to attract controversy.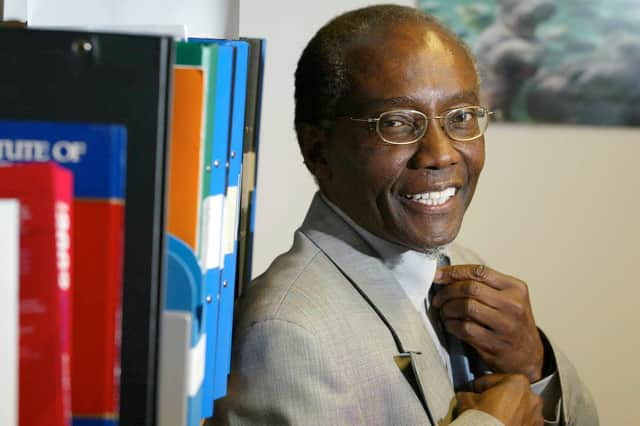 I'm bound to say that the Edinburgh Slavery and Colonialism Legacy Review Group – to be chaired by Sir Geoff Palmer – does have a distinctly Orwellian ring (your report, 12 November). The issues involved, particularly around the Melville monument in St Andrew Square, were explored in an excellent recent BBC documentary. Edinburgh Council does seem to support the broad thrust of Professor Palmer's argument that such structures glorify the era of slavery. Yet I hope the authority, and indeed, Scotland's first black professor, will be sensitive to the view that history should not be rewritten but constantly explained.
The feud about the Melville monument is an interesting case in point. Was the monument erected to celebrate the former Home Secretary's role in prolonging slavery in the early 19th century? Or was it erected to acknowledge his contribution to public life in Scotland?
Further, I do not doubt that the Merchant City in Glasgow, and much of Edinburgh's New Town, were financed partly by the proceeds of slavery. That is different to the notion that they were in some way designed to glorify it. Who knows what was going on in the minds of those who wanted the statues and buildings put up?
But it is too simplistic to say that they are somehow symbols of the dreadful institution. The setting up of the Review Group should be seen as opportunity to explain not just history but what motivated public men and women to create the symbols in the first place. It would be tragic if it turned into a wholesale effort to expunge records of who we are, how we behaved and what mistakes were made over the centuries.
Bob Taylor, Shiel Court, Glenrothes
Victor Clements (Letters, November 12) prefers to take advice on a future independence vote from a former Tory PM, the one who back in 1991 dreamed up GERS (Government Expenditure and Revenue Scotland), an accounting system specifically designed to show that Scotland can never be in a financial position to restore its independence. GERS was never intended to show an accurate picture of Scotland's finances because if it did, it would be abundantly clear that Scotland is plenty rich enough to go it alone.
So why on earth would Scotland allow the Tories to dictate the terms of our departure from the Union? In true Trumpian fashion, they would use every trick in their playbook to game the second confirmatory vote by making a departure settlement as punitive and unfair as possible.
When Scots decide to restore their nationhood, it should be decided in one clean vote, and then be up to Scotland to negotiate the divorce settlement. We want to be on good terms with our English neighbour and the Westminster government should want the same, especially since it appears to have burned so many bridges with our erstwhile European partners.
In the meantime, beware of Tories bearing gifts.
Leah Gunn Barrett, Merchiston Crescent, Edinburgh
The Scotsman of November 8 carries an article highlighting the drug problem in Scotland and one man's attempt to raise and tackle some of the issues around this problem.
Obviously, there is no easy solution for our drug problem or single reason why individuals resort to drugs, but the fact that we have a problem should be enough to warrant a great deal more effort to understand their individual route into dependency.
Within the article on the efforts by Peter Krykant there were also short outlines of some of the addicts using the facility and the hopelessness of their current life. But there are examples of individuals who have overcome their chaotic early life and I was fortunate to have met one when walking up Kilimanjaro a few years ago.
Tom, as I shall call him, is one of those larger than life characters. He was accompanied by a friend and, as we chatted, he told me of his early life of care homes followed by umpteen failed foster home experiences.
However, the Kilimanjaro Tom was not a failed or hopeless person; in fact he was positive and determined to make the most of his life and to conquer the mountain. He had found somewhere that gave him stability, purpose and friendship, which for him was army life and a strong woman to make a life with, but the point is that he did finally find that stability lacking from his earlier life.
Tom made it to the top but unfortunately his companion had to give up just prior to the final push to the top after guiding him every step on the way. Tom had been blinded in the field and walked the mountain with his hand on a shoulder and a voice to guide his steps. He is surely an inspiration to those faced with chaotic lifestyles right now and hopefully a lesson to all of the agencies charged with supporting those impacted by chaotic lifestyles.
It is an accepted fact within social services that those most likely to drift into a life of hopelessness can be identified from an early age and are likely to be those who end up on drugs, in prison and generally adrift from society.
Given that we can, in general, identify those most likely to be a problem to society from early childhood it follows that society is also being failed by agencies charged with supporting those in need.
These failings need to be investigated as a matter of priority rather than allowed to drift because "we have always done it this way".
Tony Lewis, Parklands, Coylton, Ayrshire
I am in considerable doubt as to how a two-tier referendum would work in practice. The concept seems to be that if the first vote went in favour of independence that would be countermanded if the second, on the terms of withdrawal, went the other way. This would encourage the UK Government (as it would still be) to make its terms as harsh as it could. Indeed, it could insist on terms which no Scottish Government could agree to, thereby ensuring no second vote would be held, thus preventing implementation of the first vote ad infinitum.Also, as the terms of any agreement would affect rUK as much as Scotland, it would seem equitable for the second referendum to be UK-wide, thus bringing a whole lot of other factors into play. For instance in England some, the heirs of Edward I, see Scotlandshire as an integral part of England, while, in Northern Ireland, unionists would seek to stymie independence but Irish nationalists welcome it. All without regard to the merits or otherwise of the terms of the agreement.
In short a two-tier referendum could come to naught in a morass of argument about process. Would it be too cynical to wonder if that might be the point of the proposal?
S Beck, Craigleith Drive, Edinburgh
After watching Nicola Sturgeon on TV urging Donald Trump to accept the result of the recent US election, I had to check that I wasn't being fooled by Janey Godley's latest lampoon. Nope, she really did urge him to accept the result of a vote. I thought it was supposed to be Americans that do not understand irony, but it seems our First Minister has the same problem. Perhaps she is more like Donald Trump than she realises.
Ken Currie, Liberton Drive, Edinburgh
It was a new low, even for Extinction Rebellion. To desecrate the Cenotaph as we remember the dead of two world wars was despicable.
The irony is that without the sacrifice of so many of the mostly young lives we commemorate, these brave eco-warriors of 2020 would be unable to protest freely.
Alexander McKay, New Cut Rigg, Edinburgh
On Remembrance Day Extinction Rebellion activists trampled over tributes laid at the Cenotaph to erect a Climate Change banner. This is shocking, but equally shocking is the lack of action by the police for two hours in removing the banner and their failure to arrest those involved.
The latest Climate Policy Initiative report discloses that coal, oil and gas continue to supply 85 per cent of the world's energy needs so why do XR not target the oil and gas rich countries of China, Saudi Arabia, the Islamic Republic of Iran, Russia, Nigeria, Angola, Algeria, Libya, Egypt and many others? XR supporters are cowards.
Clark Cross, Springfield Road, Linlithgow
The news that scientists have concluded the motives for the three rogue killer whales – known as the Gladis Gang – attacking boats off the coast of Iberia this year is depressing for those with an idealised view of nature.The likely reason isn't revenge for injuries from ship collisions, or to keep boats away from tuna shoals, but adolescents vandalising ship's rudders "for a laugh" – sea neds having a whale of a time orca-strating reducing sailors to nervous wrecks.
When Orcas need ASBOs, you know evolution's in reverse. It would come as no surprise if the sonar recordings of their clicks and whistles to one another translated from Orca-speak to "Gladis Fleet, we are here, eat your tuna, drink your beer!"
Mark Boyle, Linn Park Gardens, Johnstone, Renfrewshire
Despite keeping a regular watch on the continually emerging lexicon of the coronavirus-infected society in which we now live, I have still to spot the first use of the term "third wave". By dint of publishing this letter you will bring my long wait to a close, and I can stop worrying about such trivial matters.
Andy Davey, St Andrews Road, Peebles
We welcome your thoughts. Write to [email protected] including name, address and phone number. Keep letters under 300 words, with no attachments, and avoid Letters to the Editor in your subject line.
A message from the Editor
Thank you for reading this article. We're more reliant on your support than ever as the shift in consumer habits brought about by coronavirus impacts our advertisers.
If you haven't already, please consider supporting our trusted, fact-checked journalism by taking out a digital subscription.
Comments
 0 comments
Want to join the conversation? Please or to comment on this article.