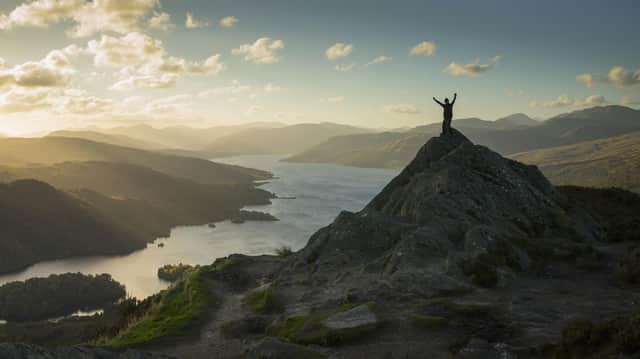 Should Covid rule-breakers be left to enjoy the scenery? (Picture: VisitScotland)
Why didn't the police just tell him there are no wild animals on the island, he was in no danger, and, to make things friendly, finish with 'Have a nice day'!! Why was he not charged for breaking lockdown rules, for driving from England without a reasonable excuse, prosecuted, and charged the cost of bringing out the lifeboat? It might, just MIGHT, have made him think in future…but with lamebrains like him, I doubt it. If law-abiding people read much more of this flagrant law-breaking they might start to get tetchy and break a few rules. I'm willing to bet the authorities might not be so lenient to them.
Vivienne Stirling, Craigs Grove, Edinburgh
This morning, I received through the letterbox a miscellany of pre-election pamphlets from all the leading Scottish political parties. The pamphleteers had all included the usual vitriolic castigation of each other by rival parties but one pamphlet from the Conservative and Unionist Party exceeded all others in negativity by giving explicit advice on "How to stop another independence referendum". The whole focus of their pamphlet was, surprisingly, not why I should vote Conservative but how I should vote in order to prevent another referendum on Scottish independence. I may be naive but I was under the impression a referendum was a means of putting a question to the electorate to establish its opinion on a possibly vexatious or contentious subject and was, in effect, an official opinion poll. It seems strange, even ominous, the Conservatives should be so anxious to prevent such a poll from being held and in the process, to gag public opinion. Are they afraid of the possible result?
During the recent televised debate on the forthcoming elections, and participated in by nearly all the leading parties, the Conservative leader Douglas Ross quite cynically avoided answering any questions on any subject whatsoever without turning the question around to the matter of the SNP's promise to hold a referendum. He did this so often and with such persistence that eventually, all the other participants, as one, rounded on him and demanded he answered at least one question without deviation. In all my life, I have never seen such a display of unanimity among politicians!
Nicola Sturgeon has frequently been criticised for "banging on about independence" but I suggest that if the Conservatives persist in "banging on" about stopping the referendum, they will only gain a reputation for trying to undermine democracy in this country to an even greater degree than has Vladimir Putin in Russia and in the process, they could bring about the break-up of the United Kingdom more speedily than the SNP could ever hope to do.
Robin Whike, Craigmount Park, Edinburgh
The suggestion that the Audit Scotland report (March 2021) "does not make pretty reading" for the Scottish Government (J B Gorrie, Letters, 9 April) is not borne out on actually reading the report. The report found much to commend, with those "involved in planning, delivering and supporting school education... working well together prior to the pandemic" and an "increase in the types of opportunities, awards and qualifications available to children and young people". The disruption due to the pandemic had "reinforced the importance [of various] sectors working together".
There are also the PISA reports. These three-yearly assessments of representative samples of 15-year-olds show that the four UK nations perform at a very similar level across the subjects assessed. In the most recent report (2018), Scotland had slipped a little in science but improved in reading, where the gap between best and worst had narrowed despite a good "best" performance. Overall the four nations do very similarly, coming just above the OECD average and close to other North European countries, Australia, New Zealand and the US. Education here is not a "mess" as claimed by Mr Gorrie.
Education, as the Audit Scotland report notes, is "not just about exam results". Access also matters and Scotland manages to offer university education without the £9,000 p/a fees charged in England and Wales. This, coupled with the further development of nursery education and upgrading of schools in the Edinburgh area, shows that progress should be set to continue.
Bill McKinlay, Cockburn Crescent, Balerno
I agree with Colin Oliver (Letters, 9 April) that the Not Proven verdict is a sensible one, but not for the reason he gave. He said that, in contrast to the Guilty verdict, it should mean that the person could at no point be free and should always expect to be re-tried. The fact is that the Not Proven verdict has the same effect in law as a verdict of Guilty. In both cases the person is free of the double jeopardy of being tried again for the same offence, except in the very exceptional case where new and compelling evidence is found which was not, and could not, have been made available at his trial.
It does have a value, however, which distinguishes it from the verdict of Not Guilty. Juries cannot give reasons for their decision. But the Not Proven verdict does enable a jury to indicate, for example, that they wish to make it clear that they believed the complainer but were unable to convict according to the law because their evidence was not corroborated. That can happen in a trial for sexual offences where the jury finds the accused not guilty on all other charges which were brought to corroborate the main charge on the indictment. In such a case a jury may well feel that, despite the fact that Not Proven has the same effect in law, it would not be right to give the accused the benefit of a Not guilty verdict on that charge.
Like Colin Oliver, therefore, I suggest that those who argue for the Not Proven verdict to be abolished should reflect on its advantages.
David Hope, India Street, Edinburgh
I am most grateful to J Lindsay Walls (Letters, 8 April) for a lucid explanation of the nuanced logistics of D'hondt regional vote counting, which is at least an attempt to redress the imbalance inherent in the more familiar First Past the Post system for constituency voting. However, the mathematical complexity of the former has more in common with rocket science than with a 19th-century Belgian professor of civil law. Forget the sums. The bottom line for your regional vote is, whatever else you do, D'hond't vote for the candidate but for the party; thus ensuring that Alex Salmond, who no doubt tops the Alba regional list, will once again be strutting the Holyrood corridors of power after 6t May.
(Dr) S R Wild, Alnwickhill Road, Edinburgh
I'm very angry that so many of our public services have been sold off, both in Scotland and England, by the Tories and the SNP: council housing, the NHS, the Royal Mail, parks, forests, blood plasma services, mental health services, energy companies, trains – the list goes on and on. These things belonged to all of us; we are being robbed. There are more subtle thefts, such as money "stolen" from local councils. For example Aberdeen City Council can't operate its bulk uplift collection properly, leading to massive fly tipping problems. In Edinburgh public spaces are "stolen" from local people by kowtowing to companies like Underbelly.
Is it time to stop voting for parties that support profiteers and parasites?
Anne Wimberley, Belmont Road, Edinburgh
The SNP is set to announce that it is focusing on hydrogen as part of its decarbonisation plan. Currently, virtually all industrial hydrogen comes from fossil fuel, but perhaps they are planning to use renewable electricity for electrolysis. A massive problem with electrolysis is energy losses during the chain of energy conversions from electricity leaving an electrical generator to the final use of the hydrogen. Research papers suggest that the energy losses would likely be up to 66 per cent, and the public would need to pay for this wasted energy. Further, hydrogen has a low energy content by volume so must be highly compressed. And any metal in the storage container would suffer embrittlement due to the metal absorbing hydrogen atoms. Lastly, hydrogen is arguably more dangerous than normal flammable gas, particularly in enclosed spaces. It is more likely to reach ignition sources, more likely to ignite, and the blast pressure is considerably higher. It burns with an invisible flame.
The so-called hydrogen economy is just a pipe dream.
Geoff Moore, Alness, Highland
Now we have free breakfasts and lunches for schoolchildren. What will Nicola Sturgeon offer next week? Most parties come out with their fantasy offerings just before elections but these are akin to handing out sweeties.
Most SNP voters will believe anything the First Minister says, ignoring the evidence of what has failed to be delivered in the past. All Westminster's fault of course.
Derek Sharp, Davidson Road, Edinburgh
One notes with disgust the Official Monster Raving Loony Party now opposes Low Traffic Neighbourhoods, or LTNs, claiming they're the work of "Green zealots who don't give a damn about pollution if they can shift it from middle-class enclaves".Do they realise Screaming Lord Sutch pioneered such schemes, starting with the campaign to pedestrianise Carnaby Street?
Mark Boyle, Linn Park Gardens, Johnstone
We welcome your thoughts. Write to [email protected] including name, address and phone number. Keep letters under 300 words, with no attachments, and avoid Letters to the Editor in your subject line.
A message from the Editor
Thank you for reading this article. We're more reliant on your support than ever as the shift in consumer habits brought about by coronavirus impacts our advertisers.
If you haven't already, please consider supporting our trusted, fact-checked journalism by taking out a digital subscription.