Readers Letters: COP26 can't be just talking shop
Twenty-five years of COPs conferences have shown little progress.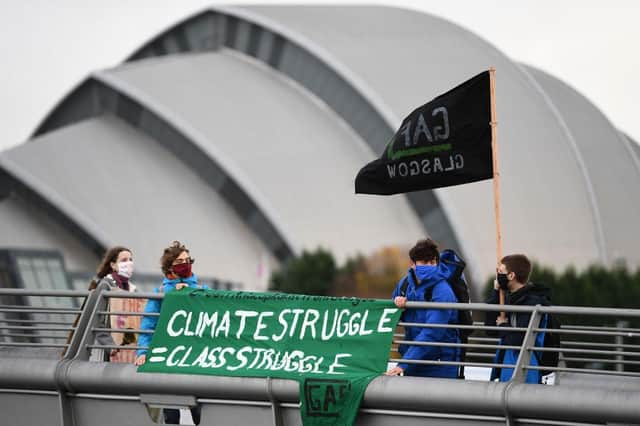 The Paris conference, COP21, in 2015 was hailed a success but it was a devious sleight-of-hand since the sum of the promises given by countries put the world on track for a catastrophic 3 to 4C rise in warming rather than the 1.5C deemed essential to "save the planet".
It gets worse – 125 countries failed to present tougher emission reduction targets to the UN Intergovernmental Panel on Climate Change (IPCC) by the deadline of December 31 2020. As could be expected, China was one of these countries. The 70 countries which complied are responsible for just 28 per cent of the world's emissions. If the 125 countries do not come up with legally binding plans, that together with the other 70 countries, show that their emissions are projected to drop to a level that will ensure a warming rise of only 1.5 to 2.0C, then COP26 will be yet another talking shop and should be cancelled.
I used to support federalism for the UK (Galen Milne, Letters, January 31) until I read Matthew Parris's column ("Don't wreck England just to foil Sturgeon") in the Times of January 30. England is too big to be an equal partner in a federalised structure and there is no appetite for breaking up England into Scotland-sized autonomous provinces. Parris says it doesn't work in Spain and it won't work here.
Steuart Campbell, Dovecot Loan, Edinburgh
In delivering her budget last week at Holyrood, Cabinet Secretary for Finance Kate Forbes also delivered a kick in the teeth to Scottish young house buyers by scrapping the "Help to Buy" scheme with immediate effect. This ends the prospect of young house buyers getting any help from the SNP
Dennis Forbes Grattan, Mugiemoss Road, Bucksburn, Aberdeen
Before the June 2016 Brexit vote the IMF claimed that UK share prices would fall after a vote to leave. The opposite turned out to be true. On the day the vote date was set the FTSE 100 was at 6,091 and it continued on an upward trend way past the referendum date to reach an all-time high of 7,903 in early 2018.
A UK government document of May 17 2018 states that, according to a pharmaceutical industry-led group, if the UK were to leave "there is a significant risk that we will become a less attractive destination for innovative medicines, and cannot expect to be an early recipient of new medicines". However, when we look at the speed of vaccine rollout in the UK compared to a similar-sized EU country, the UK has given 9,646,715 first doses compared to just 1,541,079 in France at the time of writing. So again, the opposite has turned out to be true.
These people should really stop making predictions.
Geoff Moore, Alness, Highland
However late, it is good news that the powers that be in Scotland have decided to allow the British Army help in administering vaccines.We trail behind all others on this island in getting vaccines into arms for one reason – petty nationalism. When the First Minister manages to force herself to say "British Army" rather than just "Army" I will concede I may be wrong.
Alexander McKay, New Cut Rigg, Edinburgh
Write to Scotland on Sunday
We welcome your thoughts. Write to [email protected] including name, address and phone number. Keep letters under 300 words, with no attachments, and avoid Letters to the Editor in your subject line.
Comments
 0 comments
Want to join the conversation? Please or to comment on this article.