Readers' Letters: Confiscate passports of Covid Red List liars
Ten-year jail sentences for lying about your return route from a Covid Red List Country appear harsh when worse crimes rate lesser sentences and the huge cost to UK taxpayers is considered.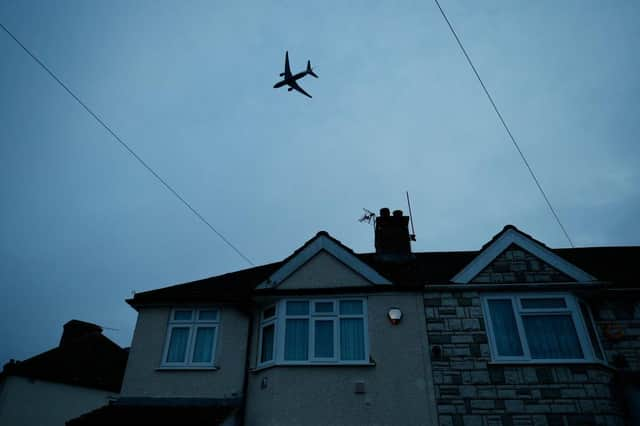 A simpler and more effective sentence is that courts confiscate the offender's passport and bans renewal applications for either three or even five years after sentence.
Angus Brown, Station Road, Longforgan, Dundee
Joyce McMillan quotes the Heathrow boss in her article (Perspective, February 12) as saying "that most international journeys involve not holiday travel, but business". On the times I have been through Heathrow it struck me that this seemed not to be the case.
Certainly the morning and evening flights to Heathrow from Edinburgh seemed predominately business, but most other times the recreational traveller seemed to dominate the terminals. I would be interested to know how Heathrow came about their figures, for I have rarely been asked the reason for my travel, either at the airport or on the flight. Other London airports, with perhaps the exception of London City, would probably never dare make such a claim.
David Gerrard, Spylaw Park, Edinburgh
Both the Scottish Government and Westminster Government were too slow in operating "Quarantine Hotels ". When travel expert Simon Calder was giving helpful advice in the first lockdown of March 23 last year I asked what testing of passengers arriving at Dyce, Dalcross, Turnhouse and Heathrow was taking place and were positiveCovid-19 Coronavirus passengers being escorted to the so-called "Quarantine Hotels "? Answer: none. Is it little wonder, then that, the virus had plenty of chances to spread amongst the population?
Michael Baird, Dornoch Road, Bonar Bridge
There has been much discussion of the possibility that Nicola Sturgeon may resign for misleading parliament. If one looks at what happened in 2011 in the case of Alex Salmond, one is forced to conclude that it is most unlikely she will resign. Prior to the independence referendum Salmond told the parliament and the nation that the Scottish Government had legal advice that Scotland would automatically continue as a member of the EU in the event of independence. Opposition parties used the Freedom of Information Act to try to gain access to this advice. It required an action by the Information Commissioner in the Court of Session before the truth was finally revealed: there never had been any such legal advice. Salmond should have resigned, but he did not. There is something sadly wrong with the way the Scottish P arliament is constituted when such a major deceit led to no action whatsoever. Furthermore, in the months before this lie was revealed, some of the most senior legal officials in the country had questioned Salmond's claim. The then Education Minister Michael Russell lashed out at them saying their work was "farcical" and that they constituted a "kangaroo court".
Such behaviour would never have been tolerated in Westminster. Heads would have rolled. But apparently it is OK in Scotland.
Donald McBride, Craigleith Hill Crescent, Edinburgh
Having read recent articles concerning the closure of the Edinburgh Eye Pavilion I was appalled by the decision of the Health Minister to not replace it. As a patient since 2005, having suffered two bouts of Age-Related Macular Degeneration (AMD), plus a catastrophic loss of vision; I owe my eyesight to the prompt expert care I have received at the Eye Pavilion, including recent emergency surgery for a retinal tear. It is testament to all at the Princess Alexandra Eye Pavilion that I still have near 20/20 vision, receiving superb treatment from staff and numerous ophthalmic specialists.
With 171,000 people in Scotland suffering sight loss, 23 per cent with AMD; a fast-ageing population will increasingly require the specialist services only the Eye Pavilion can offer. Most older patients live far from its central location and find it difficult enough to get there and back, usually with a helper. Closing such a centre of excellence, housing many international experts, to then scatter them would be catastrophic, for both senior citizens and many younger people and children who attend, often for sudden injuries or longer-term problems.
To have committed to replace this ageing centre of excellence in 2017 and then renege on that decision is a dereliction of duty to those who suffer from severe eye problems that require fast and expert care and intervention from leading international experts. For the £40+ million cost of propping up the very underused Prestwick Airport, never mind the costly ferry overspend, the Eye Pavilion could have been replaced. I commend those seeking to reverse this blatantly discriminatory decision that will consign many with urgent and severe eye problems to life-changing conditions and possible blindness through this "short-sighted" decision.
Michael Dick, Brighouse Park Crescent, Edinburgh
In their ever more convoluted arguments for breaking up the UK, the nationalists have claimed my ''Remain'' vote in 2016, and that of hundreds of thousands of other Scots, as an argument that we all outraged at being denied something that was our right. On the contrary, I voted Remain, fully aware the referendum was an all-UK plebiscite, in the same way as anyone voting in the 2014 referendum was eminently aware that was a vote by Scots only. Most people of average intelligence would, I am certain, agree.
It is an insult to the intelligence to be told, by followers of the SNP, that somehow I was conned. The only people attempting to con are the ever more desperate nationalists.
Alexander McKay, New Cut Rigg, Edinburgh
Recently, a number of national papers have carried letters from supporters of independence who are struggling to support the SNP. One speaks of its "worrying arrogance" and asks if he should "abstain from voting". Another speaks about "rot" in the SNP and states "reluctantly and through gritted teeth" he will "most likely" be voting SNP. How desperate to think that the future of our great Scotland will possibly be determined by people who, despite what this regime does and what Scotland has become due to this all-controlling, divisive "government", will still vote for the SNP and destruction of the United Kingdom.
Despite having no credible economic, financial, social or military policies, and confirmation there are substantial problems within the SNP, support apparently grows. That some Scots are prepared to have this "bunch of bandits" in power for another term defies belief. It really is time for the people of Scotland, people who believe the SNP have little credibility, to stand up and be counted, to have the power of their convictions and consign the party to history.
Douglas Cowe, Alexander Avenue, Kingseat, Newmachar
Prime Minister Boris Johnson, for the umpteenth time in Westminster, has called the SNP the "Scottish Nationalist Party". This juvenile jibe earns him the usual laughter and braying from his supporters and a useless rebuke from the Speaker. He seems not to care for the problems he causes for the Scottish Conservative and Useless – sorry, Unionist – Party. Scots who don't support independence will still feel their hackles rise at this schoolboy joker masquerading as a serious politician.
Robert Farquharson, Lee Crescent, Edinburgh
Once again Donald Trump has been able to claim he is exonerated, and his qua si-military brand has been given fresh impetus. Should we be surprised that right wing populists are capable of defending insurrectionist activities? Consider how supportive Neoliberals were to the Allende dictatorship in Chile. Consider how books such as Rees-Mogg's The Sovereign Individual influenced Republicanism with the prophetic warning that Neoliberals need to outsmart the potential of the internet conspiracy theorists, which may justify big spending government. "Collectivism always leads to totalitarianism" was a key mantra, and "governments can't pick winners" was another. To those who say that nationalisation was an example of government interference being inept and outmoded, consider who runs Scottish trains, and consider how much the UK could make if it nationalised our vaccine plants and upscaled them.
The USA, sadly, looks like a failed democracy. Are we heading in the same direction with a propagandist right wing press which specialises in activating voters into anger? Press regulation is a key difference. When Fox News tried to start up here it immediately faced criticism by the regulators.
However, Ofcom may be losing its freedom from political influence as the Tories aim to get journalists from right wing brands into key positions. Their focus will be on promoting further privatisation of media. Without strong checks and balances, we may lose an influence which restricts propagandists and helps stop narcissistic characters building their appeal. Risks from such quarters are greater than the risks of collectivisation.
Andrew Vass, Corbiehill Place. Edinburgh
Nobody ever believed Dona ld Trump would be convicted – seeing him impeached for the second time is satisfaction enough for most of us, just seeing the smugness wiped off his nauseating frog-like smirk.
Have a nice day, president-eject!
Steve Hayes, Aithernie Court , Leven, Fife
We welcome your thoughts. Write to [email protected] including name, address and phone number. Keep letters under 300 words, with no attachments, and avoid Letters to the Editor in your subject line.
A message from the Editor
Thank you for reading this article. We're more reliant on your support than ever as the shift in consumer habits brought about by coronavirus impacts our advertisers.
If you haven't already, please consider supporting our trusted, fact-checked journalism by taking out a digital subscription.
Comments
 0 comments
Want to join the conversation? Please or to comment on this article.