Readers Letters: Carry on Matron and help beat Covid crisis
Fifty years ago, a hospital was run very efficiently by a Superintendent, a Matron and a Secretary. They knew their job and 'commanded' a team who also knew the job and had freedom to do it. If needed they collaborated with colleagues in nearby hospitals. Fifty years ago the councillor in charge of education had a 'business' back-ground and would make a decision in a lunch break setting out clear criteria for judging outcomes.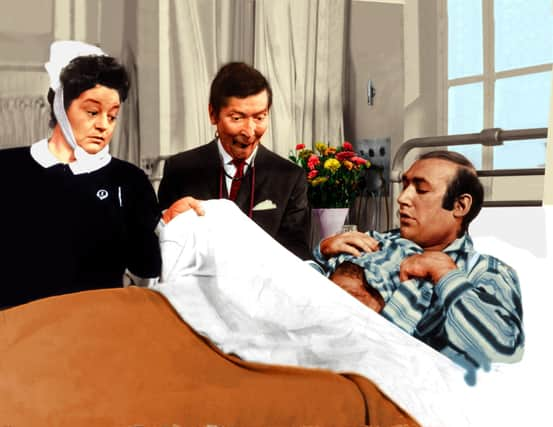 Now our hospitals are overrun with a plague of administrators (so important they go to the head of the vaccine queue), who need to take over ward space to accommodate growing numbers and who are unavailable after 5pm, leaving nursing staff to take urgent decisions. Now in local government we have a six-week committee cycle so administrators, often with no "business" acumen, can shuffle mounds of paper and decide what to tell elected members. (Fifty years ago the task would probably have been completed within the six weeks!).
Fifty years ago, "administrators" were a support resource for frontline staff who delivered the "goods'". Now they are the frontline staff who suck resources out of the system and in some cases are pai d more than the Prime Minister!
James Watson, Randolph Crescent, Dunbar, East Lothian
One statistic that neither the scientific "experts" nor the politicians in power have mentioned in their daily briefings is the number of Covid-19 fatalities who have previously had a flu vaccine. If there is a correlation, which is perfectly possible? What odds would there be against this being revealed ?
John M Nisbet, Auchencrow Mains, Reston
Will someone with brains please stop the daily Nicola Sturgeon propaganda roadshow on TV. It has contributed nothing whatever to reducing the very high number of people infected with coronavirus, spreading it throughout the land, and creating horrific statistics for the dead. People stood a better chance, without TV lectures, during the Black Death.
Instead, please start giving the Pfizer and Oxford vaccines to the men and women in the street, the very people who are currently spreading the virus around, filling the ambulances, and clogging up the hospitals. It is they who should have had the vaccines in the first place. People already in hospitals and care homes rarely get the opportunity to infect others. If the politicians and academics directing the current shambles were made to step aside, and be replaced by practical people instead of misguided theorists, we would most certainly start making progress.
(Dr) Alastair Maxwell-Irving, Telford House, Blairlogie, Stirling
One can sympathise with Mrs Simpson's frustration over delays in getting notification of her husband's covid vaccination (Letters, January 8 ). As with the annual flu jag, this can be down to the fact that some GP surgeries are much more efficient than others.
However, we are doing better in Scotland. According to the official UK Government coronavirus data website, at January 7 we had vaccinated 2.1 per cent of the population compared to 1.9 per cent in England and only 1.6 percent in Wales.
Mary Thomas, Watson Crescent, Edinburgh
I am writing regarding Alastair Dalton's Inside Transport article, "Who's to blame if a youth climbs on to a train roof?" (January 8). I was disappointed to read his suggestion that Network Rail should have no responsibility for maintaining the railway boundary and that he seemed disappointed the seriously injured boy didn't also face a fine.
Trespass is illegal and there is indeed individual responsibility as well as potentially fatal consequences. This is in addition to, and not instead of, a duty on a public body to do all it reasonably can to prevent injury to the public, including through trespass, with Parliament making this clear by law.
Education and prevention is key to minimising trespass, with legal action always the last resort. A lot of good work has been done in the industry but we act when things do go wrong to prevent them from happening again.
In this case, Network Rail deferred maintenance for over two years and 12 points of unobstructed access onto the railway at this location were identified. This was not a one-off failure by the railway industry or Network Rail.
Remedial action was taken by the Office of Rail and Road to ensure the boundary was secured immediately after the incident – the prosecution is not the only action that was taken – and my team conducted a thorough investigation.
I would be more than happy to answer any questions Mr Dalton may have and also to go through this specific case and our reasons for prosecution.
Ian Prosser CBE, HM Chief Inspector of Railways, Office of Rail and Road,, London
Lewis Finnie hits the nail on the head (Letters, January 8) regarding the nonsense being spouted by the separatists. Not only do they complain about "being dragged out of the EU against the wishes of the Scottish people", ignoring the substantial number of Scots who voted for exactly that, they also ignore the 20 per cent of SNP supporters who voted to leave the EU.They also ignore the clearly stated decision made by the Scottish people not to be dragged out of the UK and those of us who decided (a large majority) that will ensure that our decision remains carved in stone until the rocks melt.When the SNP's top brass made a point that the referendum of 2014 was to be "once in a lifetime" and "once in a generation", they did so to ensure the maximum vote for their cause. When the people's decision was clearly to confirm that we are all British and will stay so, they instantly started back-pedalling.It was they who wanted a decision on independence and they got it. That's why we had the referendum in the first place: to decide. We have done so.
Andrew HN Gray, Craiglea Drive, Edinburgh
Only an independence supporter, (Stan Grodynski, Letters, January 8) could conflate the actions of a far right mob intent on violence on Capitol Hill in the USA with Boris Johnson denying a second and unnecessary independence referendum – at best laughable and at worst ridiculous. Further, his comment that "leaders of the USA and the UK have surrounded themselves with sycophants who do not seriously question the decisions of their bosses and worse still, aid attempts of those leaders to blatantly undermine democracy".
The irony in this comment is breathtaking! It is twice now that the Scottish Parliament has voted in favour of the Government publishing the legal advice it received in relation to the judicial review on the handling of complaints against Alex Salmond. Twice now democracy has been ignored and undermined, and this SNP government has form in ignoring the will of Parliament when it suits. Mr Grodynski refers to "sycophants not questioning their bosses" yet continually watches the elected SNP members at Westminster and at Holyrood vote as one as it is almost possible to smell the fear of recrimination should any dissent be shown to "the bosses". I look forward to seeing just one SNP politician outside of the leadership showing some "independence" of thought but fear I will be waiting some time.
Richard Allison, Braehead Loan, Edinburgh
The coup in the USA was farcical. No objective beyond stopping the count of the electoral college vote, no plan on what to do next if successful, and quickly snuffed out within hours by law enforcement, late in arriving but decisive when it did. Inspired by a man constantly engaged in self-worship and led, among others, by the Shaman of QAnon, that mob had no chance against the most enduring Constitution in history, written in its original by brilliant minds. Calling it a coup and sedition is a gross over-statement. It was a display of lunacy.
The contrite Trump we saw yesterday was just a tactic, to avoid humiliation. The political problem evidenced by the 74 million who voted for Trump, and the substantial millions who will continue to believe his poisonous lies about the election being stolen, has not been eliminated by the widespread condemnation of the mob. We should not be surprised if The Donald is unleashed again after January 20. As was demonstrated in Congress by the majority of House members and the smaller, but important, minority of Senators, he continues either to have their support or he holds them in a grip of fear. His promise to "fight on" should not be ignored. He has already amassed a very large campaign fund, the base remains fanatically loyal, and the Republican party, having helped this monster to grow, doesn't know how to deal with him, or win his base away from him. They also face the possibility of fulfilment of the promise by his son to go after, in the primaries for 2022, those his father regards as disloyal.
The pleasure at the departure of Trump from the White House has deflected attention for the weakness in the Biden position. Democrat seats were lost in the House, leaving a majority of only nine. The Senate held by a casting vote is anything but secure. Both are at stake in the 2022 midterm elections, and I suspect that these are going to be the target for a renewed Trump campaign, aiming to disable Biden, reinforce his grip on the Republican party, and pave the way for the presidential candidacy.for 2024. Trump has tasted real power, the most addictive drug of all, and it would not be wise to think he will not seek it again. I could, of course, be wrong about his intentions, but all of us, including Repblican leaders, must hope that the District Attorney in New York will soon nail Trump and jail him.
Jim Sillars, Grange Loan, Edinburgh
We welcome your thoughts. Write to [email protected] including name, address and phone number. Keep letters under 300 words, with no attachments, and avoid Letters to the Editor in your subject line.
A message from the Editor
Thank you for reading this article. We're more reliant on your support than ever as the shift in consumer habits brought about by coronavirus impacts our advertisers.
If you haven't already, please consider supporting our trusted, fact-checked journalism by taking out a digital subscription.
Comments
 0 comments
Want to join the conversation? Please or to comment on this article.