Readers Letters: Britain not denying aid to global poor
Again Nicola Sturgeon moves into false indignation mode by describing the £4 billion cut to Britain's foreign aid budget as 'disgraceful'.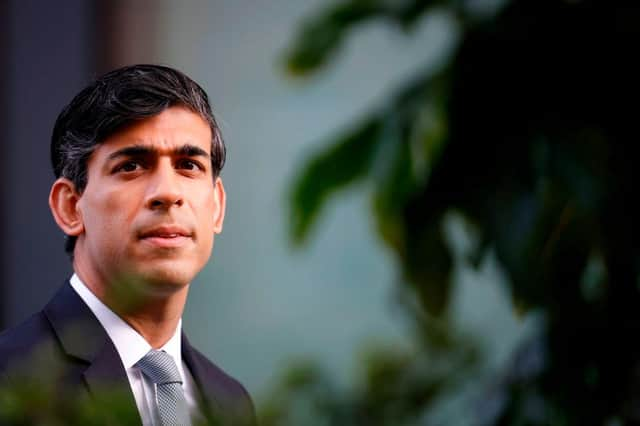 There is nothing in the Chancellor's move to suggest that poor people abroad will be denied any less help than they are getting now, but what we have seen in the past is foreign aid money being thrown about like confetti to beat financial year-end deadlines.
Should we be giving aid to countries like China and India who can afford their own space programmes and therefore must have plenty of money to look after their own populations, or give money to African despots to buy BMWs for themselves?
Foreign aid is essential but should be targeted at countries who need it most to improve their people's lives, and help out in natural disaster situations. With the UK's Covid-19 massive borrowing requirements it's crucial that public money is spent wisely for the good of the UK population. With Britons using food banks more than ever and the UK remaining one of the world's largest contributors in foreign aid, perhaps the Chancellor's measures should be seen as trying to create a more equitable balance in the use of taxpayers' money.
Bob MacDougall, Oxhill, Kippen, Stirlingshire
Billionaire Rishi Sunak's spending review was a declaration of war on working people. Eleven years of Tory economy incompetence has meant the UK economy is facing its biggest contraction in 300 years.
The OBR (Office for Budget Responsibility) says the UK economy shrank 11.3 per cent this year. There is nothing comparable since just after the First World War and go back 300 years to find figures this bad. The UK is forecast to borrow £394 billion this year. That figure alone permanently discredits any Unionist argument about the cost of Scottish independence being too high. Growth will not return until 2022 and unemployment will reach 2.6 million. This is entirely the fault of the Tories and Tory ideology of greed and stupidity.
Sunak has decided the least well off should pay for the Covid-19 crisis. All while the Tory cronies and the donors pocket billions of pounds. First, the aid budget is being eviscerated. So those in the poorest countries in the world will pay. Public sector workers will have to endure another pay freeze which is in reality a pay cut. These are the frontline workers who have kept the country going during the pandemic. It has been revealed that, thanks to Tory bungling, the UK government spent £10bn more on PPE than it should have.
This was a spending review that will line the pockets of the Phillip Greens, the Mike Ashleys and the Richard Bransons of this world.
Alan Hinnrichs, Gillespie Terrace, Dundee
An interesting letter from Malcolm Parkin (November 25). It has been suggested that with this system governments have no need to levy taxes at all, as all their wants can be supplied by a few computer keystrokes. Unfortunately, Chancellors, including the current one, don't seem to accept this – some fears about the effect on the standing of the currency, perhaps.If that is the reason then the magic money will be reducing the value of pension pots and any cash put by for a rainy day, but that will only affect the little people, so that's all right.
S Beck, Craigleith Drive, Edinburgh
Your front page story "Wages and aid squeezed in economic emergency" (November 26) reflects the Chancellor's desire to focus on coronavirus and steadfastly ignore the Brexit elephant looming ever larger in the room. According to a recent LSE study, the costs of Brexit are between two and three times the cost of coronavirus, and were, of course, entirely avoidable. The lack of will and means to address this were reflected in the Chancellor's statement, where a half-hearted attempt to match current levels of EU funding estimated at £1.5 billion per year will result in only £220 million being available next year across the UK.
Scotland will be forced, as a result of the UK Internal Market Bill, to compete for even a small share of this funding. This compares very unfavourably with funds delivered by the EU in recent years – £379m from the European Structural and Investment Fund alone to Scotland from 2014-20.
It is increasingly clear that Scotland's economic future would be better served by restoring our place within the EU, and all our politicians should recognise our right to decide this for ourselves in the near future.
Alan Davidson, Arden Street, Marchmont, Edinburgh
Who makes up the figures? Does Rishi Sunak actually believe what he forecasts? Covid has had a devastating effect on all aspects of our lives, many are out of work, redundancy looms for others and household incomes have shrunk.
Unfortunately, the country is facing another six months of Covid and that is only if the vaccines are approved and rolled out with speed. This uncertainly and crisis for many is only being exacerbated by the uncertainty of Brexit – no deal, negotiations failing on an almost daily basis and surprisingly, no word of comfort in the Spending Review from Chancellor Sunak.
In fact Mr Sunak was conspicuous by his silence on this massive issue. Only 36 days till we exit the EU trade negotiations and this week in PMQs the PM said there will be no extension to the timescales – how arrogant and outrageous. The country is being hung out to dry by the Conservative Government on this issue, and it leaves businesses in turmoil and crisis. This omission by the Chancellor simply does not sit comfortably with his commitment to save jobs. Scotland voted to remain in the EU, surely that says it all.
Catriona C Clark, Hawthorn Drive, Banknock, Falkirk
Kenny MacAskill (Perspective, November 26), commenting on a possible Brexit deal, tells us that, "whatever we get, will be nowhere near as good as what we had". Well, possibly, but what we had entailed us opting out from half of the EU commitments. When will the SNP own up and admit that rejoining the EU will mean signing up to all of it, which will include joining the Euro, ie a loss of economic sovereignty.
William Ballantine, Dean Road, Bo'ness, West Lothian
A report indicates that 70 per cent of the public are against the relaxation of Covid restrictions over the Christmas period, once again proving that the general public has more common sense than politicians. What's next from politicians – "Some people will do it anyway, so let's make burglary legal"?
David J Mackay, Gladhouse Place, Edinburgh
The Scotsman article "Watchdog 'targeting private sector homes" (November 24) found that of visits by the Care Inspectorate since March 23, fewer than five per cent were to council-run homes. I wonder if this is relevant to the ongoing outbreak of Covid-19 in widely scattered care homes in Dumfries and Galloway? At least some of the outbreaks in care homes in five separate towns in this large rural area were part of the Dumfries and Galloway Health and Social Care Partnership.
There has been no information on how this outbreak occurred. This lack of information is in line with council policy. To quote an e-mail from the council to myself this July: "Whilst some information may at times be communicated on a very limited basis to Council Officers to aid with response-related activity, but this information would be shared on a confidential basis, on the understanding that it is not for wider circulation."
While this policy allows covering up of "Inconvenient truths" it also prevents any learning from others' experience. The number of Covid-19 positive cases in Dumfries and Galloway is reported on Tableau Public as being 41 during 16-22 November. It seems likely that the majority of these cases are associated with the care home outbreak since ten care home deaths were reported by the Dumfries and Galloway Standard in the week preceding November 6.
These figures suggest that the amount of Covid-19 in the general population of Dumfries and Galloway (a level 2 area) is low. So how did these care homes get this virus? Was there a common factor, a super spreader, who visited all of the care homes, maybe from the Care Inspectorate or the Social Care Partnership?
Further, how did the virus spread within the homes? Presumably procedures or PPE are inadequate. Why?
Ken Carew, Minden Crescent, Dumfries
Boris Johnson states that the UK's response to Covid indicates the "sheer might" of the Union. Will this sheer might be sufficient to protect our shores from the Four Horsemen of the Apocalypse, the four disasters threatening our future safety – Covid, Brexit, Johnson and Trump?
James Stevenson, Drummond Avenue, Auchterarder
The Scottish Government continues to amend its controversial hate crime bill. A conviction for "stirring up hatred" would now require the prosecution to demonstrate that the accused had "intended" to stir up hatred. Despite this, the fearful prospect of a court case may still limit artistic expression.
Free speech will now allow for discussion, criticism or expressions of antipathy, dislike, ridicule or insult of religion, but unlike in England and Wales, the Scottish bill will still criminalise "abusive" behaviour. It is on these semantic nuances that legal sophistry pivots.
Neil Barber, Edinburgh Secular Society, Saughtonhall Drive, Edinburgh
We welcome your thoughts. Write to [email protected] including name, address and phone number. Keep letters under 300 words, with no attachments, and avoid Letters to the Editor in your subject line.
A message from the Editor
Thank you for reading this article. We're more reliant on your support than ever as the shift in consumer habits brought about by coronavirus impacts our advertisers.
If you haven't already, please consider supporting our trusted, fact-checked journalism by taking out a digital subscription.
Comments
 0 comments
Want to join the conversation? Please or to comment on this article.