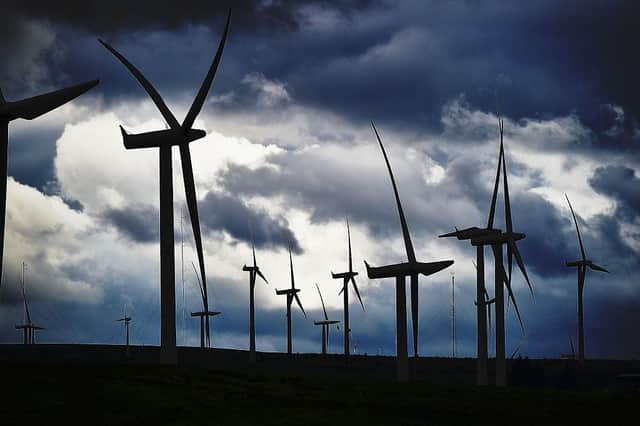 Wind farms are an increasingly familiar sight in Scotland
I think they would find it inexplicable that a Scottish Nationalist Government had driven this policy. Even more inexplicable is that a once proudly democratic nation does not have the same rights as people in England in this regard. Vattenfall's managing director of onshore wind, Frank Elsworth, was quoted this week as saying Scotland is seen as having an "open door policy" and the kind of stable environment in terms of policy that encourages firms to develop windfarms in the country."England has primarily pushed everything offshore," noted Mr Elsworth, adding: "It has introduced policy which is quite a barrier to development: The requirement for demonstrable local support of over fifty per cent and demonstrating that your windfarms are captured in local development plans, they're quite significant hurdles."
Shouldn't locals in Scotland have the same rights? Shouldn't legally binding Local Plans which take years and consultations to prepare be adhered to? Why should local councils have to pay, out of our Council Tax, for Public Inquiries to uphold our Local Plans? A single unelected Government Reporter with Ministers' approval with an "open door policy" decides these Inquiries. The wind industry has taken advantage of lockdown and is pushing ahead with expansion while there can be no proper public consultation or live Public Inquiries. Does rural Scotland have anyone to speak for them?
Wake up Scotland. This is your country.
Celia Hobbs, Peebles Road, Penicuik, Midlothian
I read Joyce McMillan's article in Perspective yesterday ("Teflon Boris can't dodge the storm clouds gathering on the world stage"), a perfect piece of opinion-led journalism. But it became apparent to me how articles such as these could be transposed to align with another political leader, different party, different views. The first instance came to me after reading: "The trick is to create low expectations for your conduct in terms both of ethics and of political competence, and to do so boldly, and with some degree of charm." Substitute as follows, "create high expectations, with some degree of doom".
The second: "We are living through what seems like an interminable age of Teflon Boris…. despite displays of incompetence, inconsistency and poor governance, at the height of a lethal pandemic, that would have almost certainly destroyed the career of any politician judged by normal standards". Substitute "Teflon Nicola". Perhaps someone could write another similar piece, using the header, "Teflon Nicola can't dodge the storm clouds gathering on the Nationalist stage".
David Millar, West High Street, Lauder
Since it has taken almost ten months to finally close our borders to international travel, it would be refreshing to see a Government now starting to plan for their reopening. It may be some months away yet but as Nicola Sturgeon has said "there is no doubt that the light [at the end of the tunnel] is more visible than it has been".
What would be required for travel? Proof of a recent negative Covid test and proof of two (UK approved) covid vaccinations? Sure, that will take time to work out the details, which is why they should be working on that now. The travel and hospitality sectors are on their knees. They, and the rest of the Scottish economy, need the stimulus that would undoubtedly arise. Is this too much to ask?
David Hughson, Auchingane, Edinburgh
The SNP are making independence the main issue in the May election. If they get an overall majority they will demand another referendum. So far, the polls are sympathetic. We voted 62 per cent to stay in Europe, but were taken out by English nationalists. Many find Boris Johnson and his government hard to bear.
But we should be careful what we wish for. The LSE say that independence would damage the Scottish economy three times more than Brexit. The Brexiteers dismissed well-informed concern as "Project Fear". It took us four and a half years to discover what we voted for.
So Westminster should refuse another referendum until detailed proposals are rigorously assessed. A Royal Commission on the Constitution should have that as their first priority. The members should be of judicial integrity and authority and clear of party politics. After examining indyref2, they should assess the need for devolution throughout the UK, whether regional or federal, and the reform of the Lords and the electoral system. That would update Kilbrandon, now 50 years old, and free us up to concentrate on Covid-19. That should be our overwhelming priority.
Failing Westminster consent, the SNP plan a unilateral referendum. Would it be recognised by the EU? If so, would we meet the criteria for admission? An independent Scotland might find itself out of both UK and EU, with hard borders for both the 60 per cent of our exports going to the UK and 29 per cent to the EU. Financial services would be hit. With Covid-19, no block grant and no power to borrow, we would struggle to maintain pensions and public services. Nationalist governments might quarrel across the border, over assets and debts for example. More "Project Fear"? Better ask the Commission than find out the hard way.
David Gracie, Regent Terrace, Edinburgh
I have a major concern and I am sure that I am not alone in this. I am clear that we all hope to be able to return to some measure of normality in the summer (perhaps), but before that, we will still continue to be at risk of spreading the virus while millions of us are still to be vaccinated. It seems rather precipitate to hold the Scottish elections (and the English local elections too, for that matter) when this is an ongoing concern.
However, the current party of government in Scotland is besieging us daily with propaganda thinly disguised as public information broadcasts. Where else in the civilised world does the party that controls the "levers of government", as Ms Sturgeon's party would call them, also control the airwaves? Even when I went to Franco's Spain, I do not remember seeing the Generalissimo on TV daily. Surely no one would claim that any Scottish election could be held in such an invidious situation?
When the SNP are howling at the moon daily and complaining that they want a second bite of the cherry, someone out there has to stand up and say no. Thank goodness the Westminster Government is standing up for its people. The Scottish election cannot stand and must be postponed until Ms Sturgeon has put away her soapbox.
Dave Anderson, Broomhill Road, Aberdeen
Rosemary Walker claims that infection rates and deaths in Scotland are "every bit as bad as England" (Letters, February 5). Not so. The latest UK Government figures show that Covid cases over the last seven days are 134.1 per 100,000 in Scotland, compared to 260.6 in England. Total cases over the whole pandemic are 3,357.3 per 100,000 and 6,056.2 respectively. Total deaths with Covid-19 on the death certificate are 144.6 per 100,000 in Scotland and 170.7 in England.
The figures speak for themselves. Such ghoulish comparisons are no comfort to those who have lost relatives and friends, but it is important to get the basic facts right.
Adam Rennie, Grange Terrace, Edinburgh
The meeting of Handforth Parish Council Planning and Environment Committee of December 10 2020, currently globally circulating on social media, may afford passing amusement to many, but as a former Community Councillor (Scotland's equivalent to Parish), it was all too depressingly familiar.Handforth's West Ward has a vacancy. I'm amazed that councils even quorate. Many Parish councils are in a state of recruitment longer than even the worst call centres. Too many are in danger of falling into abeyance every election, and it's tinpot dictators and procedure trolls that are to blame.At numerous Parliamentary by-elections I heard members of the Greens, National Front and Monster Raving Loonies tell the same tale: after elections party members would be contacted by their local Parish council and invited for co-option.All lived to regret it – appalled at what passed for "grassroots democracy" and the clear attempts to hijack the little there was by local authority functionaries, often related to senior members of the local dominant political party whose members no longer bothered becoming Parish councillors themselves. Those like Baron von Thunderclap (an OMRLP councillor for two decades) are exceptions to the rule as new blood often quit in despair after under six months.
Mark Boyle, Linn Park Gardens, Johnstone, Renfrewshire
Fraser Grant seems unaware that the First Minister proposes to ban fossil fuels hence there can be no trade with England over "gas and oil" and, as the current interconnectors are operating at 100 per cent capacity, there can be no increase in the transfer of electricity (Letters, February 5).In addition, he fails to include the data that, as renewable energy is four times more expensive than gas, the impact of a Green Revolution will be five times worse on the economy of an independent Scotland than Brexit! If Mr Grant has any doubts on this topic, then ask why has the Economy Secretary fails to explain how a £150 billion Green Revolution debt will be repaid?
Ian Moir, Queen Street, Castle Douglas
We welcome your thoughts. Write to [email protected] including name, address and phone number. Keep letters under 300 words, with no attachments, and avoid Letters to the Editor in your subject line.
A message from the Editor
Thank you for reading this article. We're more reliant on your support than ever as the shift in consumer habits brought about by coronavirus impacts our advertisers.
If you haven't already, please consider supporting our trusted, fact-checked journalism by taking out a digital subscription.