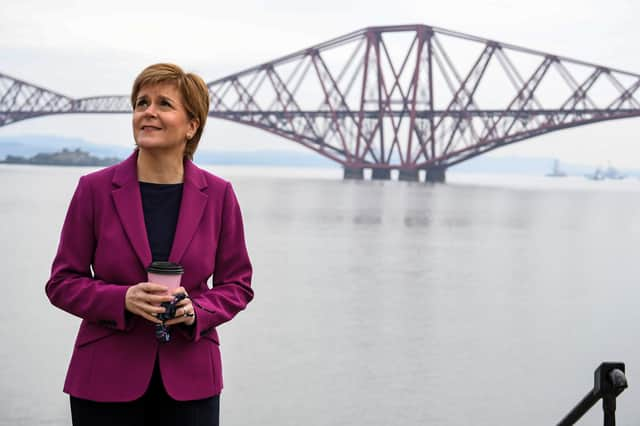 It goes without saying that many of the pledges made over the 14 years of SNP government have turned to dust. Among this plethora, the pledges on education in terms of closing the much-discussed attainment gap and reducing Primary class sizes are two that do indeed have direct consequences on children's lives. A visit to the Academies of inner London, where life chances have been transformed for children from very challenging backgrounds, would convince the most sceptical that early intervention in Language and Maths is vital. This is possible only where class sizes are small and group teaching is made possible by the addition of class assistants. Have the SNP been convinced to look and learn? Of course not – London is Boris land!
The Scottish budget is currently bloated by the Covid money held back in Holyrood from the UK payments during the crisis. That was another pledge, made by Nicola Sturgeon on the floor of the Scottish Parliament – all monies would be passed on in recovery and support schemes.
We have had 14 years of SNP government. Forget the pledges and look at the record instead. A poisoning of the relationship between Holyrood and Westminster is not incidental, but deliberate.
Boris Johnston's name is peppered over everything Nicola has to say about the relationship between the two. Our memory is surely long enough to confirm that 300 years of Union has achieved much for the whole of the UK and will not be wiped out by passing politicians.
Alison Fullarton, Lumsdaine, Eyemouth
The politicians were doing the interview rounds over the weekend, not least the First Minister hoping to spread her "transformational" manifesto messages. However, the most astonishing messages she delivered revolved around her and her government's catastrophic failures and those messages being delivered without a hint of taking responsibility. She noted that "errors" had been made responding to Europe's highest drugs death rate and that she "had taken her eye off the ball"! She noted and agreed with her Health Secretary, Jeanne Freeman, that a "mistake" was made in transferring elderly patients from hospitals to care homes. She further noted that "we got some things wrong and I feel the responsibility of that every single day". What condescending nonsense; instead the voters can see that not a single individual has "taken" responsibility by resigning. One can only hope the voters will show Ms Sturgeon what taking real responsibility means via the ballot box.
Richard Allison, Braehead Loan, Edinburgh
John Cameron contends that Nicola Sturgeon has failed to do her homework regarding the economics of an Independent Scotland (Letters, 20 April). If he, and indeed Channel 4 reporter Ciaran Jenkins, had done their own, they would have discovered that the LSE "experts" he quotes were in fact two post-grad students. A little more research would have established that their findings had been comprehensively criticised by experienced economists, including senior staff at the LSE, to the extent that the authors issued statements denying aspects of their work and the way it had been misrepresented in the media.
Gill Turner, Derby Street, Edinburgh
The Spectator is arguing that no matter how Scotland votes on 6 May, it should be refused anything other than what Boris Johnson and Westminster wishes. This is naked contempt for democracy. The Scottish Parliament was established because a clear majority of Scots voted for it in a "second" 1997 referendum. Alister Jack, Secretary of State for (or against) Scotland, continuing to demonstrate his dislike for Holyrood, has announced legal action on legislation passed by our Parliament on children's protection rights, while welcoming further nuclear weapons to the Clyde. As a corruption of sleaze and cronyism erupts again in Westminster, the Union is in further crisis. This is from the lies and deceit of a Tory government who will refuse the people of Scotland Indyref 2, even if a democratic majority mandate is established. Indeed, how can anyone vote for Douglas Ross and the Scottish Conservative and Unionist Party?
The choice is no longer devolution or independence, since devolution is being systematically undermined. The recovery and choice, following Covid, now revolves around building a new and fairer independent Scotland or remaining part of a regressive Brexit Britain we did not vote for. On 6 May vote SNP for a clear mandate for independence.
Grant Frazer, Cruachan, Newtonmore
Housing is something we all need and something that should be affordable – a human right. In an effort to meet the need of the social housing market in Scotland, the SNP in 2013 abolished the right to buy Local Authority housing and Housing Association homes. The right to buy was legislated for under a Conservative Government and resulted in half a million social rented properties being sold off in Scotland.
This left the housing market depleted and in an effort to restore housing stocks some Council's in Scotland are now buying back. We all know the shortage of social rented properties in Scotland, all councils have waiting lists, so it is unbelievable that in 2021 the Conservative policy on housing is to reintroduce the right to buy Local Authority Homes and, like in England, may well be extended to Housing Associations. This policy must be brought into question when you further look into the Scottish Conservative manifesto commitment of abolishing rough sleeping by 2026.
Catriona C Clark, Hawthorn Drive, Banknock, Falkirk
There is general agreement that in the fullness of time there will be a Public Inquiry into Covid-19. The First Minister has suggested that it should start this year. But I agree with The Scotsman's view ("Covid inquiry should not be rushed", 19 April) that this might be rather premature.
Currently, many of those who would be important witnesses are still fully occupied with the implementation of pandemic controls, and even under the most optimistic scenarios will be continuing this work for many months to come.
And because the virus evolves and is likely to be still causing major problems world-wide it would be wrong to assume that by Christmas their attention could be diverted from controlling the virus to providing detailed accounts of their work and preparing for being questioned by inquiry lawyers without raising public health risks.
Hugh Pennington, (Chair, Public Inquiry into the 2005 Outbreak of E.coli O157 in South Wales), Carlton Place, Aberdeen
Scottish Labour Deputy Leader Jackie Baillie's attempts to make political capital out of Covid deaths in care homes in Scotland at the height of the 2020 pandemic are disgraceful and unforgiveable. The Tories also seek to pile in with wise-after-the-event attacks on the Scottish Government.
The most authoritative figures, the number of excess deaths above the normal average, reported in a UK-wide study coordinated by the University of Stirling's Management School, showed that at the height of the pandemic there were 79 per cent excess deaths in England, 66 per cent in Wales, 62 per cent in Scotland, and 46 per cent in Northern Ireland. Tory-run England had the worst outcome, with Labour-run Wales also worse than Scotland, albeit only slightly. The families of those who lost their lives deserve that all political parties start with the facts and seek to learn lessons. The Tories and Labour instead have adopted political posturing, attacking the Scottish Government's record and skirting round their own worse records. Shameful.
Bill McKinlay, Cockburn Crescent, Balerno
The justified anger at the proposed breakaway by elite football clubs risks overshadowing an even more egregious outrage actively being considered for Scottish football. These are proposals made jointly by Rangers and Celtic to run their second teams in the Scottish lower leagues, in exchange for a modest cash injection to the other member clubs. At a time when a full meritocratic football pyramid, top to bottom, is almost in place, this idea is almost universally rejected by all lower league club fans. The distortion of competition, let alone the contamination of community connections, is unacceptable so I would be boycotting any games involving the Old Firm reserves. If the large clubs want to ensure competition for their overlarge squads, let them restart a reserve league. This model may be familiar in certain European lower leagues and even, shamefully, in the Challenge Cup here. But it is a step too far on our own doorstep.
Allen Armstrong, Viewforth, Buckhaven, Fife
Stan Grodynski's call for old timers to step aside (Letters, 20 April) is itself antique. It was put so much better by Bob Dylan in his 1964 song The times they are a changin. This was brutally and deservedly satirised by Tom Lehrer in The Folk Song Army, particularly with the line "We all hate poverty, war, and injustice unlike the rest of you squares".
Otto Inglis, Ansonhill, Crossgates, Fife
We welcome your thoughts. Write to [email protected] including name, address and phone number. Keep letters under 300 words, with no attachments, and avoid Letters to the Editor in your subject line.
A message from the Editor
Thank you for reading this article. We're more reliant on your support than ever as the shift in consumer habits brought about by coronavirus impacts our advertisers.
If you haven't already, please consider supporting our trusted, fact-checked journalism by taking out a digital subscription.