Prince Philip some valuable lessons in life  - readers' letters
While we are all saddened by the loss of Prince Phillip, we can take comfort knowing he lived an incredible life.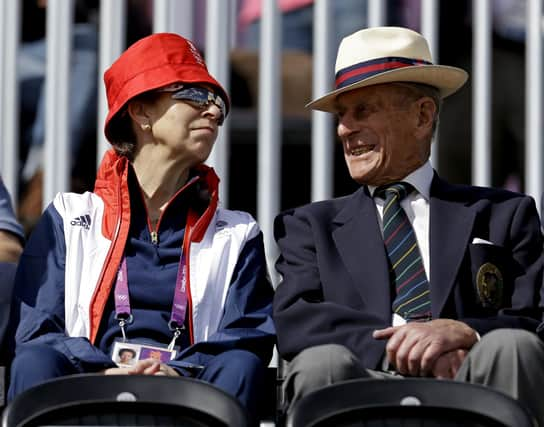 I liken him to Prince Albert, a great support to the Queen and a leader in his own right who championed many causes close to his heart without a fuss.
His biggest achievements include: The Duke of Edinburgh award, which allows young people to develop skills in many areas that will aid them in their future endeavours and grow in self-confidence.
Being ahead of the curve as an environmental campaigner giving insight into climate change and habitat destruction, a baton which he passed onto Prince Charles.
Being a champion of sport, heading sports associations and encouraging people to take part and stay active.
Prince Phillip has taught us many lessons: to enjoy what you do both work and hobby wise; to be humble, a necessary lesson for many people today especially loud-mouth gauche reality stars; and to provide a loving support to your spouse and family.
By following his example we can all live happily and in better harmony with nature.
Annabel Robb Kempock Street, Gourock
Your absolutely splendid, extensive coverage of Prince Philip's long life of duty and ability to make people relax (Scotsman, April 10) were well evidenced when he opened new halls for the community in the heart of Leith in 1982.
Back in the 1970s, when Leith still had some of the worst slums in Western Europe and was overlooked in more ways than one by the powers-that-be up in Festival Edinburgh - except as a site for academic studies into "multi-deprivation' - born Leithers were in the grip of depression, and the prevailing mood was worsening as poverty increased with Mrs Thatcher's economic policies.
When the possibility of a site in Henderson Street became available, South Leith Kirk Session decided to do its bit for "A New Leith of Life" by building a suite of modern halls, with special provision for young people at ground level and the hope of sheltered flats for the frail elderly overhead.
I wrote to Prince Philip asking for help with publicity and fund-raising. Just after dropping my letter into the pillar-box at the foot of Leith Walk, I read in The Scotsman that the Queen and the Duke were leaving for a state visit to Australia two days hence.
Nevertheless, back came a response on Buckingham Palace paper "The Kirkgate Buildings plan deserves to succeed and I am sure it will," signed by Prince Philip and with permission to publicise it.In July 1982, the Prince came to open the premises and we were all very nervous - perhaps especially because so many men from the press were crowding the open doors and passage-ways.
In bidding Prince Philip welcome, I brought a smile to the faces of the Edinburgh elite and Leith hoi polloi when I explained his presence by saying that to launch the campaign for the hundreds of thousands of pounds required, I had sent a letter, "I am writing to ask for your help and I am not asking for money!"
Prince Philip "brought the house down" by shouting out, "They all say that! But the money comes in......"
(Rev) Jack Kellet, Dyers Close, Innerleithen
The coronavirus variant discovered in South Africa can "break through" Pfizer's Covid-19 vaccine to some extent, a real-world data study in Israel found.
Although not peer reviewed, such developments surely should lead to a consideration of an immediate cancellation of COP26 in Glasgow this coming November.
What's the point in getting 40-60,000 people from all over the world to Glasgow with the enormous risk that many of those participants carry maybe multiple virus variants?
That could create a strong possibility of the spreading of a vaccine resistant variant here in Britain with an epicentre in Glasgow.
Perhaps our First Minister and Prime Minister both consider their climate emergency more important that the health of the nation?
They seem to have forgotten that Scotland emits around 1/10 of one percent and the UK as a whole around one percent of global emissions and, therefore, can have little effect on the climate whatever they do.
John Peter Monks Road, Airdrie
Greta Thunberg has decided that it is not safe to come to the COP26 Conference in Glasgow in November because of the Covid-19 coronavirus and the fact that it could spark another wave of the pandemic. No travel equals no increase in climate change.
Nicola Sturgeon should strongly recommend that this conference be postponed in light of all the other events eg Highland Games happening or scheduled for this year and have likewise been cancelled.
Michael Baird, Dornoch Road, Bonar Bridge
Like Robin Whike (Letters, April 10) I received through my letter box an election leaflet from the Conservatives, about 98 per cent of which was asking me to vote Conservative to avoid another independence referendum.
I also saw a Conservative election broadcast on the TV in which Ruth Davidson was brought back to Scottish political life again with the same message
Have they gone mad, I thought. They have spent the last year saying to anyone who will listen there will not be another independence referendum in the lifetime of this UK parliament because the Prime Minister will not allow it.
It doesn't matter if the SNP gain an overall majority, it doesn't matter if the majority of voters support independence-seeking parties, Boris will not budge.
So why, instead of putting forward policies which will be implemented should they come to office, are the Conservatives banging on about an issue which they say is a non-starter?
But they are not mad. My take is that they have sensibly abandoned all hope of forming the government in the next parliament. Their more modest aim is to beat Labour and avoid the ignominy of again becoming only the third strongest party in Holyrood.
To do this they seek to frighten those Labour supporters who are against independence into supporting them at the polls.
Their stance of being the only party that can halt the drive to independence is a cynical ploy to encourage Labour supporters to vote Conservative and so increase the number of Conservative seats in the next parliament.
Labour supporters who are tempted in this way should ask ask them a simple question. If a majority of MSPs supporting independence is elected to the next parliament, will their party permit an independence referendum to take place?
If, as I expect, the answer is no, then why should they consider supporting them?
Ian McKee, The Cedars, Edinburgh
Jeane Freeman, erstwhile Health Secretary, declares that the government failed to properly understand the needs of social care during the pandemic. The right precautions did not take place in the transfer of elderly patients into care homes and this was a "mistake".
If this is now the time to come clean as it were, perhaps the First Minister will also wear the hair shirt and admit her government's utterly discredited domestic policies.
Failed our children's education, failed in achieving smaller class sizes and failed in closing the attainment gap
Failed with a lack of policy for drugs users resulting in a shocking death rate as with care homes. Failed the women who brought forward complaints against Alex Salmond with a failed and discredited complaints policy and yet still not a single individual has resigned or been fired.
I have only touched on a few points that would appear on the First Minister's charge sheet listing her failures and regretfully it seems the electorate is being hoodwinked into believing this election is about independence and not the catastrophic record of this discredited government that has cost the taxpayer hundreds of millions of pounds but even more importantly has cost many, many lives.
Richard Allison, Braehead Loan, Edinburgh
The latest Ipsos Mori Poll suggests that independence (49 per cent) and not the economy (16 per cent) is the top priority for Scots in the forthcoming Holyrood election.
Sir Tom Hunter's intervention last week could not be timelier or more prescient as the deep-seated challenges faced by the Scottish economy remain uncomfortable truths for us all.
These challenges have again been brought into sharp relief by Oxford Economics. Perhaps less to the fore in the electorate's mind, Scotland's general ails are well documented and better known among policymakers: lethargic long-term growth, a below average standard of living, poor productivity growth, a low business birth rate and the inability of businesses to scale and compete internationally.
You could also add to these, inadequate long-term investment, a university sector with less-well developed local commercialisation linkages and key business decision making functions which are either weak or absent.
Underpinning the latter are other basic factors such as: a private sector which lacks overall scale and dynamism; outside acquisition of the more attractive Scottish-based start-ups; and a historic over reliance on foreign direct investment.
The electorate need to become more savvy and aware of these economic realities.
A generational challenge it may be, but addressing the structural weaknesses of the Scottish economy must surely be the sine qua non of any proposed constitutional change.
Indeed, whatever form political structures may eventually take, Google-sized change for the Scottish economy remains an imperative!
Ewen Peters, Lomond Drive, Glasgow
Comments
 0 comments
Want to join the conversation? Please or to comment on this article.