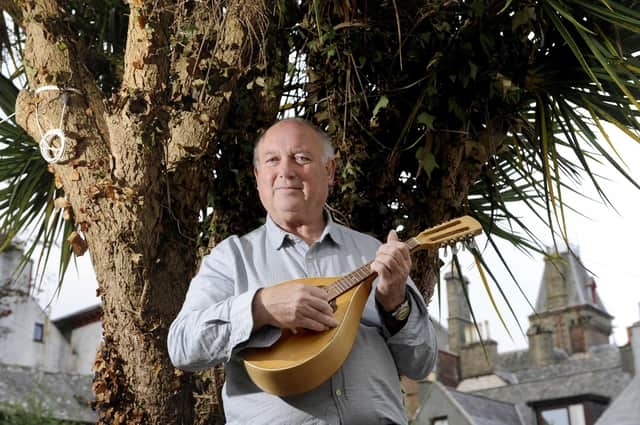 Captain Corelli's Mandolin author Louis de Bernieres delivered a broadside against Scottish independence in yesterday's Scotsman
1 and 2. The SNP plans to establish a Scottish currency as soon as possible and there is no intention of using the euro.
3. Scotland has been a member of the EU and as a wealthy modern democratic nation meets all the requirements for EU membership.
4. Unlike England, Scotland has a balance of trade surplus and as England's fourth largest export market it is in both countries' interests to reach an agreed solution. There would be no difference to the much longer border between Norway and Sweden.
5. The Faslane nuclear base would be a very powerful bargaining chip for any Scottish government during independence negotiations and the jobs involved could easily be replaced by establishing a Scottish naval base.
6. Under Gers, Scotland is charged £3.5 billion a year for defence but Ireland gets by on spending one billion a year while supplying forces to help with UN peacekeeping missions
7. Scotland pays its share for UK embassies and as part of the EU its citizens would have access to their facilities.
8. As the revenues went to London, oil has never been a major part of the Scottish economy.
9. Under the Union, Scotland can no longer rely on the Barnett formula as Boris Johnson has centralised the EU structural funding priorities in London.
10. The SNP is not a republican party and with over 100,000 members there is a wide range of opinions on many topics.
11. Malta and Cyprus had more say over the UK Brexit deal than Scotland which voted by overwhelmingly to remain but was completely ignored by Westminster.
12. After independence, people in Scotland will be free to apply for the passport of their choice but few will wish to be associated with the xenophobic Union Jackery direction of travel in England.
Watson Crescent, Edinburgh
So, after the SNP has been in power for 14 years, Nicola Sturgeon suddenly plans to solve child poverty in Scotland by doubling the Scottish Child Payment.
Yet again the SNP-led government at Holyrood thinks the way to solve a societal problem is to throw public money at it. Anyone with any practical experience of life knows that while money can oil the wheels of change, it can never by itself bring about lasting change.
This is lazy, tired governance from the First Minister. There is no detail regarding an analysis of the causes of child poverty in Scotland, no in-depth planning on potential solutions, no road map for sustained eradication of poverty in the long term and, most damming of all, no willingness among those in government to stop talking and to get down to some hard work.
It's not even as if the First Minister needs to re-invent the wheel on this, UNICEF has already produced guidance for governments on what needs to be done in its publication, "Building a National Pathway to End Child Poverty".
Of one thing I am in no doubt whatsoever: if all
the time and effort spent in the pursuit of Scottish independence over the past decade had been channelled into solving child poverty in Scotland, there would no longer be any child poverty in Scotland.
Newton of Balcanquhal, Perthshire
Douglas Ross pledges his party will build 40,000 council houses if elected. Can anyone spot a flaw?
One great thing about living in Scotland is we will never, ever, ever have a Tory government at Holyrood, which is why they want to close it. Scots haven't voted Conservative as their first choice since 1955. Could they be coalition partners? Ask the Lib Dems how that worked out. The People's Party might also think twice following their Evisceration Waltz at the Better Together Ball.
The second flaw is credibility. The Tory Party has never built a council house. David Cameron promised 200,000 starter homes in 2015 but the National Audit Office looked and found not one.
If the leader of the Scottish Conservatives wants to pretend he cares about civilised housing he can begin with an apology. How about:
I'm sorry the Conservative Party sold the bulk of Scotland's 500,000 council homes. I'm sorry a high proportion of these are now owned by private landlords. I'm sorry not a penny of that colossal revenue was reinvested in council house building; at the time, tax cuts for our people seemed more important. I'm sorry about the bedroom tax and the attendant misery. I'm sorry we rolled housing benefit into an impoverishing Universal Credit system causing vast rent arrears, evictions and homelessness.
Just for the record, the SNP government ended the right to buy in 2016 and completely mitigates the bedroom tax.
Inveresk Road, Musselburgh
The Additional Member System applying to elections to the Scottish Parliament is intended to deliver a parliament broadly reflective of political opinion in the country. This is a laudable aim.
It currently depends upon each elector having two votes – one for their constituency MSP (elected on a first past the post basis) and one for regional MSPs appointed from the political parties' lists.
Any system that allow individuals two votes is prone to manipulation and, as has been the subject of some debate in recent days, two parties could collude to play the system, one focusing on the constituency vote and the other on the regional vote.
If this succeeded, it could result in a substantial majority for the two colluding parties achieved through the votes of a minority of electors. This is precisely the opposite of the original intent in adopting this electoral system.
The aim of electing a parliament reflective of the views of the electorate can surely be achieved on the basis of each elector having only a single vote.
Each constituency candidate stands as an individual but also represents a party (Independents could also stand as constituency candidates but not on the regional vote under this approach).
In this system each constituency candidate would be appointed as at present but with the additional members from the parties' lists appointed based on the aggregate of the votes for the parties across the constituencies in the region.
This simple change would remove the distraction of tactical voting and prevent "gaming" the system.
The emergence of a second nationalist party, apparently more gung-ho and extreme, makes the "Ulsterisation" of Scotland even more likely. Even in the face of polls that suggested the majority of SNP voters do not want any quick break-up-the-UK referendum, the First Minister claimed in Tuesday's TV debate that there would be no delay.
While there is no real constitutional, and certainly no religious or historical, parallels with Ulster, over the past few years the bitterness and hate generated by the zealots has grown, it seems exponentially. Scotland is not a pleasant place in which to live under nationalist rule. This is an SNP-inflicted splintering of our own country.
Scots should wake up and smell the coffee and realise the direction in which they are being led by a minority of zealots.
We face a very uncertain period in Scottish politics now, with the approaching election.
The advent of Alex Salmond's Alba Party may, or may not cause the separatist representation in the Scottish Parliament to increase, but it is a danger that it may.
To counteract that threat, Douglas Ross has held out an olive branch to the other two unionist parties to "use the heid", agree on which of their parties can beat the separatists in each constituency and give each a clear run against them. Now, it may be that Willie Rennie – who has said no – with a handful of MSPs has a cunning plan to achieve a landslide, but, somehow, I doubt it.
The new leader of the Labour Party, runners-up in opposition, let us not forget, to the Conservatives, is a man standing in a very deep electoral hole. Labour was the party that carried all before it until Iain Gray lost it in a Glasgow sandwich shop. Their voters moved to the SNP and have stayed there.
Many tens, or even hundreds of thousands could still be persuaded back with a decent programme of policies and a realistic approach to the electoral arithmetic. That is something that Mr Sarwar clearly lacks, not just a little, but utterly.
Perhaps, however, the separatists have achieved something even more spectacular than we can see. Just as there was rumoured to be a "fourth man" when Philby, Burgess and Maclean were rumbled, Scottish politics has Sturgeon, Salmond and Harvie. Should Sarwar be added to that list?
Morningside Road, Edinburgh
We wish our religious friends and sometimes debating opponents a very happy Easter.
The Christian metaphor for Spring rebirth is powerful and poetic but neither original nor unique.
Let us hope that Christians celebrate with modesty and grace while recognising the many other manifestations, both religious and not, of the equinox feeling.
I personally look forward to the rising again of my herbaceous borders and the coming alive of my local garden centre.
Edinburgh Secular Society, Saughtonhall Drive
We welcome your thoughts. Write to [email protected] including name, address and phone number. Keep letters under 300 words, with no attachments, and avoid Letters to the Editor in your subject line.
A message from the Editor
Thank you for reading this article. We're more reliant on your support than ever as the shift in consumer habits brought about by coronavirus impacts our advertisers.
If you haven't already, please consider supporting our trusted, fact-checked journalism by taking out a digital subscription.