Licensing grouse shooting would backfire – Letters
Don't risk the rural economy, says a reader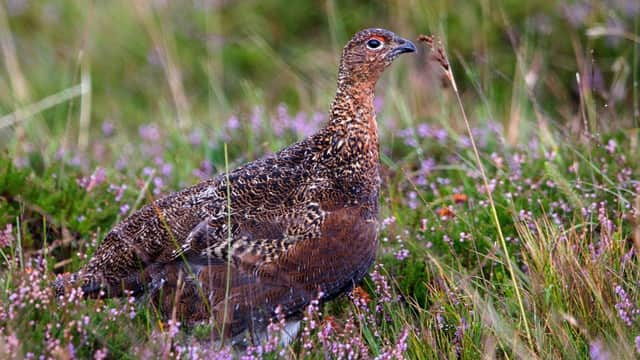 Duncan Orr-Ewing's article (Friends of the Scotsman, 22 July) is correct in stating that grouse shooting provides employment in rural areas.
Despite this and many other public benefits, the RSPB tries to make the case that driven grouse shooting in Scotland should be subject to licensing.
This would make it the most heavily regulated land use in the UK and would discourage ongoing investment, potentially losing jobs associated directly and indirectly with the sector and threatening many rural communities.
It was only seven months ago that Professor Alan Werritty and his panel, commissioned by the Scottish Government, delivered a very carefully considered report into driven grouse shooting, which concluded that licensing of grouse shooting was not justified at this stage.
A second research report on the value of driven grouse shooting to Scotland is due to be published by SRUC this year. It makes no sense to disregard the evidence and impose a licensing system now. Licensing is also unnecessary given that recorded raptor persecution is at an all-time low, with an increasing number of golden eagles, hen harriers, buzzards and other raptors nesting and breeding successfully on grouse moors.
There is an abundance of wildlife thriving on moorlands due to the careful conservation work carried out year-round by skilled land managers. Much of this work is already subject to agreed codes of practice.
No other sporting or land use sector is subject to state licensing and in one move the Scottish Government would undermine all the progress made in recent years through effective collaboration between landowners, Scottish Natural Heritage and conservation charities. If we want a diversity of species and habitats we must allow moorland managers to look after our upland areas for the benefit of all.
Tim Baynes, Director, Scottish Land & Estates, Moorland Group, Eskmills Business Park, Musselburgh
As a Rosyth boy in the 1950s my summer holidays often involved bathing at a nearby beach at Port Laing. Walking there via the south side of Inverkeithing Bay meant passing the remains of a fever hospital at Cruickness, called the Lazaretto. All we knew from local lore was that it was used to quarantine sick sailors from foreign ports.
I later learned that it was one of two such buildings in Scotland, replacing a hulk that formerly served the same purpose and was built in 1771, the creation of a famous architect, James Craig, who also designed Edinburgh's New Town. It was last used to house victims of a cholera epidemic in 1832. Later in life, in the 1960s I spent some years in the merchant navy and understood why quarantine was as necessary then as it had been in olden times to prevent the spread of plague or leprosy.
All the countries I visited, even in the third world, only granted 'pratique', that is, clearance given an incoming ship by the health authority of a port, after compliance with quarantine regulations or on presentation of a clean bill of health. Countries with, say, a yellow fever outbreak, didn't want seamen such as me adding to their problems so we had to have up-to-date vaccination certificates for that disease and if we didn't, the port medical authorities would inoculate us before allowing us ashore.
When I saw how we in Scotland handled the Covid-19 outbreak in March of this year I was shocked to see that there were no health checks on planes arriving from Covid-19 hot-spots such as Italy and Spain at Edinburgh airport, no apparent health checks of crews disembarking into small tourist craft from cruise liners at anchor in the Forth and certainly no health checks on land for tourists from England, Wales or Ireland.
It is not inhospitable for a Scottish Government to screen tourists arriving here, in fact it is a dereliction of duty not to do so.
The fact that Scotland was a country of free and easy access must have had some bearing on the numbers of Scots lost to the pandemic. Numbers, which, per capita, are right up there among the worst in the world!
Tom Minogue, Victoria Terrace, Dunfermline
In your report yesterday, Nicola Sturgeon accuses the Prime Minister of "playing politics with the pandemic". I cannot be alone in judging that she has done exactly that, pretty skilfully, all the way through.
No one doubts the anxiety and concern expressed by many people in public life who were faced with a new dangerous epidemic with no known cure. They had to take the best available advice and make the best judgements possible in circumstances never before encountered.
Where the First Minister diverged was that she held the floor every weekday lunchtime for four months on TV. At every possible juncture she chose to differ from the UK approach, often in the pettiest way. We had the emergency hospital whose name most people had never heard of, the difference in wording at the change of message. She said she did not understand "Stay Alert"! Really? The repeated questioning of whether the UK knew what they were doing. When the Opposition in Holyrood questioned the difference between her pronouncements on TV and what was reported in communities on the ground, especially in care homes and testing, that was also dismissed as playing politics. I could go on!
There never was any reason of public information for these daily outings, except on the occasions where changes or alerts had to be passed on. She realised the opportunity available and made good use of it for her purpose. I am just surprised that so many people seemed to swallow her message so naively. I am also surprised that the public broadcaster did not notice a lack of balance, perhaps. It was pure politics.
Scotland is fortunate in that urban concentrations are far fewer than in England. Rural areas covering most of this country have fared pretty well, as elsewhere in the UK.
How anyone can make the jump from the management of this virus to a belief in the independance saga beats me. Memories must be short indeed, if the disaster of Scottish education, rusting ferries in a Clyde yard, health service problems and a lack of business understanding, to name but a few, are to be set aside.
The Scots are famed for common sense. Lets remember to use it.
Alison Fullarton, Lumsdaine, Eyemouth
You could not really make it up! It is a bit rich for the First Minister saying that the Prime Minister was "crowing" about the value of the Union.
To use a similar analogy, she has been "squawking " about independence and getting more borrowing powers for Scotland, all the while taking the vast amounts of UK funds made available to all nations within the UK. She singularly fails at all times to explain where this money would be borrowed from, at what interest rate would it be borrowed and who will be the guarantor for all this borrowing?
The whole rationale behind the campaign for independence can be summed up as "Independence without information". If and when the First Minister faces real and knowledgeable scrutiny without daily political briefings and censored questioning, she will have to come up with answers, for example, to the currency question, the EU and the Euro, border controls, trade within rUK, an enormous deficit and many other questions, particularly about the litany of disastrous and failing Scottish Government domestic policies.
Perhaps the supporters of independence should just temper their delight at recent opinion polls. When the detailed scrutiny of the facts and figures begins, the disastrous implications of independence will come to the fore, just as they did in 2014.
Richard Allison, Braehead Loan, Edinburgh
I read recently that Tesco's outgoing CEO Dave Lewis's total remuneration was £6.4 million in the 12 months up to 29 February 2020, up from £4.7m in 2019 and that their shareholders were given a £635m dividend payout in April 2020. Covid-19 was first identified in Scotland on 1 March.
I have been moved to write to Dave Lewis to say that as a senior citizen I have appreciated and relied on Tesco retail staff in my small local shop placing themselves at risk daily to provide me with a service. Like many employees across the retail sector they were given no personal protection in the early days of Covid-19.
We know Covid-19 can be transmitted by people touching contaminated surfaces. Tesco's decision to axe cleaning staff is highly risky and made at a time when the main focus is on preventing the spread of this deadly virus. To fail to prioritise cleaning in stores by dedicated staff demonstrates huge ignorance and a lack of concern for both Tesco employees and the public. The staff member who served me at 6am this morning is clearly demoralised and concerned by the company redefining his job to include the cleaning of toilets.
Covid-19 is still present in communities and there may be a second wave The suggestion by Tesco that "giving stores more ownership and control over cleaning results in better and more consistent standards" is at best wholly misguided and at worst a gross example of placing profit before the safety of others
Helen Petrie, West Catherine Place, Edinburgh
So let me recap: eight people from a maximum of three different households can now meet indoors as long as there is physical distancing (2m?) between different households. Got that. ScotRail passengers can sit in a carriage with complete strangers but 1m apart. Got that too. So trains are safer than homes! I'm reminded of the advice that Bob Hope received in The Paleface as he was about to take part in a shootout. The Scottish Government advice matches that script perfectly.
And if you're of the young persuasion, Google it!
Ken Currie, Liberton Drive, Edinburgh
The Scotsman welcomes letters for publication – 300 words maximum – from all sides of public debate. Include date and page when referring to an article, avoid 'Letters to the Editor' in e-mail subject line. No attachments. We reserve the right to edit letters. No correspondence will be entered into. Send submissions, with full address and phone number, to: [email protected]
A message from the Editor:
Thank you for reading this story on our website. While I have your attention, I also have an important request to make of you.
The dramatic events of 2020 are having a major impact on many of our advertisers – and consequently the revenue we receive. We are now more reliant than ever on you taking out a digital subscription to support our journalism.
By supporting us, we are able to support you in providing trusted, fact-checked content for this website.
Joy Yates, Editorial Director
Comments
 0 comments
Want to join the conversation? Please or to comment on this article.