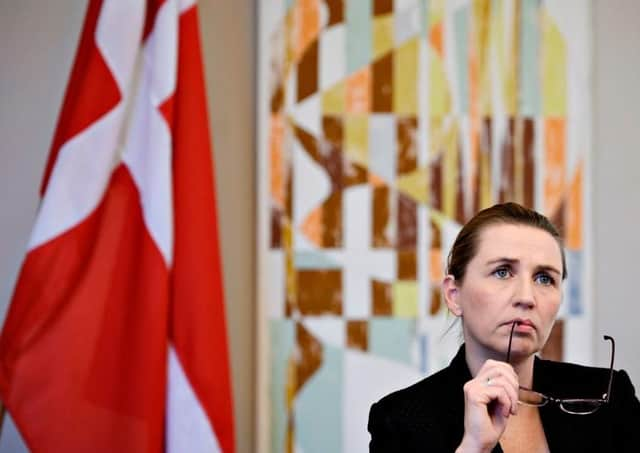 Should Scotland be more like the Denmark of Prime Minister Mette Frederiksen? (PPicture: Phili Davali/Ritzau Scanpix/AFP via Getty Images)
Now there is an interesting word – currency. The UK ­government is doing what any country with its own currency can always do. In the ­colloquial parlance, it is printing money to spend on ­necessary action – the same as it did after the financial crash of 2007-08. The problem was that they saved finance and not the ­people, who endured ­austerity instead.
Whether the government chooses to balance spending with borrowing to meet some pointless fiscal target is ­neither here nor there. ­Borrowing via the process of selling bonds is in reality a means of risk-free saving for an element of the private sector. In the ­current crisis, not much of that will happen as such potential ­savers are running scared and looking for other ways to save their wealth.
Where was the massive, emergency tax bill to allow them to balance the books? The Government will spend those extraordinary amounts by instructing the Bank of England to credit the reserve accounts of the banks of the recipients of the extra spending, as it does every day in ­normal times.
An independent Scotland with its own currency would be able to make the same choices, and I hope our Scottish government would make the right choices for the benefit of those who elect them.
To those suggesting Scotland is too small, I would refer them to Denmark, a country with about the same ­population and its own currency. Although not in the eurozone, they are dependent on the EU relaxing their silly fiscal ­constraints.
However, before that happened, Denmark unleashed an impressive level of firepower to support its workers – a very similar job retention scheme to that of the UK which provides 75 per cent of ­wages. The Danish plan means spending 13 per cent of GDP in three months, similar to a proposed, but not yet agreed, $2.5 trillion stimulus in the US.They also guarantee 70 per cent of new bank loans to companies, and will compensate companies for their fixed expenses like rent and contract obligations. Their benefits system will also be more generous during the crisis.
Belmont Road, Juniper Green
All our armed forces and reservists will be holding stocks of NBC (nuclear, biological, chemical ) kit dating back to the Cold War. Respirators and protective equipment by the ton are there just waiting for an emergency, with thousands of retired, experienced users like me who exercised with it on a monthly basis. Time to find the old chap who holds the key to the store and get it out there ready for use for drivers etc.
The more humans interact the more Covid-19 will spread. That is why it is essential for people to avoid human contact. But we may have the seasons on our side.
Covid-19 is an "enveloped virus", with the main body protected by an oily film called a lipid bilayer. When the temperature is low the film is durable and protects the main body; when temperature is high the film is less durable and may break down.
An article by Richard Gray on the BBC Futures website explores the relationship between temperature and transmission. There is only indirect causal evidence as yet of the influence of weather and the spread of Covid-19 but it remains a possiblity. Let's hope there is a connection and that the warm days to come will have an effect. In the meantime Government advice to stay at home offers the best protection.
Justice Park, Oxton
Lauder, Scottish Borders
It saddened me to read that amongst all the social and economic hardship, the misery and the grief we are living through because of the pandemic, for Robert IG Scott the thing that transcends all else, the silver lining, is the preservation of the Union and the damage it might do to the independence movement (Letters, 25 March).
However, it seems naive to suggest that we'll come through it to a situation of "lower taxation". It has to be freely acknowledged that the recovery package put together by the UK government stems from extraordinarily extenuating circumstances, but nevertheless, it is built on a mountain of existing debt and will have to be paid for by future generations. What worries me particularly, is the fact that successive incompetent Conservative governments have managed the difficult trick of putting us through ten years of austerity while tripling the national debt to £2 trillion pounds. As Henry L Philip helpfully explained (Letters, same day) that's a 2 and 12 zeroes.
Mr Scott ignores the fact that the SNP won 47 seats in the last General Election and indulges in a little wishful thinking by saying that it "has passed its sell-by-date". We'll see, but it's probable that they will be judged on how they manage the current crisis. The country is facing the biggest challenge it has faced since the disastrous Darien experiment in Panama. Could it be that our present situation might result in a diametrically opposite result?
If we put aside the obvious distaste for the Scottish Government shown in the letter from Robert IG Scott in Wednesday's Scotsman, we must really wonder if he lives in a different world.
The PM like a puppet on the string dangled by Cummings, a modern day Rasputin, has dithered for weeks and failed to instigate many emergency measures until now. Does Mr. Scott's "marvellous job" reflect the failure to provide adequate and suitable safety equipment for NHS and other emergency staff? Was there any real attempt to identify manufacturers and suppliers of such materials until the mainly voluntary proposals from Industry this week?
Or the lack of forward planning for transport, travel and the food chain. The PM still seems obsessed with Brexit at a time while all the attention of the UK Government should be focussed on the present crisis. A concerted approach by all political parties is required leaving Brexit, Scottish Independence and related matters aside for the duration.
Such an approach worked from 1939-1945, but at that time there were politicians of stature and honesty.
This coronavirus outbreak has succeeded in humbling both Communist superpower and capitalist economies and sees them in lockdown with fear for their citizens' lives and should tell us that governments, irrespective of ideologies, must co-operate more. Alongside the scientists engaged in discovering vaccines, some good old fashioned detective work and investigative journalism might help in the discovery process and at least tell us more about how this virus came about.
Meantime, hopefully, our sewage and water services are, for their part, closely monitoring our water supplies. The flooding in many parts of the UK earlier this year was a reminder that water knows no boundary and with all the required hand-washing in soap and water, far more than soap could be draining down our sinks! And we do need to drink clean and safe water.
Alexander McKay obviously isn't self-employed (26 March). Of course Fiona Hyslop and Kate Forbes demanded that we self-employed be given the same treatment as those in permanent employment. Everyone knows that you get nothing by being nice to people.
Portcheek Terrace
Kirkmichael
Maybole, South Ayrshire
In response to Susan Dalgety's unnecessary and sexist article ("Spare a thought for the brave women taking on coronavirus", Perspective, 21 March), I have this suggestion – "Jason Leitch for First Minister".
Old Auchans View, Dundonald
There has been a lot of coverage of the Chancellors emergency measures to support UK businesses in this global crisis, both support, and criticism for not going far enough.
There has been little acknowledgement of the role that the EU commission has played. Rishi Sunak had to ask permission from the bureaucrats of the EU Commission to implement his programmes. They have allowed them to run to 30 September 2020 and he would have to request for them to continue beyond this date. The EU have set a limit of €800,000 (around £727,000)per company and the amount is dependant upon the business type.
This is a reminder that the EU is a superstate that retains power over its subjects. Sovereignty remains in Brussels, for now.
To Stan Grodynski (Letters, 25 March): No Stan, just as in September 2014, "the electorate of Scotland will not be fooled", thank goodness the majority of us are "besotted unionists."
Kilcamb Paddock
Strontian
The Scotsman welcomes letters for publication – 300 words maximum – from all sides of public debate. Include date and page when referring to an article, avoid 'Letters to the Editor in e-mail subject line. No attachments. We reserve the right to edit letters. Send submissions, with full address and phone number, to: [email protected]