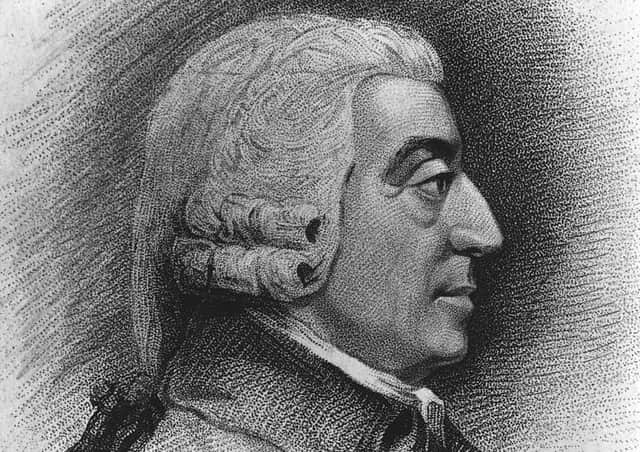 Scottish political economist Adam Smith (Picture: Hulton Archive/Getty Images)
It's time Scotland stood tall and took responsibility for the destiny of this country and its citizens, particularly when it is as clear as day that Scotland is far more likely to succeed by having the ability to self-govern. Completely – not in chaotic bits and bobs or dangling from the strings of the puppeteer.
From an economic standpoint, what Covid-19 has shown us is that it doesn't take much to break the global economy and to spiral into debt and mass unemployment within a few short months.
Adam Smith led the way centuries ago as the father of modern economics, and his model was a guiding light at the time, but now Scotland has the chance, through independence, to lead the world with new ideas for a more robust economy and frankly better economic model. Have we not educated the children of this country in order to make a better future? Have we not had and still have, some of the most brilliant minds?
Stop undermining the youth of this country by telling them they aren't good enough to self-govern and have no right to a vote that can count.
What's it going to take for some people to realise that Scotland will always be treated as a backwater by Westminster and will never have any of its constitutional rights met under the Establishment that pervades the UK in the form of blatant sycophantic sections of the media and the government in Westminster.
Have some pride, have some confidence in the citizens of Scotland.
After all, history has shown that Scotland, for all its modesty, has led the way across the centuries in innovation, literature, philosophy, science, business and political thought. Now's the time and now's the hour. Stand tall.
R McCallum, Garnock Street, Dalry, Ayrshire
The heavily loaded suggestion by Clark Cross (Letters, 27 July) of a two-year trial of Scottish independence should be adopted only after analysis of the division of assets and liabilities between England and Scotland.
Although there have been periodic pronouncements by pseudo-independent think-tanks, no real independent analysis has ever been undertaken. This has allowed enthusiasts for the Union to portray any payment to Scotland as a gift or subsidy rather than an allocation.
(Dr) PM Dryburgh, Falcon Avenue, Edinburgh
Your report about the attempt to revive the ferry from Rosyth to the continent should carry a health warning ('Hopes sink for direct ferry link between Scotland and Holland, 17 July'). As Presiding Officer of the Scottish Parliament I inaugurated the original ferry from Rosyth to Belgium.
If my memory is correct it was started by a Greek company in 2000. My wife and I happily used it on at least three occasions before it was withdrawn through lack of custom.
The problem was that although around Edinburgh the ferry was well advertised (and still is!) on signposts, on the Continent side its location was difficult to find, and people in the Netherlands, Belgium, France and Germany were unaware of the fact that they could enjoy a holiday in Scotland without the boring drive through England and the channel ports. If a revival is to succeed it is essential that the owners persuade the Scottish Government and tourist authorities to spend on promoting it.
Lord Steel of Aikwood, Selkirk
So far the EU has not covered itself in glory in its responses to the Covid-19 emergency. It left microbiological, epidemiological and scientific responses to member states rather than trying to positively co-ordinate their actions, and is now engaged in bitter arguments about how to control a fund to help the worst affected countries ('North-south divide prevents EU from reaching virus fund deal', 20 July).
The Netherlands, Austria, Finland, Sweden and Denmark have been nicknamed 'the frugals', because they are strongly resisting any generosity to countries worse affected than them.If Scotland was an EU member it is very likely that it would have been on the wrong side of the counter as well, because our Covid-19 death rate has been significantly greater than in any of them. In contrast, the UK Treasury has been generous to a fault.
Hugh Pennington, Carlton Place, Aberdeen
Some small businesses now want customers to pay in cash rather than by card – not as a tax-dodge but to avoid the crippling costs to their businesses of customers paying by card: I'm finding it nearly impossible to get any cash because the 'big' shops insist on card payment.
Cash machines haven't dispensed fivers for many years and tenners are getting hard to come by. I don't want to take all a taxi driver's change by proffering a £20 note for a £3 fare. Should fivers be reintroduced in cash machines or what?
Basically it's almost impossible to get small change nowadays and we do often still need it, so what's the answer?
Steve Hayes,Aithernie Court, Leven, Fife
Judges have ruled that Shamima Begum, who joined Islamic State, should be allowed to return to the UK to challenge the cancellation of her British citizenship (your report, 17 July). The Special Immigration Appeals Commission has already stated that cancelling her British citizenship was legal. Court proceedings have been conducted by video conferencing during the Coronavirus so why not with Begum still abroad? If she is allowed to enter the UK and loses her appeal there is very little chance of her being deported if the past is anything to go by. Foreign crooks, failed asylum seekers, economic migrants and even convicted terrorists have not been deported and some were even granted 'exceptional leave' to remain.
Clark Cross, Springfield Road, Linlithgow
I watched the interview with the Chinese ambassador on The Andrew Marr show on BBC1 on Sunday. Mr Marr was his usual forceful self but I did accept some of the ambassador's argument. When Mr Marr was banging on about Hong Kong residents' rights being eroded the ambassador pointed out that under British colonial rule the Chinese in Hong Kong had very little, and in my days in Hong Kong they had no vote. Hong Kong had a Governor who was in charge of the island supported by a British regiment, and other armed units. Hong Kong people only got the vote latterly, before it was returned to China.
The row over Huawei and the communications system they want to install could well backfire on Britain as its very advanced technology is what a country needs in the 21st century. Could the Tory Party hawks and Donald Trump be wrong about their standoff position, as the Chinese ambassador suggested?
Mike Twaddle, Raeburn Heights, Glenrothes,Fife
Andrew HN Gray (Letters, 20 July) says it's easy to spot the nationality of drivers crossing as their car numbers identify them as being from south of the Border. Not so
At the 2011 census, 61 per cent of the population of England identified as white. There were 14 other nationalities which identified as non-white. Those residents identifying as white, other than English-born people, included Americans, Canadians, South Africans, Australians, New Zealanders and people from the EU. The largest number from the latter were Poles, who, in 2019 still numbered 902,000.
From the British Isles, at the census, living in England, there were 708,872 Scots, 430,309 Irish and 610,00 Welsh. Any member of the groups (white or non-white) mentioned above could have been driving to Scotland in a vehicle registered in England.
As the car registration is irrelevant, perhaps Mr Gray can advise on his alternative plan for identifying drivers as English?
Gill Turner, Derby Street, Edinburgh
The UK government's furlough scheme and support for the self employed is a life-saver for thousands of Scottish businesses and almost 900,000 Scottish workers. Our Economic Secretary, Fiona Hyslop, pathetically described this as "some relief" to Scotland, then cheekily demanded that the furlough scheme be continued after October to help Scotland's tourism and hospitality sector.
She should have a wee word with her boss Ms Sturgeon, and tell her to stop talking about possible quarantining of visitors and a Scotland/England border. As a number of Scottish hospitality businesses opined last week... that would help our tourism business!
Jim Houston, Winton Gardens, Edinburgh
I was amused by your front page headline on Friday, which stated 'Alas poor Yorick, laid to rest under a tram line', describing how skeletons are being unearthed from South Leith Parish Church's medieval graveyard, through which the new tram line is to be laid.
It reminded me of a young American tourist's question put to my late father-in-law in the mid-nineties when he gave her a lift to catch a train.
As they headed down the Mound, she looked around in puzzlement and asked, "Why did they build Edinburgh Castle so near the railway station"?
Andrew HN Gray, Craiglea Drive, Edinburgh
I have read this weekend of a bid by a Green MSP to cut the speed limit in Scottish residential streets to 20mph to reduce casualties.
But is he being ambitious enough? Should he not be trying to eliminate them altogether? He might, for example, propose that all vehicles should be led by a man using a loudhailer to warn of danger approaching while at the same time waving a red flag, That would work, wouldn't it?
John Dorward, Brechin Road, Arbroath
The Scotsman welcomes letters for publication – 300 words maximum – from all sides of public debate. Include date and page when referring to an article, avoid 'Letters to the Editor' in e-mail subject line. No attachments. We reserve the right to edit letters. No correspondence will be entered into. Send submissions, with full address and phone number, to: [email protected]
A message from the Editor:
Thank you for reading this story on our website. While I have your attention, I also have an important request to make of you.
The dramatic events of 2020 are having a major impact on many of our advertisers – and consequently the revenue we receive. We are now more reliant than ever on you taking out a digital subscription to support our journalism.
By supporting us, we are able to support you in providing trusted, fact-checked content for this website.
Joy Yates, Editorial Director