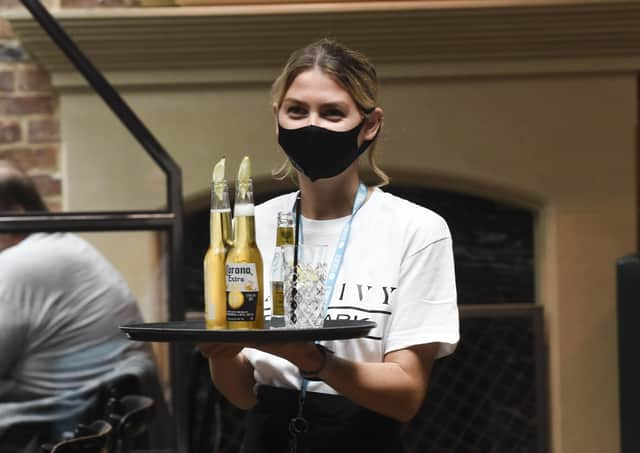 Hugh Pennington's uncharacteristically unscholarly 'whataboutery' conjecturing that an independent Scotland within the EU would have fared worse in the Covid-19 crisis than it did by having to endure being tied to the UK's 'broad shoulders' (Scotsman, 21 July) barks entirely up the wrong tree.
It was the irresponsible behaviour of the inept UK government and in particular of its Prime Minister Boris Johnson, who missed five Cobra meetings on the crisis during February while trying to sort out his matrimonial affairs; managed to miss out on the offer of European procurement of PPE, leaving NHS staff without proper protective gear; brushed off the virus as a minor illness; boasted of shaking hands with Covid patients in early March; succeeded in infecting himself, his pregnant girlfriend and key members of the Cabinet and UK government; and postponed lockdown until 23 March, despite the clear evidence of the virus ravaging the continent – which has inflicted intolerable damage on the UK economy and dragged Scotland along with it.
It is laughable to suggest that a nation such as Scotland, famed for its caution and canniness – witness Nicola Sturgeon's competent handling of the crisis since she abandoned the four nations approach – would have been so recklessly irresponsible as the over-confident, over-privileged Etonian mob who run Britain's Vote Leave government. Like Ireland, Norway and Denmark, and even Greece, an independent Scotland would have locked down far sooner, sparing thousands of deaths and untold damage to the economy.
Norway, with a similar population to Scotland, locked down hard on 12 March, closing all ports and airports, with the result that there were only 253 deaths, a tenth of the Scottish figures, and life has now largely returned to normal.
Small independent countries are nimble and can deal with pandemics more efficiently. The fact is that far from the union's 'broad shoulders' having saved poor wee Scotland, under its current Vote Leave government, the UK is an existential threat which is inflicting untold damage on her people, democracy and economy.
Mairianna Clyde, Merchiston Crescent, Edinburgh
With a post-Covid tidal wave of unemployment about to strike us, we need the rest of the UK more than ever. For all their 'unchain the unicorn' fantasies, there would be consternation within the Scottish Government if they got independence tomorrow; they would soon be swept from Holyrood by a tsunami of enraged former supporters once they realised Sturgeon and co could no longer pay their benefits.
Martin O'Gorman, Littlejohn Road, Edinburgh
R McCallum (letters 21 July) is absolutely correct, "history has shown that Scotland, for all its modesty, has led the way across the centuries in innovation, literature, philosophy, business and political thought".
How very sad, then, that it has taken this separatist regime only 13 years to trash virtually every aspect of Scottish life in the deluded, emotional march to destroy the United Kingdom for no good and proven reason.
R McCallum should think seriously about what Nicola Sturgeon stated in 2016 that 'nothing' was more important than independence. She has proved true to her word and it is morally indefensible that "oil, balance sheets and economics" and education, NHS, drug deaths, homelessness, child hunger and billions spent on vanity projects are not important.
Nationalism has only succeeded in dividing "the people of Scotland". Give us the credible economic case for a new Scotland. It will cost hundreds of billions to establish an independent country and send Scotland into penury. Ms Sturgeon and senior people know this, hence the real hesitation in pushing for another referendum.
Douglas Cowe, Alexander Avenue, Kingseat , Newmachar
In support of Clark Cross, who advocates a two year trial of Scottish independence (Letters, 27 July); recently Nicola Sturgeon was asked by a reporter if she would care to try to govern Scotland without claiming handouts from Westminster such as the £8.5 billion a year Barnett Formula.
Her reply was that she would continue with the status quo. She knows that without the subsidies her little pet projects like ubiquitous baby boxes would have to be curtailed.
Sally Mannison, Ladhope Drive, Galashiels
Professor Mark Woolhouse, Edinburgh University's infectious disease epidemiologist, offered reassurance to staff preparing for the full reopening of schools next month. He noted that scientists are yet to find a single confirmed case of a teacher catching coronavirus from a pupil anywhere in the world.
In retrospect it was probably a mistake to close our schools in March, but the reopening of schools should certainly have been one of the major priorities in lifting lockdown. In fact the real indictment of our society is that our government had no qualms about opening bars but wouldn't open schools.
Given how fixated Nicola Sturgeon and the Educational Institute of Scotland are on the 'precautionary principle', its no surprise she took the unilateral decision to close our schools. Most European nations decided that children attending school and playing outside was safe. This is information we can use when (or if) Covid-19 returns.
(Rev Dr) John Cameron, Howard Place, St Andrews
I am no nationalist but I take issue with Robert IG Scott's letter (22 July), attacking plans for a new independence minded party, as a threat to democracy. Undoubtedly those behind the move intend to play the system, which he claims "has worked reasonably well". Democrats would take issue with that.
He correctly notes that the 2014 referendum No majority reflected the will of the people. However, since then Westminster has led the UK out of the EU against the will of a large majority of Scots and Scotland has elected a heavy majority of SNP MPs to Westminster, on a manifesto promising a second referendum.
The three Scottish unionist parties are committed to blocking such a move. That isn't just a threat, it is a commitment and a profoundly undemocratic position.
Until there is a second referendum to settle the issue, the SNP's many failings in governance will continue to be brushed under the carpet of the constitutional debate.
Kit Fraser, Belhaven High Street, Dunbar
The UK government declined and further declines to investigate the possibility of organised foreign influence exerted on referenda in 2014 and 2016.
The refusal of the UK government to establish truth about these referenda draws immediate attention to widely held suspicions that wealthy and privileged individuals may have sought to fix the outcome of these referenda for personal gain at the expense of the population. These referenda cannot be considered fair and conclusive without a clear establishment of truth about any assault on their integrity.
Tim Cox, 3000 Bern 6, Switzerland
As a former tourism industry-related professional I believe Lord Steel of Aikwood's reason for the failure of the Superfast ferry service from Rosyth to be wide of the mark (Letters, 21 July).
Superfast, whose name the Lord seemed to forget, owned by Greek Attica Enterprises, introduced two fairly large ferries on the route that required, in order to provide the bread and butter of the service, to have a high load factor for freight trucks carried; in fact they needed the support of the majority of Scottish hauliers to do so.
The incumbent large ferry operators at Newcastle, and more so at Hull, massively slashed the rates they offered Scottish hauliers to keep their business –50 per cent reductions or more were common in order to keep their custom. Superfast couldn't afford to compete with these rates and their load factors as regards freight trucks etc were low.
The passenger traffic should have been the icing on the cake bringing in profits, but it was concentrated largely on a seasonal six month per year basis and unsustainable. Superfast backed a loser and Attica Enterprises rued the day they ever set sail from Rosyth. The cost of their losses, which were never released, were no doubt in the tens of millions.
A new ferry service out of Rosyth is a non starter in the foreseable future.
Andrew Heatlie, Cleland Avenue, Peebles
It was very interesting to read Matthew Zajac's letter, 'It may not get funding but Scotland still has radical, purposeful touring theatre', (22 July). I wonder if the Scottish Qualifications Authority would consider setting some of the plays he mentions in the Nat 5 and Higher exams because the ones they have selected so far, though worthy, were written years ago and are only of historic interest to today's pupils.
Lovina Roe, Glasgow Road, Perth
The Scottish Government, obviously armed with oodles of additional data, announced the lifting of quarantine restrictions on Monday of this week for holidaymakers returning from Spain.
The daily figure for new cases for Covid 19 in Spain on 3 July was under 400 and on Monday the new case count there had risen to over 1,500.
It would suggest to me that the original decision by the Scottish Government to exclude Spain from the list of approved countries as advised by Westminster on 3 July had nothing to do with the virus but everything to do with politicking! Stay alert on your sangria folks.
Archie Burleigh, Meigle, Skelmorlie
The Scotsman welcomes letters for publication – 300 words maximum – from all sides of public debate. Include date and page when referring to an article, avoid 'Letters to the Editor' in e-mail subject line. No attachments. We reserve the right to edit letters. No correspondence will be entered into. Send submissions, with full address and phone number, to: [email protected]
A message from the Editor:
Thank you for reading this story on our website. While I have your attention, I also have an important request to make of you.
The dramatic events of 2020 are having a major impact on many of our advertisers – and consequently the revenue we receive. We are now more reliant than ever on you taking out a digital subscription to support our journalism.
By supporting us, we are able to support you in providing trusted, fact-checked content for this website.
Joy Yates, Editorial Director