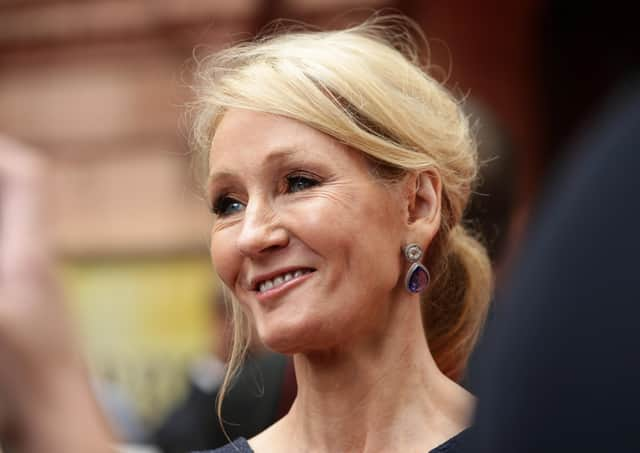 Novelist JK Rowling has been accused of transphobia Picture: Yui Mok/PA Wire)
I read, with mounting horror, the report that four writers have resigned from JK Rowling's literary agency because the agency does not agree with their views, and will not meet their outrageous demand to publish a statement in support of transgender rights.
What arrogance! This is akin to fascism or the worst excesses of communism: everyone has to fit in with their narrow point of view.
Has it not crossed their minds that many people have different opinions but have not called on the agency to support their views?
I believe most of the issue stems from the fact that Ms Rowling published an article telling of her experience of male violence. She has at no time asked for their views to be suppressed, so why do they not accord her the courtesy she has shown them? Fat chance! Such people believe courtesy and tolerance are symptomatic of weakness. The reverse is true.
Incidentally, while almost everybody recognises Ms Rowling's name, I doubt if more than a handful of people will recognise theirs, the protesters.
Sour grapes, perhaps, rather than her views on transgender or LGBT issues?
Vivienne Stirling, Craigs Grove, Edinburgh
Surely if nothing else this dreadful pandemic has shown the folly of independence. How would we have fared without the financial assistance of the UK government?
This pandemic is not likely to be the last and the old adage that united we stand, divided we fall springs to mind.
Ian Stephen, Douglas Marches, North Berwick
I note that the First Minister keeps hectoring the already lockdown-weary Scottish voter, this time on not wearing face coverings enough in enclosed spaces. Two observations on this topic.
First, Nicola Sturgeon recommends they always be used in enclosed public spaces. Now, correct me if I am wrong, but each and every day she is presenting from an enclosed public space but I have not seen her or any other MSP in the parliament chamber or St Andrew's House, enclosed spaces, wearing a mask!
Second, at my local Co-op the other day, I watched the few mask wearers out of interest to see how they behaved. Each of them repeatedly touched their masks and then touched items on the shelves or other surfaces.
That would seem to me an even greater risk for spreading the virus. Quite simply, most people who do not use them on a daily basis for work do not know how to wear masks safely.
James Walker, Union Grove, Aberdeen
One of the most ludicrous sights in the anti-racist demonstrations we have endured in this country was that of an African student studying at Oxford University on a Rhodes scholarship demanding that the statue of his benefactor be destroyed.
I won my Blue in St Andrews on the fabulous playing fields Andrew Carnegie gave the university. I gained my PhD in physics via a generous Carnegie scholarship. However, emigrant members of my extended family were caught up in the infamous Homestead Strike in Carnegie's steel works in 1892 and one lost his life. Whatever my ambivalence about the way Carnegie made his money, he was simply better at it than most and a man of his time.
His later philanthropy helped my three medic brothers and me out of the west-central coalfields. He also played a decisive part in the rise of a modern America in which my cousins fulfilled "the dream".
It would not only be mean and ungrateful but beyond absurdity for me to riot in the streets and call for his name to be expunged.
Weighed in the balance, Carnegie's contribution to human advancement far outweighed his faults – and this was true of Rhodes as well.
I wonder how history will judge the politically correct loons who today mutilate and disfigure our heritage of buildings and statues.
(Rev Dr) John Cameron, Howard Place, St Andrews
So, construction work has recommenced on Edinburgh tram line, to the dismay of car lovers.
Don't they realise that far from reducing custom to the businesses, the ensuing reduction in car traffic on Leith Walk has a potential to vastly improve access in this open space for many who need it most, including the many new cyclists and many thousands of local inhabitants; to access shops in a much less polluted and quieter environment such as has existed during the Covid-19 lockdown.
All it needs is for people to make use of it and the businesses will flourish.
Neil Robertson, Gracemount Road, Edinburgh
During their handling of the Covid crisis the SNP has steadfastly stood behind the advice from their scientific advisers. May I advise the Scottish Government that the key word here is the second one. Advisers give "advice", not instruction.
You can do three things with advice; accept it, reject it or partially accept/reject it.
But in doing that you have to exercise judgement. The most effective heads of senior organisations do not hide behind the advice of their scientific, legal or financial advisers – they grasp the nettle and make their judgements based on the merits and demerits of the advice they have been given!
The extreme caution being exercised by the First Minister is based on standing behind the 'scientific advice' and could cripple our economy for years to come.
Gordon Presly, Cromarty Grove, Inverkip, Renfrewshire
Living close to theBorder and, while now looking forward to having a pint of beer in my local, I keep an eye on the policies being pursued on both sides.
Outbreaks of coronavirus have recently occurred in food processing plants in Northern Ireland, Anglesey and Germany. In addition, China is having to react an outbreak in a wholesale food market in Beijing.
I suggest that you do not need to be a member of the UK's Scientific Advisory Group to conclude that this industry merits investigation.
John Rhind, Meadow Lane, Beadnell, Northumberland
So BBC Scotland needs to cut £6.2 million and 60 jobs (your report, 23 June).
A logical solution would be to scrap its namesake the BBC Scotland TV channel. On an average evening only 7,000 out of 5.3 million Scots watch it. Scrapping it and moving the best programslmes and people to BBC 1 or Alba would save £32m.
That money should fund braver journalism, news reports and documentaries on the real issues facing Scotland, such as education, housing, old age and social care, obesity, economy and job creation and the causes of poverty.
The BBC in Scotland has a duty to do this, every year it gets worse at it and £32m would go a long way to removing excuses.
Allan Sutherland, Willow Row, Stonehaven
I note that Gill Turner (Letters, 23 June) suggests that a couple of deaths may not matter to a statistician. It is nice that she has taken time to read my letter (20 June) – the bulk of which she omitted to comment on – and I would like to reassure her that I have every sympathy for all those associated with any of the Covid deaths or serious hospitalisations. Each one of these is a tragic story and I (and all other statisticians) would greatly prefer that none of them had occurred.
The points I made in my letter about mortality are purely to put the total number of deaths, and who they are principally affecting, in some perspective, so that people (and especially politicians) can make their own decisions on the best way forward. And it was on that basis that I suggested in my letter what I think is the best approach for the schools, fully accepting that there are other points of view – as Ms Turner has pointed out.
The truth of the matter is that there is a pandemic out there and there is no silver bullet for dealing with it. There will be a cost for coming out of the pandemic (or having to live with it) and there is no scenario which will result in no deaths and a quick return to normality at zero cost to the economy and jobs. And that is where the politicians (and the media) struggle because they (understandably) want to make it look like we can get out of this painlessly and safely.
A more honest assessment would be better, but it must be carefully and well presented to avoid more panic. Unfortunately, however, that is not something that comes naturally to the various parties and the contentious environment in which they live. But, for the good of this and future generations, they must look beyond their political dogmas and rivalries and act in the best interests of the public to agree what will effectively be the "least worst" option.
And that option is not as bad as it might have been as this pandemic is having little or no effect on healthy children or healthy young and middle-aged teachers and parents and so a return to some sort of normality in schools (and elsewhere!) can reasonably be advocated for the non-vulnerable, with appropriate precautions and shielding still applying for the vulnerable.
The situation would be much worse if the pandemic did badly affect these parts of the population, but fortunately that is not the case.
Andy Scott, Newhalls Road, South, Queensferry
"Duke of Cambridge visited Smiths the Bakers at King's Lynn, Norfolk" (Court Circular, 23 June).
It must have been a quiet news day...
Just for balance – today my pal Wattie went down the Co-op!
Hugh M Pollock, Hallhead Road, Edinburgh
The Scotsman welcomes letters for publication – 300 words maximum – from all sides of public debate. Include date and page when referring to an article, avoid 'Letters to the Editor' in e-mail subject line. No attachments. We reserve the right to edit letters. No correspondence will be entered into. Send submissions, with full address and phone number, to: [email protected]
A message from the Editor:
Thank you for reading this story on our website. While I have your attention, I also have an important request to make of you.
The dramatic events of 2020 are having a major impact on many of our advertisers – and consequently the revenue we receive. We are now more reliant than ever on you taking out a digital subscription to support our journalism.
By supporting us, we are able to support you in providing trusted, fact-checked content for this website.
Joy Yates, Editorial Director