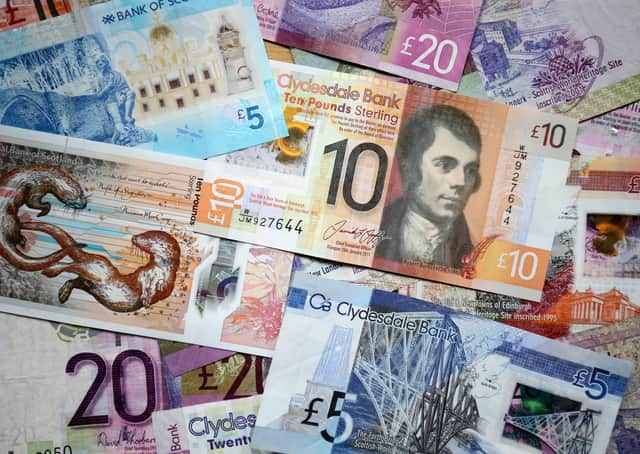 Why is it that every time the SNP Scottish Government has dealings with local councils, it turns into a pantomime. Weeks ago, the UK Government announced a £1.6 billion package of support of councils in England. Many English councils immediately told the Government the amount was nowhere near enough, but nevertheless got on with what the Government was wanting them to do, such as making grants to local businesses to help them through the Coronavirus crisis, setting up Community Response funds etc.
Now why could not that have happened in Scotland? The equivalent package of support due to Scotland under the Barnett formula was £155 million, but instead of passing it straight to councils, the Scottish Government are raising all sorts of issues, asking for details of costs to the nearest penny, and reopening the discussions over the last Scottish budget.
The City of Edinburgh Council, for example, is estimating their extra costs to be up to £50m. They are spending money getting homeless people off the streets and stopping them passing on the virus. They are having to take on more staff to administer the grants scheme, and food distribution, bearing in mind many are away from work for numerous reasons. The income Edinburgh expects from parking charges will be well down.Income from Lothian Buses could well disappear – the bus company will be lucky just to stay afloat.
Whatever sum Edinburgh council receives, it will be far far less than the expenditure it is having to incur. The impact of this under-funding will fall on us council residents, either through rises in council tax or through further cuts in public services once the crisis is over. The poor council taxpayer is forgotten in this petty power struggle. It really is time for the SNP Scottish government to stop playing silly games. The money was to help councils and the government should get on with paying it over. If they want an argument, the party who say they represent the people of Scotland should allow Scottish councils to get on with the heroic job they are doing in this time of crisis, and call on the UK Government to fully fund the councils' coronavirus costs.
Craiglockhart Road, Edinburgh
Only someone with an inbuilt, deeply held and utterly unreasonable prejudice against Boris Johnson could ever come up with the sort of diatribe launched by Stan Grodynski (Letters, 2 May). While the rest of the population saw a man who was earnestly talking about dealing with Covid-19 with caution to save lives, and thanking the NHS for saving his own life, Mr Grodynski sees a "self-serving charlatan".
Having the great benefit of the retrospectoscope, Mr Grodynski knows everything that should have been done in advance to deal with 
Covid-19 before we knew it existed, or what its effects would be. What a genius! If he was so well able to say how the government should have prepared, why was he not writing letters outlining exactly what they should have done in advance himself?
A plague that hits us could be of any kind, from a smallpox, or ebola outbreak to an avian flu, or Sars, which have already been dealt with, in case he hadn't noticed.
His argument is impenetrable, as he wants preparations to be made, which costs money, but almost immediately attacks the Government spending it, because it is "our money".
Perhaps he should ask Holyrood to spend some of the £450 million of "our money" the SNP have already been given by the Government to spend north of the Border, but which is sitting in the bank, plus the £155m Westminster have added to that vast cash-mountain for local government spending, which they are also sitting on?
If he wants to talk about charlatans, we have a number of them at Holyrood who also have the gall to tell us how to live our lives.
Morningside Road, Edinburgh
I refer to the suggestions by some powers-that-would-be that those over 70 years of age should be kept in and the rest come out to play. Other than drink disinfectant and inject bleach, it is one of the daftest suggestion I have heard.
We are all in this together! Aye, right. But some have better lifeboats than others.
I am 78 and today I took my dog for his morning walk as I collected my newspapers. I saw a total of four people and spoke to two. I have a dodgy knee but no underlying problems, thank goodness. According to my Fitbit I had 3,000 steps under my belt by the time I had my orange juice. One size does not fit all and remember, middle age is always ten years older than you admit to. Perhaps the secret is to have a much younger other half?
The Westminster gang should try to connect the brain and the mouth because it ain't working just now. Our American cousins have an expression "a day late and a dollar short", which succinctly sums up Westminster at least in my opinion.
Stay safe and healthy and stay back from me, pilgrim – as John Wayne might have said.
It is gratifying to read that the powers that be have finally decided, more than a little tardily, to institute a programme of testing, tracking and isolation with respect to Covid-19. How unfortunate this was not considered at the time of the outbreak, especially since it was recommended by WHO by at least the beginning of March. However, due to arrogance or a self-deluded attitude of "we know best", Health Secretary Matt Hancock deemed such a move to be "inappropriate", which has resulted in today's problems.
Perhaps the efficacy of such a programme is best evidenced by results in South Korea, whose health authorities pursued an aggressive programme of testing, tracking and isolation.
This has resulted in no new cases since the end of February and, up until May, a total of 10,801 cases and only 252 deaths.
I would suggest that failure to mitigate the outbreak was compounded by the wrongly perceived wisdom of Mr Hancock and then Chief Medical Officer for Scotland Catherine Calderwood that the risk of infection was "low" or was "low even passing a patient in the street". Try telling that to those thousands who have lost loved ones and colleagues and, sadly, those who may still do. The situation was further exacerbated by allowing more than 100,000 people to fly into the UK, not a few of them from known Covid hotspots. An offer of a large number of test kits from an English company was turned down because they had not been validated. But this is done at Colindale, which is under the aegis of Public Health England and, ultimately, the Department of Health. The company making the offer said they had not been approached to submt kits to be tested so the consignment went elsewhere. Amongst this catalogue of errors was the refusal of the UK to join an EU consortium for the purchase of PPE for EU-wide distribution. Mr Hancock later said that the UK had joined the consortium.
However, the EU body running the consortium emphatically stated that this was untrue.
As one reputable columnist wrote, this episode shows the UK to be a second-tier country run by a Government which is not even tenth tier. Sad, but true I fear.
Bangholm Bower Avenue, Edinburgh
I predict that by the time a committee has been formed, sufficient meetings convened to deliberate the efficacy, cost effectiveness and likely coefficient of integration with existing methodology, the 12 currently available Quotient screening machines will be long gone and performing admirably for some of our European neighbours.
I read with interest in today's Scotsman the question, raised by Jackson Carlaw, about the lockdown, only in Scotland, of the building industry.
I note the reply to his point came from Jeane Freeman, the health secretary. I am concerned that the Scottish finance secretary, Kate Forbes, has become virtually invisible during the pandemic crisis. There have been various issues raided by Scottish business leaders with regard to their treatment by the Scottish Government and a higher profile, and some fuller policy explanations, from the finance minister would reassure business that their future welfare and the preservation of Scottish jobs was still on the agenda.
We have been well warned by the medical experts of the dire effect lost jobs lost will have on the future health of the Scottish people.
St Mary's Drive, Dunblane
I would like to comment on Friday's letter from William Loneskie in which he claims I lauded the BBC Panorama programme which reported on Government failings dealing with the corona virus.
Apart from the fact that I did no such thing, my Chambers Dictionary defines the word "laud" as to "to praise" or "to celebrate" and I tend only do these two things on special occasions, eg in church on Sundays or on Christmas Day.
Furthermore, by the back door Mr Loneskie attempts to link my letter to the views of a long list of Labour Party activists (most of whom I have never heard of) and in any case, does the fact they are Labour Party activists necessarily make their views any less worthy?
Does he think that his roll of credits should have been run at the end of the programme to highlight this?
Finally, to clarify any remaining doubts Mr Lonekie may have concerning my political leanings, I must inform him that I have no connection whatever to any political party.
In my youth, because of my parents' influence, I consistently voted Conservative but today I am more enlightened and tend to towards the Liberal Party. I have never in my life voted Labour .
Craigmount Park, Edinburgh
The Scotsman welcomes letters for publication – 300 words maximum – from all sides of public debate. Include date and page when referring to an article, avoid 'Letters to the Editor in e-mail subject line. No attachments. We reserve the right to edit letters. Send submissions, with full address and phone number, to: [email protected]
A message from the Editor:
Thank you for reading this story on our website. While I have your attention, I also have an important request to make of you.
With the coronavirus lockdown having a major impact on many of our advertisers - and consequently the revenue we receive - we are more reliant than ever on you taking out a digital subscription.
Subscribe to scotsman.com and enjoy unlimited access to Scottish news and information online and on our app. With a digital subscription, you can read more than 5 articles, see fewer ads, enjoy faster load times, and get access to exclusive newsletters and content. Visit https://www.scotsman.com/subscriptions now to sign up.
Our journalism costs money and we rely on advertising, print and digital revenues to help to support them. By supporting us, we are able to support you in providing trusted, fact-checked content for this website.