Don't get political about VE Day – Letters
It's a time to forget agendas and simply celebrate, says a reader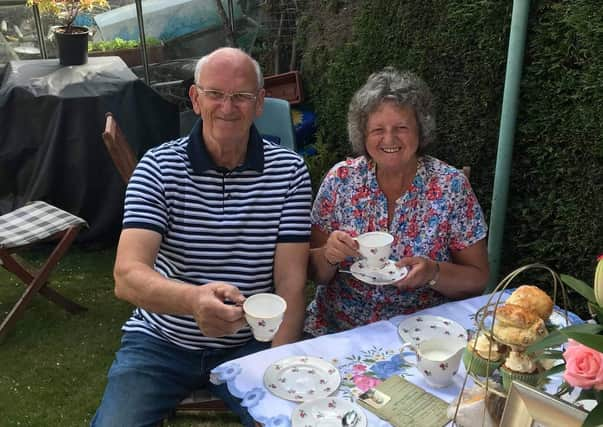 In her article entitled 'VE Day subverted by false patriots' (Perspective, 8 May), Joyce McMillan attempts to debase and denigrate the celebration by British people in a hate-filled diatribe against the UK government in order to politically point score and campaign for Scottish independence.
Ms McMillan actually concedes that "for those old enough" VE Day "is remembered as a moment of huge relief and happiness" marking the end of six years of wartime austerity and loss of life endured to end "Adolf Hitler's horrifying brand of fascism".
She seems, however, to contend that it is wrong for the current generation to celebrate VE Day as it is nothing more than a jingoistic "celebration of Britain's greatness and self congratulation".
Apparently, she thinks we have no right to commemorate the wartime bravery of our parents and grandparents as we were not there; patriotic celebration of British victory is wrong and those who do celebrate are 'false patriots'.
In Joyce McMillan's view, the current UK government is responsible for betraying the future hopes of the wartime generation.
She chastises Westminster government for a list of claimed wrongdoings, including Brexit and the high number of British deaths in the current worldwide Covid pandemic.
Only if Scotland becomes independent, Ms McMillan claims will the sacrifice of those who fought and died be properly honoured.
In counteracting Joyce McMillan's anti-unionist views it would be tempting to highlight the current Scottish Government's shortcomings, which include early lack of concern for very old war 
veterans living in care homes and dying from Covid-19.
I believe, however, that even on VE Day 2020, Britain's wartime success should be remembered and celebrated by all of us and political posturing for or against Scottish independence is totally inappropriate!
Caiystane Drive, Edinburgh
I've resisted online banking until now; I like personal bank service and many of the generation before mine are not able to go online. But we're asked to protect frontline workers, so online I am.
However, getting there involved navigating carefully around hard-selling of a second account and avoiding parting with my mobile number. The online help service was less than useless – programmed by a marketing department?
Contrast that, if you will, with the courteous phone call from a branch I use up town – checking on their older regulars. I fear for the jobs of these helpful staff. It's a royal disgrace!
The recently published RBS economic survey shows Scotland's economy has suffered the worst performance in the UK – the survey dropping nearly 40 points since February, falling to the lowest point in the 22 years since these measurements began.
Meanwhile, unlike in England, Scotland's construction industry has been shut down even where social distancing and working outside is not an issue. Edinburgh's roads are now worse than farm tracks to negotiate. Main approach roads and thoroughfares have countless potholes and sunk patches around the numerous drain covers, rendering them unfit for purpose or indeed, any upgrade in economic activity, if this happens.
Unlike in England where fixing cladding on buildings is a priority the UK March budget allowed £1 billion to repair, with safely managed construction work now proceeding apace, nothing has been done to address the repairs to numerous buildings in Scotland. This is despite the fact £600 million was also set aside in the UK budget for this purpose. Added to the pain of thousands of Scottish homeowners in taller buildings is the failure of the Scottish Government to address or resolve disputed issues on valuations with the banks and lenders, leaving thousands of Scottish flats with zero valuations and blighting the property market. Leaving people unable to find mortgages or buy or sell their flats will have even further knock-on effects on the Scottish economy when this lockdown is finally allowed to end by Nicola Sturgeon.
The question then arises, who is going to pay for what appears to be political manoeuvring to present imaginary differences with England by Ms Sturgeon?
Will it really be the UK government, when they have been advocating a cautious but different route to economic recovery and provided budget for essential Scottish building works which she has chosen to ignore?
People have no jobs to go back to and any small amount of money they had saved has dried up. Perhaps if, over the years, politicians of all persuasions, including here in Scotland, had not been so greedy for themselves or pushed through their pet projects and given to their preferred charities then we would have a health service along with other services fit for purpose.
Now would be a good time for all politicians to put their career ambitions on hold and leave 50 per cent of their salaries in the public purse . We as a society are dependent on the people who are suffering the most and will be for years to come to bale us out. In the inevitable recession a fitting gesture would be for politicians' salaries and expenses to be drastically reduced and to hand back the £10,000 from the public purse that they got at the onset of the lockdown. Holding onto their large income during this crisis may not be illegal but it is immoral.
Broomfield Avenue, Cumnock
A request from a Scot living near Doncaster, ceded to Scotland by the 1136 Treaty of Durham. Can you please appoint a governor and bring us under your control at least for the duration of this pandemic?
Snaith, East Riding of Yorkshire
David McEwan Hill (Letters, 11 May) disputes calling "the four nations of the UK" "the country". This is based upon a mistaken notion Scotland is, somehow, not part of the entity called the United Kingdom. Like it or not, however, it is and has been for over 300 years. We also decided to remain British emphatically in 2014.
As to the EU that he wants to supplicate to on bended knee, the last time I looked it was every man for himself over there, so there is nothing to be gained by giving up independence to be told what to do by Brussels and have your government changed without a "by your leave". Moreover, we left after a democratic referendum on the subject. QED. In addition, the 51st Highland Division, fighting with the French Army was not "left behind" and was not just Scottish. Rather than being "left behind", the Royal Navy was sent to rescue them, but they were not at the beaches when the Navy arrived. Seizure of the cliffs overlooking the beaches later by the Germans made rescue impossible and they had to surrender when the French they were supporting surrendered. The Free French he claims they fought on with were actually based in Britain thereafter under De Gaulle. That event of collective British action is rather more recent than fighting the English with Joan of Arc. Affection for France ended when Scottish troops, with English assistance, threw French troops out of Scotland in 1560. The French, then and now, are only out for what they can get, like control of our fishing grounds.
Craiglea Drive, Edinburgh
Brian Monteith does not seem to have noticed that Germany as a Federal Republic has a unified plan to deal with Covid-19 but has left it to its states as to when they are going to implement that plan. They also have dealt better, so far, with the problems than the UK has. There may well be one solution for all but when it should be implemented depend on numerous factors, which should not be political!
Keith WF Proborszcz-Maloney
Up until now I have been a supporter of Boris Johnson, certainly not of Nicola Sturgeon.
However, Boris's latest ludicrous slogan 'Stay Alert' has, albeit reluctantly and probably temporarily, reversed my opinion.
As many have asked, what does Boris actually mean by 'Stay Alert'. Are we to venture out looking out for lurking viruses then taking evasive action when spotting one?
Now, a hapless gaggle of mandarins are tasked with producing a 50-page waffle attempting to clarify the unintelligible. Meanwhile, I will use my common sense by making my own risk assessments.
Easter Park Drive, Edinburgh
During her live TV update on Sunday, Nicola Sturgeon stated that the reason for her lockdown rules for Scotland differing from those of Westminster (yet to be announced at the time) was that the R value (reproduction rate) in Scotland was higher.
On two occasions during media questioning, she was asked what the Scottish R value was – despite circuitous responses, she finally admitted that she didn't know? Go figure?
Whinfield Gardens, Kinross
Perhaps the greatest failure of all the in the SNP giant catalogue of failures has been in education, as pointed out ably by Brian Wilson in The Scotsman on 9 May.
That a state school in a 'better' part of Glasgow can be hundreds of places ahead of another relatively close by is simply wrong and palpably unfair.
Why does not some progressive political party promise to drop class sizes in Scotland, for example to 18? Given enough time in office they could surely do it. That would help redress the balance.
The Scotsman welcomes letters for publication – 300 words maximum – from all sides of public debate. Include date and page when referring to an article, avoid 'Letters to the Editor in e-mail subject line. No attachments. We reserve the right to edit letters. Send submissions, with full address and phone number, to: [email protected]
A message from the Editor:
Thank you for reading this story on our website. While I have your attention, I also have an important request to make of you.
With the coronavirus lockdown having a major impact on many of our advertisers - and consequently the revenue we receive - we are more reliant than ever on you taking out a digital subscription.
Subscribe to scotsman.com and enjoy unlimited access to Scottish news and information online and on our app. With a digital subscription, you can read more than 5 articles, see fewer ads, enjoy faster load times, and get access to exclusive newsletters and content. Visit https://www.scotsman.com/subscriptions now to sign up.
Our journalism costs money and we rely on advertising, print and digital revenues to help to support them. By supporting us, we are able to support you in providing trusted, fact-checked content for this website.
Comments
 0 comments
Want to join the conversation? Please or to comment on this article.