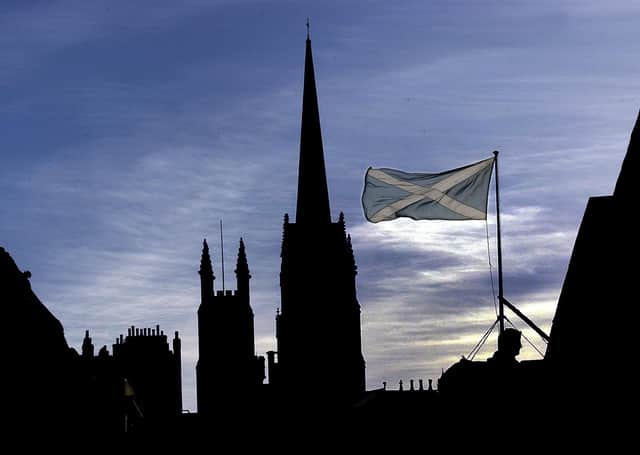 Scotland is being held back by Union, says a reader Picture: Jon Savage)
Gina Davidson (Perspective, 24 August) references claims that Covid has crushed the independence argument. This is wrong. Government Expenditure and Revenue Scotland (GERS) is an accounting trick imposed by Westminster to hide the truth from the Scottish people about how our wealth has been squandered by a profligate UK government over many decades. GERS does not reflect an independent Scotland's finances, but rather the finances and costs that Scotland pays as a region of the UK. It shows Scotland with a false deficit arising from several hidden mechanisms within GERS for systematically removing Scotland's wealth, one of which is debt loading or PSDI.
The Public Sector Debt Interest (PSDI) expenditure line in GERS is the sixth-largest outlay of the Scottish Government and is the interest Scotland has been paying on a population share of the UK's ballooning debts. PSDI has added £3.241 billion per year to the cost of running Scotland. Since GERS reports began 39 years ago, Scotland's accounts have been loaded with £126bn interest on debts that Scotland did not generate, nor benefit from. Without that huge cost, Scotland's finances would be in surplus. An independent Scotland would have either invested this money to grow the economy and/or put it into a sovereign wealth fund, similar to Norway's. The good news is that upon becoming independent, Scotland will inherit none of the UK national debt, something London has conceded.So we would start our life as an independent nation with a clean slate.
Scotland is a wealthy country and an energy powerhouse, with fossil fuels and more importantly, abundant renewables. It has robust export industries, a solid industrial and agricultural base and a highly educated population. Scotland is in a strong position to weather this crisis at least as well as other small European nations are doing.
Finally, against Scotland's wishes, the UK is on the brink of leaving the most successful supranational trading bloc in the world. For what? A US trade deal that will lower food, environmental and labour standards, increase living costs and sacrifice the NHS so private US firms can profit.
The only argument that has been crushed is the one saying Scotland must stay trapped in a union that impoverishes us. A clean break from this failing union is ours for the taking.
Leah Gunn Barrett, Merchiston Crescent, Edinburgh
I was horrified to read that Derek Mackay, the disgraced SNP MSP who resigned from his post way back in February, has not been in the Scottish Parliament since then (your report, yesterday). Anyone found to have behaved in the way he has admitted he did who ceases to fulfil his duties has absolutely no right to remain an MSP when he is not representing his constituents. His party should be demanding he resign his seat and allow voters in his constituency to have representation at Holyrood. He should also be forced to repay all money he has been paid since he was last at Holyrood.
This reflects very badly on the SNP and those who police the conduct of those who (supposedly) represent us.
John Fraser, Jedburgh Gardens, Glasgow
Who likes to say they are embarrassed by their own country? I have no idea who divulged where Boris Johnson was holidaying. It is not irrelevant and if it turns out to be someone who was trusted with the information, I hope they feel the full force of any disciplinary/legal action.
What kind of society do we live in that our own Prime Minister can't take a holiday in his home country? What kind of society do we live in that a mother, her very young son and their dog have to curtail a holiday and fly back to London just three days after arriving? Would this have happened in the Yorkshire Dales or Snowdonia? Would this have happened ten years ago in Scotland?
Is this what nationalism has brought to Scotland? The Scottish Government launched a We are Scotland campaign last year claiming that "Scotland's a great country – but it's even greater when people come together. Our new campaign celebrates the positive impact of people who choose to make Scotland their home."
This episode has been no great advert for the supposedly welcoming Scotland.
Jane Lax, Aberlour, Moray
Patrick Harvie MSP lives in a green ivory tower, sees the world through green glasses and is the tail wagging the SNP dog. His latest pronouncement, that the UK government should extend the furlough scheme into 2021, shows he has lost touch with economic reality and thinks money grows on trees (your report, 22 August). He and the SNP never have a good word to say about the Westminster government but monotonously demand special treatment for Scotland. The UK government has shown a huge financial commitment during this Covid-19 emergency for the benefit of Britain as a whole. It has borrowed £150 billion in four months, which helped support millions of jobs. The national debt is now £2.004 trillion. Patrick Harvie continues to draw his full £64,000 salary instead of reducing it by 20 per cent to show solidarity with those furloughed. Many have lost their jobs in the private sector while politicians and those in top jobs in the public sector remain largely unscathed. What fool said "we are all in it together"?
Clark Cross, Springfield Road, Linlithgow
Peter Lewis (Letters, 22 August) criticises Kenny MacAskill's historical knowledge and objection to the suddenly revived use of the outmoded term 'North Britain' and argues, somewhat simplistically, that there is an inevitability of islands becoming single nations.
Why then are the 'West Britons' of the neighbouring island of Ireland (for such were they once called) not unified into a single state? Presumably Mr Lewis would welcome that inevitability too, or does his Anglocentric imperialism find it unpalatable?
And as for the shortlived Dark Age polity of the Northumbrians in the south east of Scotland, this was decisively quelled by the Picts in 735 at Athelstaneford when the cross of St Andrew appeared in the blue sky and was taken by the victorious Picts as an omen, and so the Saltire was born – the Northumbrians having earlier been expelled by King Nechtan north of the Forth at Nechtansmere in 685. This is commemorated on the famous Aberlemno stone where ravens can be seen scavenging the dead of a fleeing Anglian army. After 735 Northumbrians living peacefully in SE Scotland were absorbed and simply became Anglian Scots. By 1018 Scotland had expanded to include all the land from the Forth to the Solway and Tweed, one of the earliest polities to emerge in medieval Europe.
Geography can influence history, but social factors – culture, politics and diplomacy (or lack of) are far more important in shaping the formation of states. Edward I's hammering of the Scots is testimony to that; centuries of peaceful integration suddenly disrupted by ill-judged and unwarranted use of force.
Mairianna Clyde, Merchiston Crescent Edinburgh
While much fuss has been made, rightly, over Covid sufferers being returned to care homes, there has been little coverage of the treatment of residents in Covid-free homes who have been suffering solitary confinement for the past months.
Even for a younger person this would have been intolerable. For one suffering from dementia this is even more distressing.
This week an elderly friend was finally allowed to see her husband for 30 minutes. She duly arrived at the appointed hour. After a five-minute wait she was dressed in protective gear. She then waited a further five minutes before her husband was ushered in, at which point she was brusquely told to keep her distance.
By now 20 of the 30 minutes has elapsed. Furthermore, her husband had not been told that he was going to see his wife and he promptly burst into tears. They begged for further time and were allowed two extra minutes. This treatment is inexcusable.
This morning I received a letter from Scottish Veterans Residences which describes the activities they are providing for their pensioner residents, such as gardening and baking. Are aged former members of the Services more resilient than elderly civilians? It is surely time to stop this inhumane isolation.
Rosemary McDougall, Pathhead, Midlothian
Nowadays, you need training or certificates of competence to carry out even the simplest of jobs. However, if you want to run the country, be it as PM, health minister or education minister – to mention but a few positions – no qualifications are necessary.
This is nothing new. The Greek philosopher Plato brought up this issue in his work The Republic c400BC. Of course, Plato's solution would not suit us, but the important thing is, he pointed out the incongruity, which is still there.
Eva Tyson, Frankfield Road, Dalgety Bay
Your eulogy about Jim Petrie (22 August) did a great service to a wonderful musician. Jim was a fixture at the popular Maytime ,The Isle of Bute Jazz Festival, popping up in all sorts of bands.
The piece didn't mention his incredible repertoire of Dixieland songs, which I happily witnessed one memorable evening in the Esplanade Lounge bar overlooking Rothesay Bay.
Fronting his very able Diplomats of Jazz band, he delivered a masterclass of Twentiess melodies with tongue-twisting vocals, backing them up with his nimble cornet playing. The audience was enraptured!
He will be long remembered.
Archie Burleigh, Meigle, Skelmorlie, North Ayrshire
The Scotsman welcomes letters for publication – 300 words maximum – from all sides of public debate. Include date and page when referring to an article, avoid 'Letters to the Editor' in e-mail subject line. No attachments. We reserve the right to edit letters. No correspondence will be entered into. Send submissions, with full address and phone number, to: [email protected]
A message from the Editor:
Thank you for reading this story on our website. While I have your attention, I also have an important request to make of you.
The dramatic events of 2020 are having a major impact on many of our advertisers – and consequently the revenue we receive. We are now more reliant than ever on you taking out a digital subscription to support our journalism.
By supporting us, we are able to support you in providing trusted, fact-checked content for this website.
Joy Yates, Editorial Director