Lesley Riddoch: Will Covid spell end of the call centre?
Could Covid mean the end of call and contact centres, and the mothballing of showpiece, glass and steel office blocks?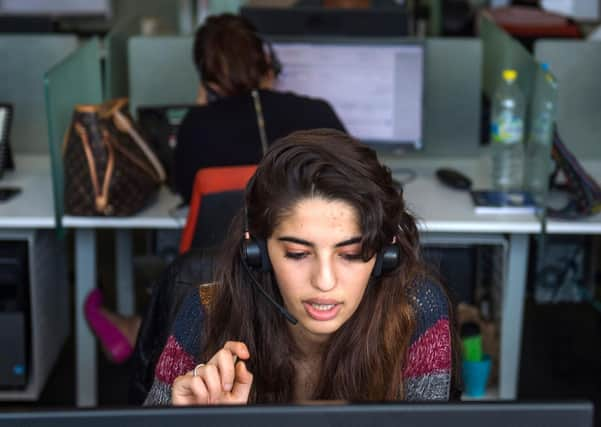 The call centre industry, which employs 100,000 in Scotland and 1 in 10 of the working population in Glasgow, has some of the highest occupational densities of any industry. Stress, anxiety and depression have long plagued call centre staff who must adhere to targets and scripts and run the constant risk of developing musculo-skeletal problems, like repetitive strain injury. These problems particularly affect workers in the non-unionised, outsourced part of the call centre trade.
Add to this potent mix, hot-desking, open-plan offices and HVAC - mechanical air ventilation systems which require sealed indoor environments - and the potential for contagion quickly rises. Especially when systems are recirculating not replacing air as they should - a practice consciously deployed in some call centres because using already-heated air reduces energy costs in winter.
Call centre staff have long complained that if one workmate gets a cold, it quickly spreads to everyone else. Introduce SARS-CoV2, and it's easy to see why staff in one of the biggest surveys of call centre conditions have described their workplaces as 'petri dishes' for infection and 'snipers' alleys' - if the virus doesn't get you in the first few days, it'll get you in the end. And that gloomy prognosis was made before the World Health Organisation acknowledged that microdroplets of infection can travel further and stay in the air longer than previously expected.
Professor Phil Taylor from Strathclyde University was approached at the start of lockdown by unions worried about call centre workers in potentially hazardous environments. Some staff had complained that essential services were being bundled with contracts for non-essential calls like cancelling gym subscriptions to give them key worker status and force them into work.
Taylor conducted research which produced 3,000 completed surveys by late April - a sixth from workers in Scotland. Most dreaded turning up for shifts, 79 per cent felt under pressure to appear, 63 per cent had been designated essential workers (but two-thirds disputed that designation), 73 per cent came in because they worried about losing money and 90 per cent believed they'd pass the virus on.
'I have a newly born baby and I don't consider putting his… life at risk to cancel people's sport'.
'Our clients are wealthy and have no financial troubles, they have bank accounts all over the world. We do nothing vitally important.'
At one financial services call centre in Chester in mid-April, one worker died, and three on the same floor were admitted to intensive care. A centre in Sheffield had one death before union intervention prompted workers to be sent home and at another, workers discovered a colleague had died through the local paper. Professor Taylor said he had to advise the most terrified interviewees to contact the Samaritans.
At the biggest cluster in the Sitel contact tracing centre at Eurocentral, near Motherwell, 27 positive coronavirus cases have been found - 18 at the workplace and 9 from contacts in two other outbreaks - one in Inverclyde. A Sitel employee who contracted Covid-19 reported lax social distancing rules which were regularly flouted by staff, "bumping together" in a communal dining area without enough seats.
Is this unusual or par for the course? Perhaps Covid statistics suggest the former, but the average age of call centre workers is quite young and many would keep working through mild symptoms.
Essentially, 70 per cent of shiny, glass and steel office blocks are sealed buildings, with open plan spaces. Are these viable in the post-Covid era no matter how many one-way systems and sanitiser is introduced, or does every city centre now contain a load of empty, expensive white elephants?
One bank has estimated its Canary Wharf occupancy would be 18-20 per cent of pre-pandemic levels if proper social distancing was applied. No-one's calculated that bill, or how much it would cost to change ventilation systems and 'un-seal' buildings. Although, as a survey respondent observed; 'Almost everything I do can be automated or done from home - it is simply a matter of investment'.
So, will governments assure us all's fine and let call centres return to work in September as scheduled after a deep clean? Or is there a determination to use Covid as an opportunity to transform working conditions in the sector?
This question affects both governments because health and safety is controlled by Westminster, while public health is Holyrood's preserve. A Scottish Government sectoral group's been established to create guidelines. How tough will they be?
According to Professor Taylor, who's researched call/contact centres and occupational health for 25 years, an example of best practice has been available since early March when a Covid outbreak in a South Korean call centre prompted an exemplary reaction.
"The call centre was closed immediately and all staff in a 19-storey building were tested. 45.3 per cent were found to be Covid positive on one floor alone. The public health reaction was immediate and huge. They checked for a wave of infection back in households and the community and found a 'secondary attack' rate of 16.2%. Finally, they sent 16,628 texts to people residing within minutes of the centre, instructing them all to be tested. That's how to stop a virus."
But better still if such outbreaks don't happen.
The Call Centre Collective, supported by the Scottish TUC, the Better than Zero campaign, the Communication Worker's Union (the largest union in sector) and staff, wants testing for all workers at contact centres and workplace inspections by trade-union safety reps, even when there's no organised union.
Professor Taylor would go a step further. He wants mandatory risk assessments at each workplace, which may involve engineers (to investigate the HVAC systems) and staff representatives.
Let's be clear. The call centre industry may not have the high profile or life-saving skills of nurses and care workers. But they've braved some unsafe workplaces so the public could stay at home during the pandemic yet connected with all kinds of services - minus PPE, public recognition or union protection.
The Scottish Government owes it to them to ban shoddy working practices and highlight the dangers of dodgy, sealed buildings - before the winter season tests ourselves and our sick buildings to the limit.
Comments
 0 comments
Want to join the conversation? Please or to comment on this article.