Leader: Policing row distracted from remembrance
Violence and disorder marred the solemnity of this year's Armistice Day and Remembrance Sunday. A large policing operation remained in place yesterday after 145 arrests were made - mostly of far-right counter protesters - during a pro-Palestinian march on Armistice Day in London.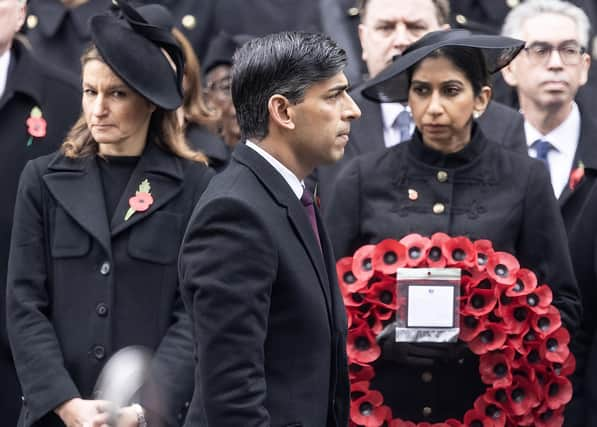 Politicians have a responsibility to choose their words carefully, and none more so than the Home Secretary. But Suella Braverman, the current holder of that high office, piled pressure on police by publicly expressing concerns over a perceived lack of even-handedness among officers in dealing with large protests.
Her comments certainly did nothing to ease tensions between pro-Palestinian demonstrators and those on the far-right; on the contrary, they may very well have added fuel to the fire.
First Minister Humza Yousaf yesterday accused her of "fanning the flames of division" and said her position had become untenable.
Defence Secretary Grant Shapps cast doubt on Mrs Braverman's survival at the Home Office by saying "a week's a long time in politics" when asked whether she will stay in her role until next weekend.
Prime Minister Rishi Sunak may fear that his ambitious Home Secretary, with her backers among Conservative MPs, poses more of a threat to his position from outside the Cabinet than from within. But by failing to sack her he also runs the risk of appearing weak.
Are we perhaps to believe that Mr Sunak does not want to lose her because privately he agrees with what she says, although not necessarily the way in which she says it? Perhaps it is useful for him to have a senior colleague with a licence to say things that many within his own party might deem unbefitting of a prime minister.
Whether Mrs Braverman is sacked, resigns or remains in office, her intervention over the policing of Saturday's pro-Palestinian demonstration distracted from what should have been the main focus of the weekend - the honouring of our war dead.