John Lamont: SNP and Greens need to rethink opposition to gene-edited crops
The tattie has been a staple of the Scottish diet for hundreds of years. Whether eaten with mince or haggis and neeps, mashed into stovies, served as chips in a fish supper or prepared to complement countless other dishes, the potato takes some beating as a versatile, nutritious and delicious food.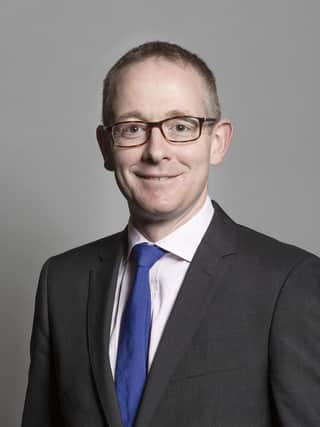 The tattie's healthy properties have been known for generations. In bygone days potatoes protected against scurvy thanks to the vitamin C which occurs naturally in them. Much of that vitamin C, however, tends to be destroyed when potatoes are boiled, fried or roasted.
But what if we were able to create a new potato variety which contained as much vitamin C as a lemon? One with a higher yield and greater resistance to disease reducing the need for herbicides and which retained more vitamin goodness when cooked with no loss of flavour.
The health benefits would be enormous. As would the positive implications for food security and the environment both at home as well as countries suffering from acute food shortages.
If a potato with lemon-like levels of vitamin C sounds improbable, think again. Researchers at the James Hutton Institute, outside Dundee, have successfully doubled the amount of vitamin C in a potato strain so that it is getting close to fruit levels.
This has been done through a technique known as gene-editing. And Scottish scientists at the James Hutton Institute, and at other Scottish centres of scientific excellence are at the forefront of this technology.
Of course, it is not just the potato that can benefit from gene-editing. The principles can be applied across the whole range of crops, creating environmentally friendly, hardy and abundant sources of food.
For Scotland's world class £15 billion food and drink sector, gene-editing would be transformative economically and environmentally.
Ever since we began tilling the soil, farmers have strived to increase crop yields by using selective breeding to create the most vigorous plants. Modern techniques like gene-editing can be used to speed up changes that can also occur through traditional processes. They can achieve this through very precise targeting of sections of a plant's DNA, changing genetic sequences to make improvements that might take several generations to achieve using conventional breeding and maximising a plants most useful features.
Crucially, gene editing can produce plants that could have arisen naturally, and that do not contain foreign DNA from other species. These plants, known as precision bred plants in England, are indistinguishable from those produced through traditional breeding.
Given all this it's unsurprising that the National Farmers' Union Scotland backs the technology. Farmers see the opportunities and crucial role gene-editing can play in the drive towards net zero. As someone who grew up on a farm and who knows the importance of agriculture to my Scottish Borders constituency, I understand why farmers are so keen on the technology. Given our strong farming tradition and our world-leading food scientists, it is somewhat surprising that gene-editing has yet to be embraced by the Scottish Government.
When the UK Government introduced new legislation for precision bred plants and animals in England last year, in the form of the Genetic Technology (Precision Breeding) Bill, we were extremely disappointed that the Scottish Government chose not to accept the offer to adopt it in Scotland.
The Scottish Government said it would rather remain aligned with the EU's position, which at that time considered all products of genetic technology, including precision bred plants, to be Genetically Modified Organisms (GMO). As a result they fell under restrictive and burdensome GMO regulations despite their similarity to traditionally bred plants.
Since then, however, the EU has indicated that its stance is changing. Earlier this month, the European Commission proposed reducing regulatory burdens on certain products of genetic technologies, paving the way for these crops to be marketed in Europe. I was delighted to see the EU starting to recognise the benefits of gene-editing outcomes like precision breeding, and for the sake of our farmers and food producers, I was hopeful that we would see a change of heart from the Scottish Government.
Many farmers will be frustrated that the Scottish Government response has so far failed to grasp this exciting opportunity.
Mairi McAllan, Net Zero Secretary in the Scottish Government, said she was open-minded about gene-editing when she was Environment Minister. Nevertheless, the SNP and Greens voted against the UK Government's precision breeding bill at Holyrood earlier this year. Since then Ms McAllan's Cabinet colleague Angus Robertson has produced a video clip for social media, which seemed to imply he thought the technique was unsafe.
In his clip Mr Robertson said: "Scotland may have to accept products from elsewhere in the UK that do not meet our safety standards, like genetically edited food."
In my view it was wrong and irresponsible of Mr Robertson to question the safety of a technique which is vouched for by Scotland's scientists and farmers. Rather than take Mr Robertson's word for it, I subscribe to the view expressed by our experts at the James Hutton Institute.
"Applying gene-editing techniques will facilitate the development of new crops selected for climate resilience and provide healthy nutritious food while safeguarding the environment. Gene-editing techniques allow the breeding of new crops more quickly, which is essential to mitigate the challenges posed by our changing environment," said Professor Lesley Torrance, Director of Science at the James Hutton Institute when the UK Government's precision breeding bill was introduced last year.
Not only is the Scottish Government out of step with scientists, farmers and the rest of the UK. The Scottish Government now risks becoming out of step with the EU. In fact, the SNP's position has become so isolated that almost the only people they appear to be in step with are their Green colleagues in the Scottish Government.
Scotland has a long and distinguished reputation for invention and innovation. The Scottish Government's stance is at odds with that proud tradition. Therefore, I urge Scottish ministers to change tack on precision breeding.
•John Lamont is the UK Government Minister for Scotland
Comments
 0 comments
Want to join the conversation? Please or to comment on this article.