Euan McColm: Humza Yousaf may come to regret not sacking Michael Matheson over football fibs
Matheson's road to a 'theya culpa' blaming his sons was full of potholes of dishonesty and evasion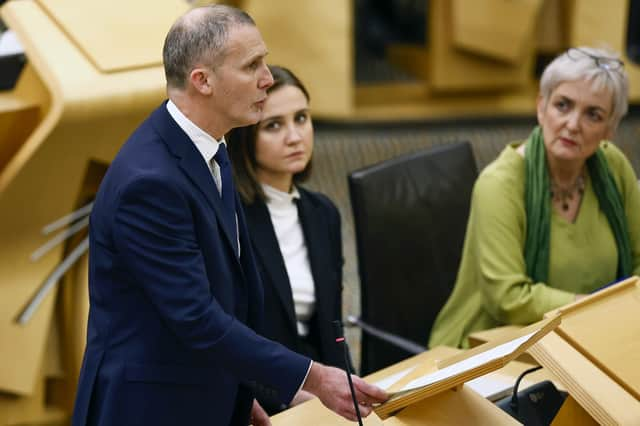 After more than a week of growing controversy surrounding his decision to lodge an expenses claim for part of the £11,000 in roaming data charges run up during a family holiday in Morocco last New Year, the SNP MSP for Falkirk West – a close ally of First Minister Humza Yousaf – had decided to make a personal statement, explaining the situation.
Matheson's previous version of events had been that the charges were incurred entirely in the course of him using his parliament-provided iPad to carry out constituency work. On Thursday, a new story emerged, Clearly emotional, Matheson informed those in the debating chamber that, in fact, the 11 grand cost had been run up by his two teenage sons who'd used his iPad as a wifi hotspot in order to stream football matches. Fighting to save his job, the Health Secretary produced a theya culpa.
Dame Jackie Baillie, deputy leader of Scottish Labour, was correct, I think, to reply that anyone who had ever had teenage kids would understand how this had happened. Even Matheson's fiercest opponents must surely have felt some sympathy for his predicament.
But the Health Secretary's statement to parliament, no matter how difficult it was to make or how heartfelt the sentiment, should not be an end to this matter. We may, eventually, have heard the truth but the road to enlightment was scarred with potholes of dishonesty and evasion.
Questions remain about the integrity of the Health Secretary and the First Minister.
Doubtless, both Matheson and Yousaf would like the watching public to concentrate on the "bloody kids" aspect of this whole affair. We should, instead, focus on the important question of honesty.
If we follow the timeline of events, we see that the Health Secretary has lied and that, at best, the First Minister has been economical with the actualité.
Between December 27 and January 3, Matheson, his wife Susan, and their two teenage sons enjoyed a week-long holiday in Morocco. The politician took with him the iPad provided by the Parliament for use in connection with with constituency business. On returning to Scotland, he was informed by Parliamentary authorities of high data charges linked to the device.
Matheson says that he queried the bill of £11,000 but that the service provider was unable to provide details. He maintained that the iPad had been used only for parliamentary and constituency business. Matheson contributed £3,000 towards the bill from his office expenses while parliamentary authorities agreed to pick top the remaining £8,000.
Crucially, when Matheson claimed from his expenses allowance the three grand share of the bill, he would have been required to certify that all costs were legitimately incurred in the course of his professional duties.
On November 8, details of Matheson's data bill were made public. The SNP insisted the charge was a "legitimate parliamentary expense to cover constituency work while overseas". A day later, on Thursday November 9, a Holyrood spokesperson tried to explain away the staggeringly high data costs, saying Matheson had failed to update the sim card in his device. Yousaf said the £11,000 bill was a legitimate expense that did not have to be repaid. When the matter was raised, that day, at First Minister's Question Time, Matheson smirked.
We know now, thanks to Matheson's personal statement, that, on the evening of November 9, he was told by his wife that, in fact, his sons had run up the bill using the iPad to stream football matches.
Despite this, a day later on November 10, when Matheson announced he would be paying back the full cost of the data used, he maintained it had been a "legitimate expense". Matheson knew this was not the truth.
Last Monday, November 13, Matheson was asked by a number of journalists at Holyrood whether there had been any personal use of the iPad during the family's trip to north Africa. He responded with an unequivocal "no". Matheson knew this was not the truth.
On Tuesday, Matheson admitted to Yousaf that, yes, his kids had run up the cost. A day later, shortly before parliamentary authorities published a breakdown of Matheson's data charges – including £7,000 in a single day – Yousaf declared his "100 per cent backing" for Matheson, saying: "He has made an honest mistake in relation to the sim card and the sim card not being updated when it should have been done."
But, according to Matheson, he has had already told Yousaf about his sons' use of the data. If we are to accept the Health Secretary's version of events, then the First Minister's statement was not true.
This matter long since stopped being about use of the Health Secretary's iPad. It is now about the honesty of some of our most senior politicians.
Neither Matheson nor Yousaf have been straight with the public. Rather, they've danced on pinheads, offered implausible explanations and – clearly, in the case of Matheson – lied.
This issue will continue to dog Yousaf and Matheson because, I think, it cuts through to voters. We can all easily imagine being caught out by roaming data charges. And we can all imagine the short shrift we would get if we tried to claim back the costs from our employers.
Let's not forget that Matheson didn't consider that the right thing to do was to pay the bill himself until details of his expenses were made public. Does real integrity require to be activated by public humiliation?
Humza Yousaf now stands firmly behind a Health Secretary caught lying about his expenses. The First Minister may come to regret his decision not to sack Michael Matheson.
Comments
 0 comments
Want to join the conversation? Please or to comment on this article.