Does Biden in White House mean Saudi Arabia will face day of reckoning? - Anthony Harwood
Loujain al-Hathloul's release from prison might be considered a peace offering from Saudi Arabia to President Biden.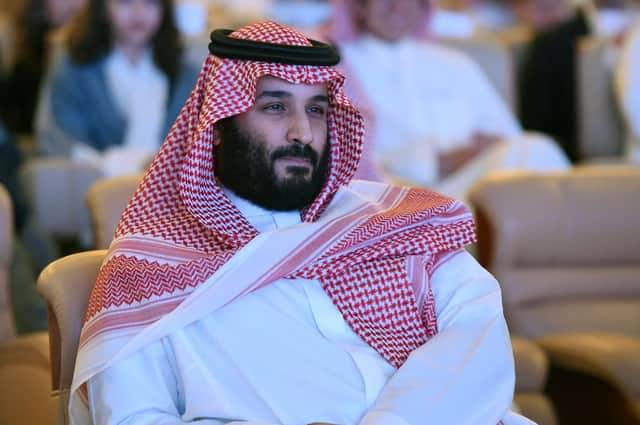 As the most celebrated women's rights activist, her freedom removes one reason why the Democratic candidate for the White House called Riyadh a "pariah" in a presidential debate with Donald Trump last year.
His strong words about an important US ally were in stark contrast Trump, who never appeared concerned with the desert kingdom's poor human rights record.
It also sent a message to the Saudi leadership that, were he to win the election, then it wouldn't be given the soft ride it had enjoyed for the past four years.
While Loujain may no longer be behind bars she cannot, of course, be considered truly free while she's not allowed to leave the country and or speak out about what happened to her during her 1001-day ordeal.
Her sister, Lina, yesterday said Loujain's release so soon after Biden came to power showed that international pressure works, and called on Britain to do more.
Asked if the Foreign Secretary, Dominic Raab, had been in touch she told Radio Four's Women's Hour: "Not as much as we would like. The UK is one of the most important allies of Saudi Arabia and I do think the UK has leverage. It is the duty of the UK to demand Loujain's unconditional freedom".
Lina also referenced one of the more outrageous charges which her sister had been accused of, that of being "in contact with UK diplomats".
"Is the UK an enemy state?' she asked. "The UK has to make it clear that being in contact with them is not a crime and activism is not terrorism and they should speak on behalf of all prisoners and ask for their release".
During that presidential debate Biden had also been calling out Saudi Arabia for its propensity to sentence to death youngsters for crimes committed when they were children, usually during pro-democracy protests in the country's mainly Shia Eastern Province.
In another sea-change, last week saw the country's Specialized Criminal Court commuting the 2014 death sentences of Ali al-Nimr, Abdullah al-Zaher and Dawood al-Marhoon, for offenses when they were aged 16 and 17.
Instead of being beheaded in public at any moment they could now be released next year.
Saudi Arabia also used to be one of the world's most prolific executioners, but in the past 12 months has dramatically reduced the number of prisoners put to death simply by ending capital punishment for drug-related offences.
In all there were just 27 executions in 2020, compared with 184 in 2019, an 85 per cent fall – though this may be partially due to the coronavirus pandemic.
On Yemen, the new US administration has pushed for a quick end to a war that has seen a six-year long Saudi bombing campaign bring the country to its knees and create the world's "worst humanitarian disaster", according to the UN.
With the words "this war has to end", Biden earlier this month announced an end to "all American support for offensive operations in the war in Yemen, including relevant arms sales".
Contrast this with President Trump's symbolic first foreign trip after gaining the White House in 2016 – a visit to Riyadh where he signed arms deals with the Saudis worth $110bn immediately and $350bn over 10 years.
Any discussion about human rights in Saudi Arabia has to include the brutal killing of Jamal Khashoggi at the country's Istanbul consulate in October 2018.
The appalling murder saw the former Washington Post journalist suffocated and his body chopped into bits.
The CIA and the UN special rapporteur concluded the Saudi leader "most likely" ordered the killing although the Saudi crown prince Mohammed bin Salman (MBS) has denied involvement.
The Saudi's big mistake, of course, was not realising that Turkish intelligence had the consulate bugged and Khashoggi's murder was captured on tape. So they could not claim, as they tried at the outset, that the victim had already left the building.
Trump resisted moves by Congress to punish those responsible but the Biden administration has already announced it is planning to declassify an intelligence report expected to blame MBS for the killing.
But even if that does find that MBS was responsible what Biden could do about it? He could hardly ask the crown prince to investigate himself.
But he could insist on prosecutions against crown prince's henchmen, Saud al-Qahtani and Ahmed al-Asiri, who have featured heavily in intelligence reports in relation to the murder but so far got off scot free.
This is the same al-Qahtani that Loujain al-Hathloul identified as her torturer-in-chief.
A report last year by Baroness Helena Kennedy claimed that detained women rights activists were forced to "perform sexual acts on the interrogators, and other forms of sexual harassment such as forcing them to watch pornography".
After years of being allowed by Trump to act with impunity, it is right that a country with such a toxic human rights record is facing some sort of reckoning.
If President Biden forces MBS to even begin to live up to his promise of being a true reformer of his country and its medieval ways then he will have brought some positive change to Saudi Arabia, unlike his predecessor who was happy to turn a blind eye to its worst excesses.
Anthony Harwood is a former foreign editor of the Daily Mail
Comments
 0 comments
Want to join the conversation? Please or to comment on this article.