Do we want an NHS that nearly collapses each year? - Dr John Thomson
The past year has been a challenging time for everyone across Scotland and the UK, especially so for those working in healthcare.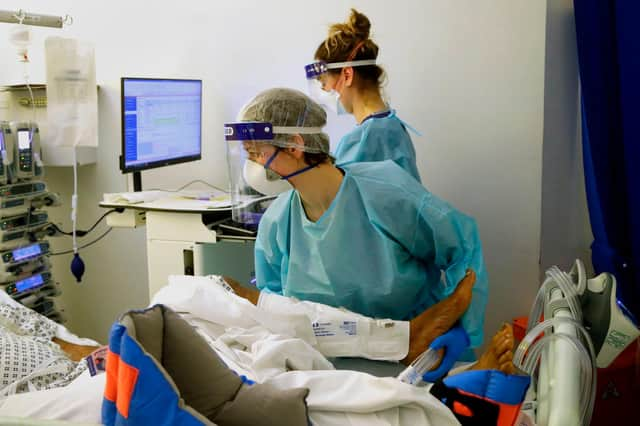 Winter presents enormous pressures for the NHS. Unfortunately, we have become accustomed to this. Each year the NHS just about 'manages to cope'.
Therein lies the problem. An NHS 'managing to cope' each year was always going to struggle to deal with a pandemic such as Covid, and it truly has.
The NHS entered the pandemic short of staff and beds. Data from December 2019 show that before the pandemic the NHS in Scotland was short nearly 500 consultants, equal to nearly ten per cent of the workforce and was also short 3,600 nurses, equal to about six per cent of the nursing workforce. In Scotland, Emergency Medicine (EM) alone, as a specialty, remains significantly short staffed. Currently the EM workforce has around 230 consultants – an additional 70 EM consultants, or 30 per cent more staff, are needed to meet the safe ratio of one consultant per 4,000 attendances.
Furthermore, social care in Scotland has faced severe cuts over the past few years. A reduction of funding for social care – and therefore beds and resources – joined with an increase in demand due to the growing numbers of older people, widening income and health inequalities and the need for social care to support NHS services has left the most vulnerable at an increased risk.
Social care is essential to a well-functioning NHS. It allows the most vulnerable patients to be admitted and discharged safely and promptly when they receive medical care. Without efficient social care services, vulnerable patients remain in hospital unnecessarily, unable to be discharged.
Since November 2020, the NHS in Scotland has been on the verge of being overwhelmed. Queues of ambulances outside Emergency Departments (EDs) have been widely reported in the media. These ambulances are unable to offload patients because there is no capacity in EDs resulting in many patients being treated in the back of an ambulance for hours. As such, the paramedics are unable to return to urgent calls in the community. EDs are becoming dangerously crowded once again which is unsafe for patients and staff at the best of times but unconscionable during a pandemic with risk of hospital spread or acquired infection.
These issues have led to unsafe corridor care; patients unable to move through the system are placed on trolleys in corridors. Staff, already stretched thinly, are then having to administer care to these patients in these corridors, which can be dangerous and undignified.
These problems come despite a continued reduction in the number of attendances over the past 11 months. Data from Public Health Scotland for December 2020 show that attendances were down by 30 per cent compared to December 2019. This has left us extremely concerned that there are patients in the community who are not seeking and receiving the care they need.
Even though there has been a significant decrease in attendances, waiting times have increased for the seventh consecutive month and the number of 12-hour waits in December 2020 were double that of the previous month.
Although the Royal College of Emergency Medicine and other health organisations have been incredibly vocal over the past few years about the situation in hospitals and the shortages the NHS faced, the pandemic cruelly shone a light on these issues and brought them into sharp focus.
Despite claims to the contrary, this has not been a normal winter in any sense. In hospitals we have been in a critical state of emergency. The vital point – for anyone questioning the pandemic – is that despite the reduction in ED attendances, despite flu or 'influenza-like illness' being significantly below normal and even with the stay-at-home public order, our hospitals remain overwhelmed. Many of these patients require care in hospital for a long time. As bed occupancy rates increase so too do waiting times, ambulance handover delays and system-wide flow issues causing exit block.
A&E is a round-the-clock service open 24/7, it has remained open throughout the pandemic and will remain open when cases begin to fall. Even as cases do begin to fall, frontline staff will once again be working tirelessly to care for patients who need it; there will be no relief or rest. Our staff are exhausted, both mentally and physically. We don't yet fully know what toll the pandemic has taken on those providing care. One study of 5,440 doctors working on the frontline across the UK and Ireland, published in January 2021, found that they suffered from stress, psychological distress and post-traumatic stress disorder during the pandemic.
As long as the workforce is understaffed, as long as there are not enough beds in the system and as long as social care lacks adequate funding, staff will continue to face enormous pressures and the NHS will only ever just about 'manage to cope'.
That is unacceptable. The Government, NHS leaders and health boards must learn from this devastating pandemic. The chronic shortages of staff and funding facing the NHS must be confronted, only then can the work towards transforming health and social care in Scotland into a successfully functioning, sustainable public service begin.
Dr John Thomson, Vice President of the Royal College of Emergency Medicine Scotland
Comments
 0 comments
Want to join the conversation? Please or to comment on this article.