Coronation of King Charles III: Why politicians are to blame for UK inequality rather than the royal family - Euan McColm
Why King Charles III is more appealing than a President Nigel Farage, writes Euan McColm
​The angry republican offers us two simple options. We may, like him, see the whole stinking pantomime for what it is - a disgusting affirmation of inequality, a brutal insult to the poor during an age of austerity - or we may consider ourselves grovelling wretches, weak and supine, willing to abase ourselves before a man worthy of scorn rather than respect.
​The staunch monarchist offers us a similarly binary – and unappealing – choice. He asks whether we are noble supporters of a tradition that makes our nation great or, simply, traitors.
The coronation of King Charles III and Queen Camilla provoked some fairly extreme views. This was hardly surprising. The royal family is more than an institution, it is also – if you wish it to be – a symbol of the real Britain. This applies whether you think the real Britain good or bad.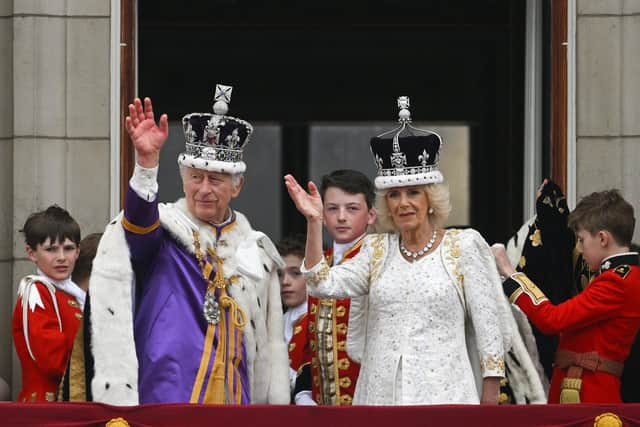 Somewhere between those who hold firm opinions on the merits and flaws of the monarchy sit those of us who rarely give the royal family a second thought.
The middle was, I think, a splendid place from which to observe the coronation. What a pleasure it was to revel in the beauty and weirdness of this remarkable event.
More than 2,000 people – from heads of state to Ant and Dec, via Nick Cave and Jay Blades – gathered in Westminster Abbey to watch strangely-dressed people perform arcane rituals. They waited patiently while screens were erected around the new King so that he might be anointed – in private – with oil carried in the beak of an eagle cast from solid gold. They lost themselves in music of such power that it shattered the screen of my television into a billion tiny pieces and filled every cubic millimetre of my body.
Those who took the time to let us know, via social media, they most certainly would not be watching, missed the sort of event the BBC covers best. It was an occasion so grand in scale that to have looked the other way seems perverse. Why wouldn't you have wanted to bear witness to such a historic moment? Seriously – what more interesting thing was happening?
As was the case during the funeral of the late Queen, I found the coronation unlocked doors to my past.
King Charles will carry different associations – negative or positive – for all of us. For me and, I'm sure, many others with half a century or more on the clock, he is the royal who reveres our comic heroes, the fan of the Monty Python's Flying Circus, the "grovelling little bastard" whose love of Spike Milligan is a redeeming quality of some magnitude.
And so, while I watched Charles and Camilla travel to the Abbey in their gold carriage, I could hear my late grandfather, Jimmy, angrily denounce the Pythons as "punk" (even by the 1980s, Jimmy used the word as if he was still in the '50s) while my dad, Hugh, and I exchanged amused glances.
And I couldn't hear that without then hearing Dad, standing at my bedroom door, singing to wake me for swimming on a Saturday.
The new King walked slowly through Westminster Abbey not to the commentary of Huw Edwards, but to the sound of my late father belting out "ying tong, ying tong, ying tong, ying tong, ying tong iddle I po".
As a young man, I was absolutely certain the monarchy should be abolished. How, I would argue, could anyone support such a monument to inequality? How could we waste so much money on a family supposedly selected by God to rule over us?
But, let me tell you, it takes a lot of energy to maintain that sort of opposition over decades and, frankly, I don't have the stamina for it. These days, I think that to challenge the concept of monarchy is to shoot at the wrong target.
Inequality is not exacerbated by the royal family, but by politicians. With the Princes Trust, Charles has done more to improve the lives of young people across Britain than any number of senior political figures ever have.
I don't think the abolition of the monarchy would suddenly improve the lives of the worst off, but I do want to live in a country where people are free to protest against the existence of a royal family (so long as they argue for retirement rather than anything more drastic). And so, it was troubling to see police arrest protesters – confiscating dozens of "Not My King" banners – hours before the coronation began.
The streets of London were lined with countless thousands of supporters of the royal family. There should have been room for opponents, too. The rights of those who feel the monarchy is an anachronism are every bit as legitimate as the rights of those who camped out for days in hope of catching a glimpse of the new King and Queen. Support for the monarchy, if it is to endure, cannot be enforced.
I wonder if the greatest factor in ensuring the monarchy continues will be the problem of finding a palatable alternative. Would you rather have an unelected head of state who keeps out of politics or would you like to open the door to presidential candidates who'd unleash the cheapest, nastiest populism on the road to victory?
You may not like the idea of a King, but would you rather have President Nigel Farage or Boris Johnson?
Against that prospect, give me the grumpy fellow in the ridiculous robes, any day.
Comments
 0 comments
Want to join the conversation? Please or to comment on this article.