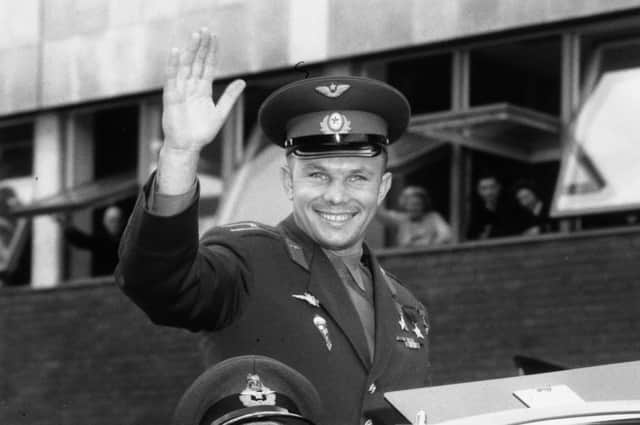 The first man to travel in space, Yuri Alekseyvich Gagarin arrives in London for a Russian trade fair (Picture: Douglas Miller/Getty Images)
By having the courage and skill to become the first person to go into space, he showed that no longer were we an Earth-bound species and the limits of our imagination could be stretched not just over the horizon but to whole new worlds.
Eight years after Gagarin's historic flight, Neil Armstrong and co landed on the surface of the Moon – as the US sought to reclaim pole position in the Space Race – and there are now serious plans to send people to Mars.
The former Soviet Union viewed Gagarin's flight as victory for communism over the West and celebrated it as such, sending him on a world tour.
One 11-year-old Glasgow boy who went to see the cosmonaut in London in the summer of 1961, the future science journalist Robin McKie, said later that the he had "waved at... not me, but in my general direction. Therefore, in my memory he waved at me. And I waved very excitedly back. I was absolutely – over the moon is a stupid phrase – but that really was absolutely fantastic."
With his easy smile and natural charisma, Gagarin produced a similar reaction wherever he went.
His achievement was so great that, for the vast majority of ordinary people, it was above even the bitter enmities of the Cold War.
For daring to be the first, Yuri Gagarin's name will deservedly live forever in human history and should, we hope, continue to inspire others to reach similar heights.