In his new film, About My Father, Robert De Niro is mildly appalled when he sees his prospective daughter-in-law being all touchy-feely, huggy-kissy with her parents. He's reprimanded for this by his son who says: "It's called love and affection, Dad – unlike you in the delivery room when you chose to shake my hand." "What was I supposed to do?" says De Niro. "We'd only just met."
Now it's just emerged that the Hollywood icon has become a dad again. Possibly the birth wasn't in a delivery room resounding to tiny wailing because he's worth $500 million and so would have easily been able to afford privacy and luxury. Then again, the man clearly adores babies – this is his seventh child. And nor does he think he's past it, knackered and too old to be a dad, even though he's 79. So maybe he went round each bed tickling chins and offering up that crinkly-eyed smile we know from the movies to every exhausted and elated mum.
But for fathering another offspring of his own at such an age, De Niro has been called "arrogant" and "selfish". He's not, runs this argument, thinking of the kid and how positively ancient he'll be at their graduation. Or thinking that he might not even make it to that day. Or that he'll still be around but not so he really knows, so the Bananarama song in his honour would need to be retitled. To "Robert De Niro's Dribbling", perhaps, or "Robert De Niro's Waiting For 'Pass the Balloon'".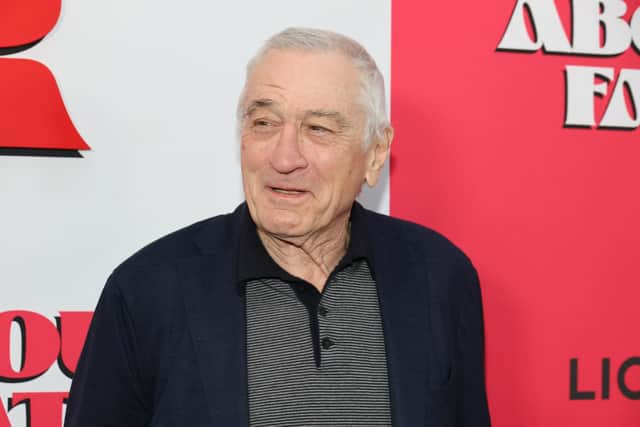 Again, our man is unlikely to end up in eventide care (though just about my first assignment for The Scotsman was to spend the day at a home for actors even older than De Niro – every one of them at pains to stress they weren't retired but merely "resting" – and I don't think I've had a job since that's been more fun or heart-warming).
No, the arrogance belongs to his carpers and critics. Who are they to rule on how old is too old for dadhood with the snidey inference that the child somehow can't or won't be loved? How many horror stories are there of people who are patently too young, immature, self-centered, irresponsible, neglectful and violent to have kids? Too many.
Or is the inference to do with him being an actor, a breed who by their nature are flighty, always moving from one role to the next, often moving from one partner to the next, and that this is no world in which to bring up a child? Well, I've yet to meet a "damaged" son or daughter of thespians, all of them having gone on to join the profession. Or is there some confusion between reality and fiction going on here? De Niro isn't actually Travis Bickle, you know. Or Max Cady or Jake LaMotta or Vito Corleone or Noodles from Once Upon a Time in America or Goodfellas' Jimmy Conway. He was merely impersonating gangsters and nutters.
To the best of my knowledge, none of De Niro's children has ever complained about him being a bad dad. There have been no stories of him behaving like Al Capone in the playroom. Yes, Al was a real person and another right bad yin, but once again in De Niro's case that was acting.
An actor celebrated for macho performances, compared to one who plays wimps, might be at risk of the accusation that he's simply showing off his virility in continuing to father children, similar to a macho singer like Mick Jagger who sired his eighth at 73. And Bernie Ecclestone became a dad for the fourth time at 89, but what is F1 if not the most phallocentric sport around?
In any event, though, De Niro portrays fewer Capones and capos these days and, since Meet the Parents, more fathers and grandfathers and randy widowers and grumpy old(-ish) men who rail against the modern world but have still got it. If I'm allowed to contradict myself, maybe reality and fiction do meld in his late-career films. Perhaps they offer an insight into what De Niro is like as the paterfamilias of his large clan – a believer in family over anything else and an absolute riot.
Of course, we don't know this for sure. Right from the first time I saw him interviewed – a fairly monosyllabic turn on Parkinson in 1981 – he's given very little away. He doesn't turn up at award ceremonies and gush about his kids like Kate Winslet did at Sunday's Baftas – indeed, he simply doesn't turn up at award ceremonies. He's a private man and him being a 79-year-old dad is a private matter, none of our business.
I defend De Niro as a father of mature years because I'm one myself. My first-born arrived just before my 50th birthday and three more soon followed. Older dads in my experience, and I know a few, are exceedingly grateful. Life's earlier disappointments, maybe some heartache or possibly just their own indecisiveness and fecklessness, may have conspired in the great moment arriving slightly later. As a result, they don't waste time, it being suddenly more pressing.
They throw themselves into parenthood, shrugging off being mistaken at the school gates for grandpa and the elbow strains from wrenching car seats into position and flinging their children into the air to be completely in the zone for the dads' race on sports day. They possess wisdom or can make it up, amusingly. They knew football when it was valorous and music when it was vinyl.
And if anyone should dare to question their right to be called Daddy then I'm sure De Niro would be only too happy to lend them his most memorable movie quip: "You talkin' to me?"