With Labour heading for government, Keir Starmer must end his 'strategic silence' on international affairs – Dr Azeem Ibrahim
Keir Starmer's top priority has been to distance himself from his predecessor, Jeremy Corbyn
The current Conservative government in Britain is facing declining popularity, with three different leaders since the last election and a bleak economic outlook. While it appears that Rishi Sunak may continue to govern from 10 Downing Street until the next general election, expected in just over a year, the outcome of that election remains uncertain. On the current trajectory, Sir Keir Starmer stands a good chance of forming the next government, potentially bringing a new foreign policy approach after 15 years of Conservative rule.
Starmer's top priority was to distance himself from his predecessor, Jeremy Corbyn, who was heavily criticized for his anti-Western views and affinity for authoritarian states. While Starmer's individual arguments and ideas hold merit, his prospective foreign policy still lacks a coherent and well-formed structure. It appears to be influenced by the demands of official opposition politics in Britain and Starmer's own inclination towards doctrinaire legalism, rather than a comprehensive and active foreign policy prospectus.
While it is possible to construct a potential foreign policy for a Starmer government, there is no clear evidence of a coherent worldview at this stage, despite some progress made since the invasion of Ukraine in 2022. After Starmer's election as Labour party leader in April 2020, he and his first Shadow Foreign Secretary, Lisa Nandy, began developing a foreign policy doctrine for the post-Corbyn era. However, Nandy's replacement with David Lammy in December 2021 has left this process unfinished. There is still much work to be done under Starmer's leadership and with his current Shadow Foreign Secretary to prepare Labour's foreign policy for the challenges of governing.
Unlike his predecessor Corbyn, Starmer does not have a long political career filled with specific causes and strong advocacy. Instead, as a career lawyer and former Director of Public Prosecutions in England and Wales, Starmer has built his foreign policy around key episodes in recent political history, some predating his parliamentary tenure. He has been influenced by the lessons that he draws from the Iraq War – which he considers to have been illegal – and has even proposed a law to prevent future British governments from committing forces without greater parliamentary and public support.
If implemented as it currently stands, Starmer's foreign policy would not result in a radical departure from the mainstream – as would have been the case under Corbyn. There are encouraging signs that Starmer's foreign policy would be assertive and serious, especially regarding Russia's aggression towards Ukraine, where he has taken a strong stance in defence of Ukraine's democracy. However, most of Starmer's day-to-day foreign policy pronouncements, except for Ukraine, have been driven by the requirements of official opposition politics and the advantages they confer in domestic political theatre.
Starmer's legal background and emphasis on process and formality have shaped his approach to foreign affairs, including Brexit and recent crises such as the Iraq War and interventions made against Isis, also known as Islamic State. While he maintains that the Iraq War was illegal, he avoids moral questions in his condemnation of it. Starmer took a technical view of the war against Isis, deeming it legal but refraining from voting for it. He also advocates trying British citizens who fought for Isis in UK courts, rather than stripping them of citizenship or leaving them in refugee camps.
Although Starmer has shown 'strategic silence' on international affairs by saying the right things but proposing little action, he talks about rebuilding alliances, taking action on climate change, his opposition to populism, and a two-state solution for Israel and Palestine. However, concrete policies are lacking, and the overall foreign policy vision of a Starmer-led government remains uncertain.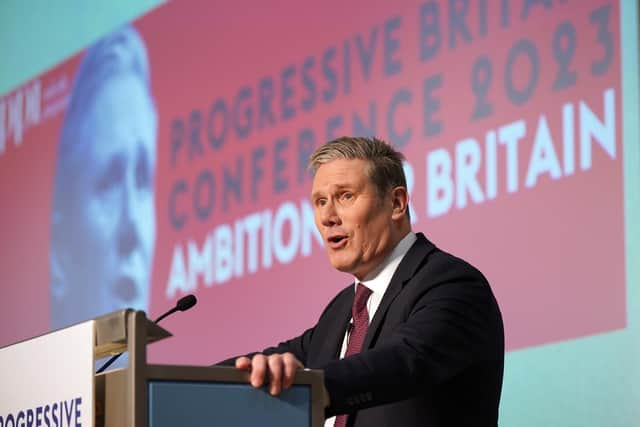 To prepare for government, the Labour party must develop a comprehensive foreign policy that is both realistic and just, combining legalistic and pragmatic approaches. Labour should aim to articulate a coherent vision for engaging with the world, one that is equipped to handle contemporary and future challenges. It is imperative to move beyond reflexive opposition to the current UK Government and construct a proactive foreign policy doctrine that can shape Britain's response to global crises.
While Starmer has shown increased focus and activity regarding Russian aggression towards Ukraine – particularly in recent months – these developments have yet to be replicated in other areas. To gain the trust of Britain's allies, including the United States, it is important for Labour under Starmer to demonstrate a clear position on key issues such as containing Chinese expansionism, counterterrorism missions, and responding to the use of weapons of mass destruction.
Nevertheless, Starmer's foreign policy is still evolving, with room for further development and refinement. While his individual arguments hold merit, a coherent and comprehensive foreign policy doctrine is yet to emerge. To avoid entering government unprepared, the Labour party must work towards formulating a robust foreign policy that can effectively address the challenges of global affairs and shape Britain's role in the world.
Dr Azeem Ibrahim OBE is the founder and executive chair of the Scotland Institute and director of the New Lines Institute for Strategy and Policy
Comments
 0 comments
Want to join the conversation? Please or to comment on this article.