Witch-hunting in 17th-century Scotland was so well paid that it attracted some blatant fakers – Susan Morrison
A witch-hunter nicknamed 'The Bloody Juglar' appears to have used a retractable needle to prick his victims without drawing blood, while another responsible for the deaths of many innocent women turned out to be a woman herself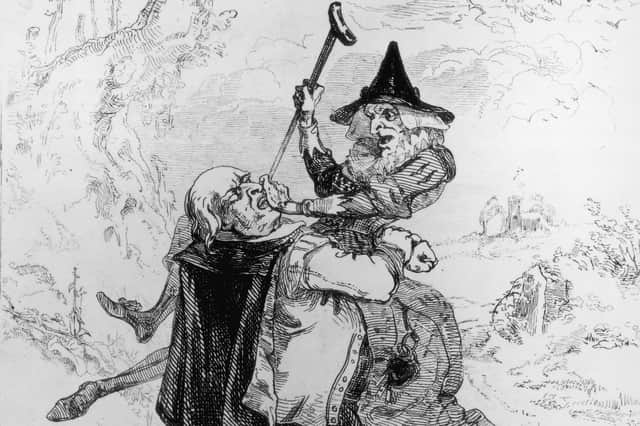 At Spynie Palace in 1662, John Innes of Leuchars had a serious problem on his hands. Local people were complaining to him about milkless cows, shrivelling crops and dying children. Pretty obvious that a witch was on the loose. As the local law enforcement thereabouts, John was expected to do something, but witch-hunting was not in Mr Innes's skill set.
It must have been a relief when a slight young man almost magically appeared in front of him: John Dickson's the name, and witch-hunting's the game. Bags of experience. Happy to sort the problem out. Possibly dropped the name of superstar witch-hunter John Kincaid into the conversation, a Tranent man with a fearsome reputation as Scotland's most fearsome witch pricker or 'brodder'.
The Scots didn't do witch-ducking. We went for the needle. The Devil gave his followers marks somewhere on their bodies. Where the Devil left his mark, there would be no blood, and no pain. Kincaid and his like would use the needle to 'prick' the accused. The words prick and needle are misleading. This needle was no dainty thing to be lost easily in a haystack. These were more like hefty great crochet hooks. The 'pricking' was more of a violent slam into the body.
The mark could be anywhere. The accused were stripped and shaved, and the needle plunged in. Some victims didn't move, scream or bleed – the mark had been found. Possibly they couldn't move. They may have been in deep shock. These were pious times.
Women rarely left home without covering their heads, now they stood publicly naked, shaved and exhausted. There may well have been little or no bleeding, if the needle hit a part of the body with a poor blood supply. Or perhaps the needle was retractable.
There are clues to such trickery. In the late 17th century, a witch-hunter nicknamed "The Bloody Juglar" turned up in Berwick-upon-Tweed. Pretty quickly his trusty needle pricked a victim and drew no blood. A witch, ready for trial and execution. Hold up, said Colonel Fenwick, the town's military governor. He called in the mayor and the magistrates. He was worried that this evidence was falsely procured. He had his suspicions about that needle.
Why not get The Bloody Juglar to do the pricking again, but with a council-provided needle? Our boy baulked – "by no means would he be induced unto". To the good people of Berwick, this "was a sufficient Discovery of Knavery". The Juglar was busted.
John Kincaid may have been a knave, but between 1649 and 1662 he rampaged freely. It was lucrative. He pocketed £6 for a discovery of a witch at Burntcastle estate. They chucked in another £3 to cover the booze bill for him and his manservant.
The year 1659 was a busy one. Kincaid seems to have pricked profitably in East Lothian, where 18 accused witches were executed. In 1661, Forfar was so chuffed with his efforts that they gave him the freedom of the burgh.
Perhaps young John Dickson was inspired by Kincaid. Seemed a good trade for a lad, finding God's enemies and being very well paid for it, too. John headed north, fetched up at Spynie Palace and appeared before the harassed Innes, who wasted no time in signing up his new witch-hunter to an exclusive contract.
John was on a good retainer with performance-related bonuses, six shillings a day expenses plus £6 per witch caught. In no time at all, our man on the make had two servants and a very fancy horse. He was on-call and carried out witch-pricking in Elgin, Forres, Inverness and Tain. He possibly pricked Isobel Goudie, Scotland's most famous witch.
He had a particular take on the procedure. Folk called him the Pricker "because of his use of a long brasse pin". He had his victims stripped naked, then the "spell spot was seen and discovered. After rubbing over the whole body with his palms." In a vicious witch-hunt/clan war in Wardlaw on the banks of Loch Ness, 14 women and one man were treated so savagely under John's direct supervision that some of them died.
Our boy was on a roll, until he did something stupid. He pricked a man named John Hay, a former messenger to the Privy Council. Now, this was not a man to mess with. He had connections. He wrote to Edinburgh complaining in an incredibly civil servant manner, denouncing the witch-pricker who worked on his case as a "cheating fellow" who carried out the torture without a licence. Even witch-hunters need the correct paperwork.
The Privy Council in Edinburgh agreed. They called the maverick Mr Dickson in for a word. And they made a terrible discovery: John Dickson was a woman. Her name was Christian Caddell, and she came from Fife. Oh, she could tell a witch, no doubt about it. She claimed she spotted them by looking into their eyes and seeing an upside-down cross.
Of course, this was not the scientifically accepted manner of witch-finding. A needle must be used. And, obviously, you needed to be a man.
Christian stood trial, not for fake witch hunting, torturing or even for those murderous deaths, but for wearing men's clothing. She was sentenced to transportation, and on May 6 she sailed from the port of Leith on the ship Mary, bound for Barbados.
On the day she left Scotland, Isobel Elder and Isabel Simson, pricked by John Dickson, aka Christian Caddel, were burned in Forres. Just because you were discovered to be a witch in the wrong way didn't mean to say you were innocent. They were the last two victims of the cross-dressing counterfeit witch-pricker.
Comments
 0 comments
Want to join the conversation? Please or to comment on this article.