Will Scottish election give SNP the untrammelled power to further debase Scotland? – Brian Wilson
Reports of what the Holyrood committee investigating the Scottish government's handling of harassment complaints has concluded may or may not prove accurate.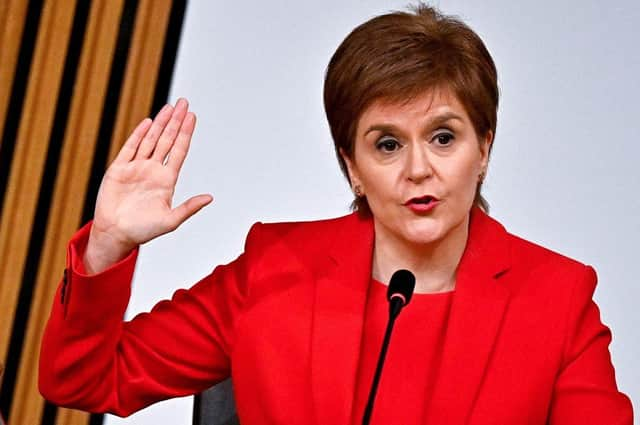 It would have been better if the report was published in full before comments were passed. As always in the world of spin, it is far from obvious who would think there was advantage in getting something out early.
In the meantime, attention might focus on the First Minister's response to these reports. Opposition MSPs, it was claimed in her name, had "pre-judged" her so that the majority conclusions and the briefing around them were "partisan". In other words, the work of the committee was worthless from the start.
Where does one begin? Utter disrespect for the committee process? Complete blindness to the possibility that its four SNP members were anything other than independent-minded seekers after truth?
I think Ms Sturgeon's advance dismissal of unfavourable conclusions on the grounds they were "all out to get her" is grossly disrespectful to Jackie Baillie, Murdo Fraser and Alex Cole-Hamilton. I doubt if any of them went into this uninvited exercise with a fixed idea of how it would turn out. Whatever their conclusions, they have been led there by the evidence.
However, Ms Sturgeon's dismissal of the reported conclusion that she misled Parliament really boils down to an attack on the integrity of one man, Andy Wightman, who – according to the "party lines" theory – has been the swing voter on the committee since ditching the Greens, to become independent in both name and spirit.
Anyone who claims Mr Wightman was part of a conspiracy to "pre-judge" the evidence in order to conspire with a "partisan" majority is either a fool or a liar. Whatever conclusion he has reached on any aspect of this affair will have been based on the evidence and not on any prejudice. For Ms Sturgeon's spokesperson to implicitly assert otherwise is pretty disgusting.
It cannot be overstated that all of this would have been finished months ago if Ms Sturgeon and her acolytes had been open and honest with the committee. Indeed, Mr Wightman would never have been involved since he only became a member late last year, in place of another Green.
Even if it had been found then that Ms Sturgeon had misled Parliament – as is pretty obvious – she would have brass-necked her way through it and would have had a majority with the help of the Greens to do so. It would all be history – albeit grubby, disputed history.
The fact Ms Sturgeon is now hanging on by the skin of her teeth, days before Holyrood closes down for elections, is due entirely to the fact the committee's work has been obstructed and delayed at every turn, primarily by the withholding of evidence for no reason other than to protect the First Minister and those around her.
For example: "McCann expressed great disappointment to Ruddick that someone who had promised to deliver five complainants to him by the end of that week had come up empty… Ruddick, in one of her texts, expressed nervousness about 'what happens when my name comes out as fishing for others to come forward'."
All of this, as Mr Davis pointed out, was going on while a criminal investigation was under way. It is a very strange way to run a political party, never mind a country – and somewhat chilling to reflect that the Murrell-Sturgeon axis presides over both.
We have seen the vicious response this week when an independent MSP reportedly tips the balance against complete SNP hegemony on a Holyrood committee. The elections in May will determine whether these people are given the untrammelled power they seek to further debase Scotland and its institutions.
A message from the Editor:
Thank you for reading this article. We're more reliant on your support than ever as the shift in consumer habits brought about by coronavirus impacts our advertisers.
If you haven't already, please consider supporting our trusted, fact-checked journalism by taking out a digital subscription.
Comments
 0 comments
Want to join the conversation? Please or to comment on this article.