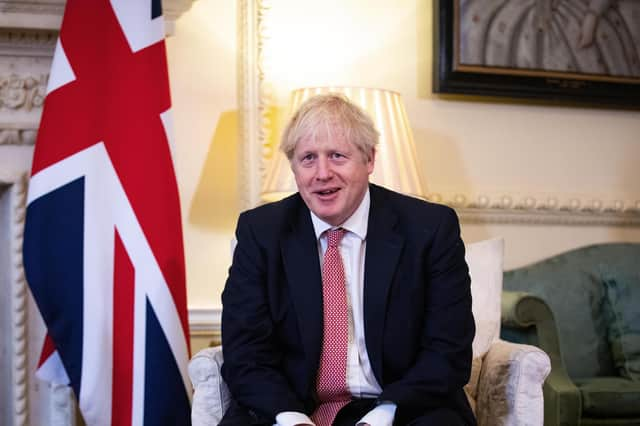 Boris Johnson repurposed Alex Salmond's phrase about Scotland's potential to become the 'Saudi Arabia' of renewable energy (Picture: Aaron Chown/WPA pool/Getty Images)
He has been tried and acquitted on grave charges of sexual assault and attempted rape, has admitted to behaviour with female colleagues that was sleazy and inappropriate at best, and has struck up a professional relationship with the Kremlin-funded Russia Today television channel that has damaged both his own reputation and that of his former party.
Under these circumstances, it is not currently fashionable – except in extreme pro-Salmond circles – to dwell on the upsides of his leadership; particularly his strategic genius for placing his party where there were most Scottish votes to be garnered, and his gift for the vivid political phrase, often designed to conjure up positive visions of what a future independent Scotland might achieve.
One thing we have learned about the dark arts of 21st-century politics, though, is that contemporary speech-writers and advisors care not where they pick up the fine words that help put a positive and progressive sheen on their candidate's policies. They trawl the internet for great speeches of the past – mainly, of course, given by political figures of the centre-left – and pick up a sentence from Neil Kinnock here, and whole paragraphs of Michelle Obama there.
So perhaps I should not have been surprised to find Boris Johnson – in his closing speech to the online Tory conference on Tuesday – appearing clothed in the language of Alex Salmond circa 2013; and offering the whole of the UK a taste of that fairer, greener and more prosperous future that formed the centrepiece of the SNP's independence referendum campaign.
He even had the nerve to borrow the phrase "Saudi Arabia of renewables", popularised by the then First Minister to describe Scotland's energy potential; except that for Boris Johnson, that new energy bonanza, which he acknowledges will be generated mainly in and around Scotland, is to be a UK-wide resource, and the foundation-stone of Britain's post-Brexit prosperity.
Nor was this Johnson's only magpie-like raid on the more attractive aspects of other parties' policies. He conjured up a vision of the British small towns of the future that could have been lifted straight from a Green manifesto; and even had the brass neck to praise those politicians, almost exclusively Labour and Liberal, who in the very depths of the Second World War mapped out a vision for the postwar welfare state which Johnson's own party, in the late 1940s, opposed at every turn.
All in all, the speech seemed to mark a spectacular return for One Nation Boris, the centrist leader happy to gather good ideas from all quarters – except, of course, for the part where he claimed that all of this, including the development of new vaccines and other drugs, could be achieved entirely by the private sector. In his dreams, is the most polite thing to be said about that.
For Scotland, though, the rhetorical "power grab" on our possible future as a country uniquely rich in renewables is the most significant of these claims, and the one of which we need to be most wary. Scotland's history, when it comes to energy revolutions, has not been a particularly happy one. Coal delivered huge wealth for some, and made Scotland one of the industrial powerhouses of the 19th-century world; but it also meant poverty, danger and long-term insecurity for many working-class communities, particularly as the industry began to wind down.
Then, the colossal oil wealth discovered off our shores in the postwar period was effectively ripped off by an alliance of major global oil corporations, and a Westminster government which ended up using the money to finance Margaret Thatcher's low-tax revolution; this while large parts of Scotland languished in deep post-industrial poverty, and independent Norway, just across the North Sea, showed us how it was done, in terms of making a 50-year oil boom a basis for permanent wealth.
As the 7:84 Theatre Company famously warned, in its mighty 1973 show The Cheviot, The Stag, And The Black, Black Oil, the wealth was largely lost to the people of Scotland; and although the great majority of Scots were then supporters of the Union, and rejected the "it's Scotland's oil" slogan as crass and nationalistic, the sight of it being used to fund a regressive, right-wing revolution for which Scotland had never voted was for many an insult too far, and had a dramatic impact on levels of support for devolution and independence.
The question now, therefore, is whether we should simply acquiesce in a future in which Scotland's renewables potential is exploited by politicians like Boris Johnson, and their associates in the upper echelons of a thoroughly discredited form of global rogue capitalism; or whether we finally try to exert some control over our fate, and use our exceptional renewable resources not only to create a better future for Scotland and its people, but also to play a positive role in developing a more just and progressive political climate across these islands.
There is no doubt that this is a task worthy of Scotland's talents and potential, and an achievement now within our reach. The only question is whether we can find the moment, the pathway, the movement, the leadership, the consensus, to push us over that line; and this week at least – with the SNP exhausted and ill-tempered after 14 years in government, and the Covid crisis sapping economic confidence by the day – that vital moment of opportunity seems both tantalisingly close, and as difficult to grasp as ever.
A message from the Editor:
Thank you for reading this article on our website. While I have your attention, I also have an important request to make of you.
The dramatic events of 2020 are having a major impact on many of our advertisers – and consequently the revenue we receive. We are now more reliant than ever on you taking out a digital subscription to support our journalism.
Subscribe to scotsman.com and enjoy unlimited access to Scottish news and information online and on our app. Visit www.scotsman.com/subscriptions now to sign up.
By supporting us, we are able to support you in providing trusted, fact-checked content for this website.
Joy Yates
Editorial Director