Maybe they plumped for what they thought was the least-worst option from a field in which all the runners had significant drawbacks ─ probably why a third chose not to vote at all. Last week's Ipsos poll illustrated the problem: only 22 per cent of the public thought favourably about Humza Yousaf compared to 27 for Kate Forbes, but 38 per cent of SNP voters preferred the eventual winner with Ms Forbes only one behind. With 48 per cent of SNP members backing Mr Yousaf in the first round of SNP voting, there is a significant difference between supporters and activists.
Mr Yousaf tried to strike a consensual tone in his victory speech, promising to represent all Scotland regardless of political allegiance, which was in stark contrast with his final day interview in yesterday's Daily Record in which he professed his socialism and plans to redistribute wealth under the headline of "I'll hammer the rich", which doesn't exactly sound like an olive branch to pro-growth Conservatives. It would, however, reassure the anti-growth Greens who may feel they have the whip hand in a coalition now led by someone whose reputation for vision, determination and delivery is, shall we say, still in development.
He also pledged to work constructively with the UK Government and the first challenge will be as early as this Thursday when the UK's Energy and Net-zero Secretary Grant Shapps could be in Aberdeen to announce a £20 billion investment in the carbon-capture-and-storage (CCS) industry, including the Acorn project based in Peterhead which has already received £40 million of UK Government backing. Other elements to the announcement could include new oil and gas exploitation licences which is likely to invoke fury from Greens, but is essential for keeping the engineering expertise in the North-East needed for the implementation of CCS at the necessary scale, if the transition is to be a process, not a cliff edge.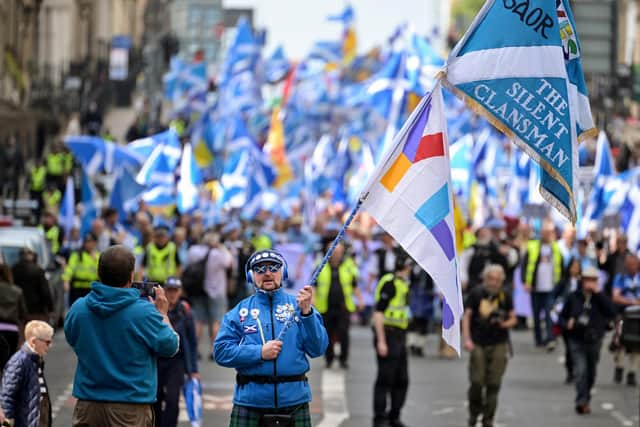 Perhaps Mr Yousaf will surprise us all by welcoming such a significant boost to the North-East economy at his debut First Minister's Questions, but with his recent description of Westminster as a foreign government, his constructive relationship pledge might not last long, not after putting so much importance on the Green alliance during the leadership campaign.
But the circumstances he inherits are very different to those to which his predecessor became accustomed and Thursday's North Sea announcement is also another signal that the days of the UK Government's devolve-and-forget approach to Scotland are over. David Cameron had a family bolt-hole on Jura which gave him an excuse for regular forays north, but since the Scottish Parliament's powers expanded when the Scotland Act passed in March 2016, the UK Government's attention has been elsewhere, first on Brexit, then the pandemic, and then Ukraine in a year dominated by meltdown in Number 10.
With a new sense of grip at the top of both the Conservative and Labour parties, turmoil at the heart of the SNP could not have come at a worse time, and there is a real opportunity for the UK Government to reset the relationship with Scotland in ways which were hard to imagine at the height of the Sturgeon era, in which constitutional problems were not issues to be resolved but opportunities to pick fights. Despite all the nonsense about Kate Forbes being the candidate unionists feared the most, UK Government figures were genuinely looking forward to working with her on a less partisan, pro-growth agenda, but Mr Yousaf will have the benefit of the doubt and the same approach Rishi Sunak took to Ms Sturgeon is likely to be followed. He's expected to call Mr Yousaf as soon as he's sworn in as First Minister tomorrow, and plans are underway for a face-to-face meeting, perhaps similar to the low-key working dinner in Inverness prior to the freeports announcement in January.
UK government officials don't like the phrase "muscular unionism" but there is no question that the City Region deals and Levelling-Up have emboldened them because they could see petty gripes about "disrespecting devolution" were not washing with the public, that SNP-controlled authorities were just as enthusiastic as any others, and what mattered was getting things done. The result is a thawing of relationships where before there were only barriers, with Transport Scotland's new engagement with the UK Government on improvements for the A75 to Stranraer being a good example.
The next big opportunity will be the announcement of the new "investment zones" to focus on digital, green, life science, creative and advanced manufacturing industries, with two expected to be in Scotland, and if Glasgow and Aberdeen aren't complacent they could be in line for major UK Government investment. There are other opportunities for such interventions to make an impact where the Scottish Government is struggling, like housing supply where £170m has been cut from the 2023-24 budget despite an almost impossible target of 110,000 new affordable homes by 2032. Although housing is entirely devolved, building homes can form part of an investment bid if labour supply is an issue, and it has been included in at least one levelling-up application in a remote area. Scaling that up in a major regeneration project like Bishopton could be the basis of a modern-day Bourneville, Port Sunlight or New Lanark where houses were as important as the factories and roads.
For the UK Government, it's not about looking for propaganda opportunities to wave a Union Jack, and officials believe what has been described in somewhat politically incorrect terms as "flag shagging" is best left to the likes of All Under One Banner. The new First Minster now has an opportunity to show that the Scottish Government thinks the same.