Will Conservative UK Transport Secretary Mark Harper's pledge of 'constructive engagement' with SNP sweep away past rancour? – Alastair Dalton
There's been no love lost between the Scottish and UK governments over transport in recent years – but is that about to change?
When I was asked to take part in an event with the newish UK Transport Secretary Mark Harper last Friday, I realised I hadn't met any of his predecessors for more than a decade. That's perhaps a reflection of the extent to which transport is devolved in Scotland, but also an indication of the very different parties in power on either side of the Border.
When there was a Labour government at Westminster and Labour-Liberal Democrat coalition at Holyrood, I recall much greater co-working between them on transport, with UK Transport Secretaries a far more frequent sight in Scotland. But since the SNP came to power in Scotland in 2007 and the Conservatives across the UK three years later, communication has distinctly reduced to the extent that when there's a major transport announcement by the UK Government, that's often the first that Transport Scotland has heard of it.
I asked the UK Department for Transport when a Secretary of State had last visited Scotland other than Grant Shapps in 2020 in the aftermath of the Carmont rail crash. Perhaps conveniently, they told me such "historic diary information" wasn't to hand "due to the change in governments/ministers". However, Mr Harper, who was appointed in October, seems keen to draw a line under the past, noting that relationship building between the two governments had not been helped by the political turbulence that had triggered a "rapidity in personnel changes", aka the exits of Prime Ministers Johnson and Truss in short succession.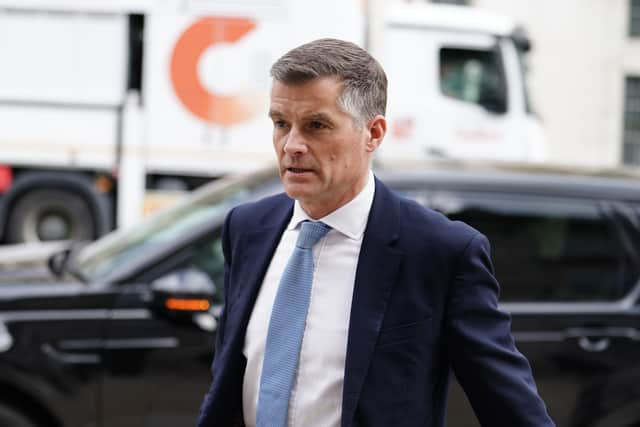 Addressing a fringe meeting at the Scottish Conservatives conference in Glasgow organised by the Railway Industry Association, which represents suppliers, Mr Harper said that that, along with the advent of Humza Yousaf's new ministerial team, afforded the opportunity to reset their relationship. "We won't always agree with each other, that's inevitable, but having sensible dialogue, agreeing on things where we can, is a sensible way to proceed," he said. "We have had constructive engagement – I haven't had any negative – with the Scottish Government and I hope that continues."
I'm hearing similarly conciliatory noises from Transport Scotland, that it's equally keen to have a constructive relationship. It said the tone so far had reflected that. However, it was also keen to stress that devolved areas must be respected.
The acid test could be the UK Government's forthcoming response to the Union Connectivity Review (UCR), launched by Boris Johnson to improve transport links between different parts of the UK. Mr Harper told MPs last month he hadn't necessarily agreed with many things Mr Johnson said (he was out of office while Boris was in charge).
So I asked him whether that included the way the UCR had been launched, since it failed to get the Scottish Government on board and was condemned by the then Transport Secretary Michael Matheson as a "blatant power grab" because the review included devolved issues like upgrading the A75 to the Northern Ireland ferry ports.
Mr Harper said that had been "before my time" and there had been "constructive engagement" with the Scottish Government since. In the wake of regime change on both sides of the Border, let's see how it pans out.
Comments
 0 comments
Want to join the conversation? Please or to comment on this article.