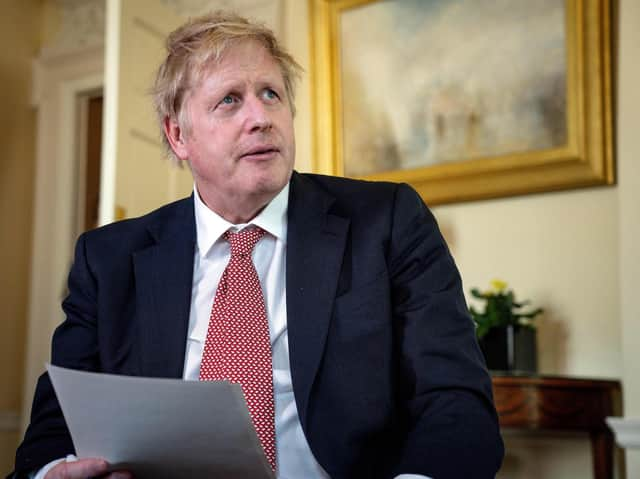 Like most people I've been having the same kinds of lockdown chat of late with family and my legion of close personal friends about whether or not they've had the 'you know what'.
There are some who are convinced it's been and gone in the form of mild symptoms that always include the ubiquitous achy legs but no sore throat, temperature, and that bit where you arrive at the hosser gasping for air.
I've been suspicious of the mild symptoms advice around Covid-19 from the outset, dear readers, given my natural state of hypochondria and the chronic health anxiety that comes from writing about the subject every day.
My considered opinion on this is that 'you'll ken aw aboot it' if you get it and you'll still be left in no doubt if you pick up the Diet Covid-19 version – although, worryingly, anything between five and 80 per cent of people testing positive for the virus can have no symptoms at all, according to the Centre for Evidence-Based Medicine.
And as a card-carrying member of the 'worried well' rather than a doctor, my recent internet searches have included: gout and coronavirus; insect bites and coronavirus, pain in roof of mouth and Covid-19; and Pamela Anderson "Baywatch"... no scrub that last one, search history – abort! abort!
The gout I've had since the age of 24 and the mouth pain came from not letting the Friday night pizza cool down properly before I grabbed it but has since been sorted with liberal applications of Bonjela... ela, ela.
One friend point-blank refused to indulge in this kind of chat from the off, while another appears to be entering their third month of symptoms having spent the three months previously with a mild case of flu... for those of you who remember the flu, which we all had for six weeks at the tail end of 2019. "We can't go on together with suspicious minds."
Sore legs? I've got that...
I've had the sore legs myself of late but I can track that to my strolls from Crossgates to Cowdenbeath and back of a morning that help me reach the 10,000 steps per day lockdown target I've set myself — in a bid to cement my reputation as Fife's most boring man.
It doesn't take a genius to work out that this epidemic of leg stiffness might be down to everyone being tricked into grabbing their state-allotted hour of exercise as is their right. Previous couch tatties are now digging out their old Adidas four-stripe gutties and reclaiming bits of green space, with accompanying dog-poo bags, for Queen and Country.
This increased health anxiety is, of course, being played out against the backdrop of tragedy taking place in care homes across the country and pales into insignificance compared to that.
It will be interesting to see how Boris Johnson's recent 50/50 coronavirus scare will influence his thinking in terms of bringing the UK out of lockdown.
The Prime Minister's near-death experience may turn out to be the epiphany that makes him realise the true value of the NHS and those who work in the care sector. His journey from 'I shook hands with everyone' Boris to 'the NHS has saved my life, no question' Boris may see him urge caution and add an extra three weeks on to the lockdown.
Boris will have the final say on when we come out of lockdown and as last man standing the buck stops with him – but no doubt oor Nicola will manoeuvre like she has done throughout the crisis to make it look like an independent Scottish decision has been taken.
Of course like all shameless chancers, he has a Plan B should things go wrong, which is to blame the advisers if it transpires that we've all come oot the hoose too early and the predicted second wave actually makes things worse.
Senior Tory MPs are already putting pressure on Johnson to taper his "safety first" approach to coronavirus in favour of protecting their mates' small businesses that are at risk of going under if he persists with this 'saving folks' lives' approach.
Yes, advisers are there to... advise, but that doesn't mean to say you have to follow their guidance and obviously Boris and his Cabinet can choose which ones they pay attention to.
Perhaps a lobby journalist could ask the PM: "If Professor Neil Ferguson told you to jump off Salisbury Crags, would you do it?"
But this kind of forensic questioning seems to be lacking – hold on while I log on to the Zoom.
The direction of travelator at Westminster and ergo Holyrood will no doubt at some point include throwing an advisor or two under the bus, probably the same ones.
However, it was only a few weeks ago that Dr Catherine Calderwood (remember her) was telling all and sundry her advice to the First Minister and Cabinet Secretary was that all this focus on testing was a 'distraction'. Calderwood also said: "But the thought that the testing in some way slows the virus or is a part of our strategy to prevent transmission is a fallacy, I'm afraid." Cue a brand new testing "superlab" being set up in Glasgow.
All of this takes me back to the great General Douglas MacArthur whose advice to President Harry Truman during the Korean War was to drop between 30 and 50 atomic bombs on Chinese forces. Truman, to his credit, ignored the General's plans on the grounds they were a bit war-ey.
Stay safe and wash yer hands.