On the latest episode of our food and drink podcast, Scran, I visited Fingal, the floating hotel, bar and restaurant that's permanently docked in Leith.
A former Stevenson lighthouse vessel, Fingal has been completely transformed into a luxury destination for travellers or locals looking for a slap up meal and well-mixed cocktails. While the budget and expertise have clearly been huge, it's nice to see what was a disused ship be turned into a tourism destination – and it has worked as Fingal is number one on TripAdvisor.
This level of thinking outside the box makes you wonder what else can be achieved for our hospitality scene with the right plans and funding. I have often wondered why my home city of Glasgow has never embraced a riverside culture that so many other European cities have.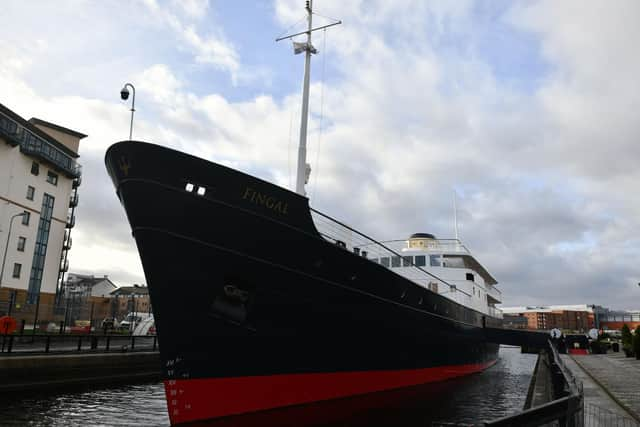 There are large areas of the Clyde that are fenced off and are just scrub wasteland. And while venues such as Cranside Kitchen and the Radisson Red's rooftop bar are popular destinations in the summer, there's nowhere near the level of eating and drinking destinations that you'd expect from a city with such a rich riverside industry.
We just need to look to Liverpool (and we will as Eurovision approaches) whose waterfront is bustling with alfresco cafés, open-air theatre, tours and visitor attractions. Although Glasgow has a 1997 bylaw that prevents drinking outside in unlicensed premises, it's hard to see why there isn't more being done to regenerate the Clyde side.
The same could also be said for Glasgow's run-down, but still beautiful buildings, and the increasingly desolate city centre. Creative thinking, rate reduction and investment is needed to transform our high streets into places people want to visit to stay, eat and drink again.
While Fingal is a multi-million pound example of forward thinking in an area that was once overlooked, you don't need to splash too much cash to reach underserved areas or regenerate spaces. Small street food venues and pop-ups in things such as shipping containers also offer a chance for independent vendors to sell their wares at lower costs than opening a restaurant. This, in turn, will turn the tide people to these places.