Why Scotland needs a network of 'night parks' - Laura Waddell
We have entered the phase of the year when half the day slips away into darkness.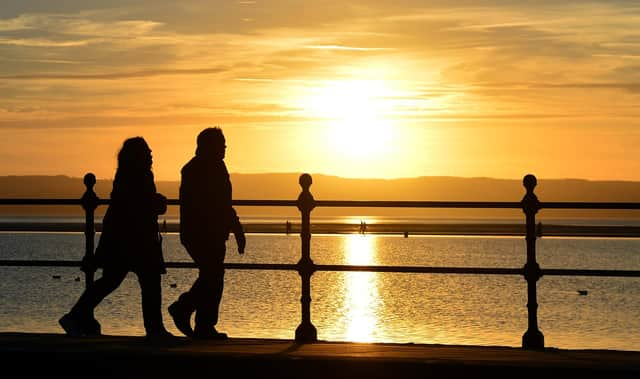 As the nights draw in, parks become less welcoming for daily exercise
The clocks going back has triggered some lunar mechanism that drops a black velvet curtain over the stage at 5pm sharp.
But this year, rather than heading home from a typical working day, scurrying to close the front door on the bleak streets and turn on the lamps inside, many of us are at home already when the gloom descends. Suddenly it's just there, when we glance up from a Zoom call, and instead of looking through the window we see only our own reflection bouncing back.
Back in springtime, when flowers were beginning to unfurl and fresh greenery was a not insignificant comfort, going for a walk once daily duties were done was essential to the equilibrium of my lockdown days. A little scheduled burst of freedom in the routine kept me from sitting in the same chair all day, every day. The fresh air felt vaguely therapeutic.
It reminded me to breathe and to ungrit my teeth, loosening the rigid posture adopted to fortify against the frustrations of the day.
But what to do now that winter's dark nights are here, and the window for getting out is closing? I have found myself wishing there was such a thing as an evening walking circuit.
The parks are not safe at night; in fact, much of the city isn't safe at night to walk alone. This has long been a focus of campaigners against sexual violence, who point to lacking infrastructure.
The unlit alleys branching off of main streets. Eerie long stretches of shuttered premises.
But since we live in a country with limited sunlight in the winter, imagine if there was a park or two with properly lit walking trails, and a culture of enough people using it for it to feel safe. A kiosk to buy a hot drink and sugary snack. Somewhere a woman could walk alone without feeling afraid, couples might stretch their legs after an early dinner, and you were likely to bump into your neighbours with their kids. Think of it as a Night Park.
I've been thinking about the city parks or riverside trails that are well used in the evenings in some big European cities; the tree-lined thoroughfares filled with enough tourists and locals mulling around and making their way home from the shops or the theatre.
If ever a stranger in these places, and not feeling like sitting in a bar or retiring to a hotel room early, I enjoy going for an early evening stroll among the hustle and bustle, watching other people going about their business. I have no interest in jogging anywhere, but I like the freedom of an evening amble for the sake of my mental health, staving off the weird blues that can come with work travel and the disorientation of being a different person in a different place for the night.
What are the existing options for night time walking here? All I can think of are leisure centre running circuit facilities, which isn't what I'm looking for, and which are now at the mercy of Covid restrictions anyway.
I love the idea of a bat walk, or a visit to a sky park to look at the stars, two examples of Scotland making the most of its lush evenings and natural wonders, but one off special events is not quite it either.
Public places, particularly green spaces, being taken over by private companies charging entry fees will always grate on my nerves; each year around this time clunky scaffolding starts appearing in Glasgow's Botanic Garden for evening light shows, making daytime walkers feel like they're getting in the way of the detritus of commerce.
Compare it to Window Wanderland, the night of brilliantly creative decorated windows in Glasgow's southside. It is extremely charming, livens up the winter dark, and, crucially, is community-driven and free to walk around and look at. Scotland has an abundance of dark nights to play with; many of our cities, towns and villages have creative spirits. It is surprising there isn't more of this kind of thing making the most of it.
This year, after the public have spent months indoors missing family and friends and mourning, if among the lucky, the loss only of their normal lives, we may be facing a huge mental health crisis nestled alongside the physical fears of flu season. The NHS was already under equipped to deal with demand for mental health services before Covid happened, and this has been an unprecedentedly difficult year for all. How will we weather the months of Seasonal Affective Disorder on top of it all?
Looking ahead to five or so more months of black skies up above, it's difficult to feel cosy about it this year, even if naturally inclined to huddling up indoors before the comforting glow of a screen and getting in the spirit of festivities. This year, I feel more dread than usual at reduced prospects of getting outdoors over winter, generally in for the night once the streetlamps click on.
The dark is a natural curfew, limiting where we may safely go and what we might do past a certain hour. It turns us all into Cinderella, hurrying home on the stroke of the clock.
But things might be different if there was a Night Park.
Here begins my campaign for one. Somewhere we could go for a little bit of breathing space, air and exercise in the evenings.
Free, well lit, and family friendly. This kind of destination that might double the available hours we had to exist safely outdoors in a velvety Scottish winter. Just knowing the option was there; that there was something to do beyond 5pm rather than continue to exist indoors, might be a help to many struggling with the darkness.
Want to join the conversation? Please or to comment on this article.