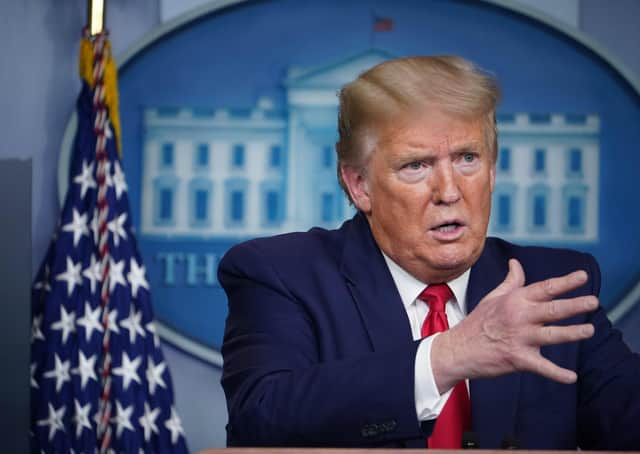 During a visit to the Centers for Disease Control and Prevention (CDC) last month, Donald Trump met scientists working on the Covid-19 coronavirus. "I like this stuff. I really get it... Every one of these doctors said: 'How do you know so much about this?' Maybe I have a natural ability," he said.
And so it was not a surprise when, at a press briefing on Thursday, the US President started listing suggestions he had made about potential new treatments. "Supposing we hit the body with a tremendous, whether it's ultraviolet or just a very powerful light," he said. Trump appeared to be reassured by a nearby official that his ideas were going to be tested.
He then spoke of how disinfectant "knocks it [coronavirus] out in a minute, one minute", and asked a question: "Is there a way we can do something like that by injection inside or almost a cleaning?"
All over the world, public health organisations, doctors and disinfectant manufacturers then started scrambling to issue warnings not to inject or ingest any kind of disinfectant because, if you do, there is a serious chance you will die.
As this global, life-saving campaign swung into action, the US Food and Drug Administration warned against taking the antimalarial drugs, chloroquine and hydroxychloroquine, because of the risk of serious heart problems and a lack of evidence it has any effect on Covid-19.
As Trump's latest remarks sparked an avalanche of justified criticism, a White House spokesperson said: "Leave it to the media to irresponsibly take President Trump out of context and run with negative headlines."
Trump is a fool who thinks he is a "very stable genius". Yet there are people who believe him, and populist politicians all over the world who imitate his tactics.
In Scotland and the UK, we are fortunate that, so far, we appear to be relatively immune to the virus of Trumpism. We must make sure to keep it that way.