Why is Scotland missing out its windfarm bounty?
Given past SNP promises of a state energy company, we're entitled to ask where's our share?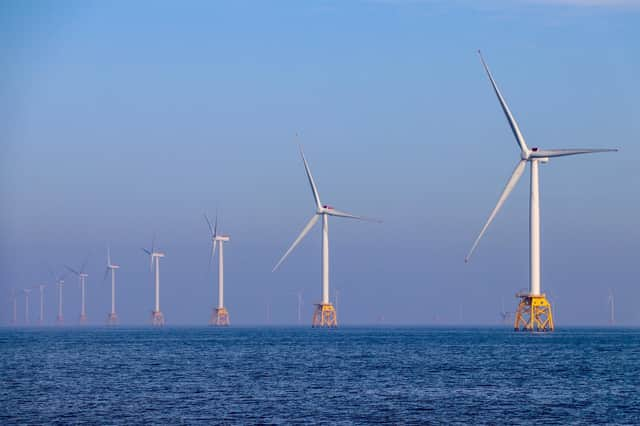 I was recently taken out to see Floating Offshore Wind Turbines. These Leviathans standing some 190 meters tall and with turbines spanning over 160 meters are impressive from distance, and even more imposing when underneath. Coming constructions will be even bigger, 300 meters predicted, that's the height of the Eiffel Tower.
The power generated will be enormous. Scotland already produces more electricity energy from renewables than the country requires, and that's only going to increase. One windfarm alone, Berwick Bank at the mouth of the Firth of Forth, producing enough to power more households than there are in Scotland. A good thing for our country and our planet.
But seeing the turbines turning on or offshore gives little comfort to those who can't afford to power their homes as cheap renewable Scottish electricity's charged at the cost of expensive European gas. The opportunities being missed though go far beyond the cost of electricity in an energy rich country. What about ownership, community benefit and employment from them?
Along from the Berwick Bank development in the Forth is another field, Neart na Gaoithe and its energy's coming ashore near Torness. It's owned by EDF, the French state energy company and ESB, the Irish State Electricity Board. An Irish diplomat told me it's their state companies largest investment outside Ireland. So, profits from off our shores go to Dublin and Paris, not Edinburgh or even London.
They're not the only state operators either in the Scottish sector, as there's currently six in total, either wholly state owned or with a majority or significant government stake. Sweden, Norway, UAE and China but none from Scotland or the UK. Denmark has taken a 20 per cent stake in every field its licensing. Given past SNP promises of a state energy company, we're entitled to ask where's our share?
What about benefits for communities where it's coming ashore? There's statutory provision for community benefit with onshore but none for offshore wind. Whilst understandable perhaps in not being foreseen when the legislation was written but it's a failure that needs resolved.
Despite hinting that they would, nothing has yet been done by the UK Government. Meanwhile Ireland with far less resource than Scotland's ensuring that 24 million Euros per annum will be available for communities with offshore energy installations. East Lothian residents can only look and greet.
And what about jobs? Much of the offshore resource will be outwith the territorial water limit of 12 miles. There's already concern that health and safety legislation applying onshore, in territorial waters and legislated for in oil and gas installations doesn't cover the work that's going to be required. Hence why the loss of a worker's life several months ago from an offshore wind vessel only 100 miles from Aberdeen, sees responsibility rest with Liberia, as the ship was registered there.
But what about jobs? In Neart Na Gaoithe UK seafarers were laid off and replaced by cheap south Asian labour. Outwith territorial waters employment laws and minimum wage don't apply. As flotels, and supply vessels become the base for workers, will UK workers again be supplanted by exploited labour from abroad.
We can't allow a P&O situation to happen here. Employment laws must apply, along with immigration rules. Our country, our communities and our workers must benefit from this bounty.
Comments
 0 comments
Want to join the conversation? Please or to comment on this article.