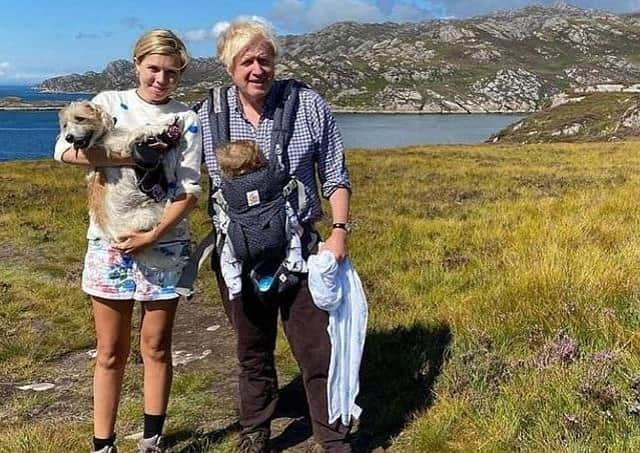 Johnson was said to have cut short the break due to security concerns
His latest tweet was posted as Boris Johnson cut short his Highland holiday after photos were published that identified the cottage he was staying in – sorry, camping near. Downing Street sources said they feared the family could be "mobbed by Scottish nationalists" and a senior Tory told the Sun: "The finger of blame is being pointed at the SNP, particularly Ian Blackford who is local." In fact, the SNP's Westminster leader lives 50 miles and an hour and a half's drive from Applecross, but that invariably seems "local" in London.
Such a ludicrous scenario might stack up quite nicely in the minds of advisers whose only forays to hostile Scotia have been occasional trips to the Edinburgh Festival. But on this occasion their views should not have mattered. Mr Johnson's current charm offensive aims to sway voters in Banff, not Basildon. So the question is: did the threat of an insurrectionary Highland mob led by the douce Westminster SNP leader ring true for anyone north of the Border – and, if not, why did the Prime Minister risk deflating his already devalued currency in Scotland with such a patent porkie?
The Ross, Skye and Lochaber MP immediately rejected "these preposterous claims" and, let's face it, Mr Blackford isn't the kind of political renegade who would risk a national security "incident" just to spoil his rival's week under canvas. More to the point, his boss certainly isn't.
Besides, and this may come as a huge shock to some overwrought headline-writers, the prospect of being somewhere near the McAvity's Cat of British Politics has not been the talk of the Highland steamie, just as David Cameron's regular trips to Jura were known about and roundly ignored and the Queen Mother's trips to Caithness either welcomed or tholed. There are 31 dukes in Britain today and, according to Green MSP Andy Wightman, each one owns land in Scotland. So Highlanders have had to get used to "special" visitors. Over long generations they've learned not to bat an eyelid – never mind a megaphone or placard – in the presence of the great and good. Discretion is a matter of self-preservation in a feudal society – as well as traditional, old-fashioned good manners.
One leading tabloid suggested locals contacted "the parazzai" – as if long-lens- wielding snappers were not also employed by every tabloid paper. And even if locals did tip off the papers (and there's no proof they did), it was a London-based, unionist paper that decided to commission the photographers and print the pictures that would inevitably lead to identification of a cottage so many other folk have previously rented.
It was a joint Johnston-bodyguard decision to leave Applecross on the grounds the PM and his family might be vulnerable to a sniper – although that would be true wherever he holidayed, once his whereabouts were known.
Blaming Applecross folk for Mr Johnson's "security leak" says a lot more about the accusers than the accused.
But let's be charitable. Perhaps the vigorous protests mounted at no notice during Mr Johnson's official visits to Orkney and an RAF base in Moray last month persuaded out-of-touch English Tories and red-tops that an "Indy flying squad" exists and needs only the coordinates of a prominent British minister's location to strike.
The truth is rather different.
Well organised Yes groups have continued to meet all over Scotland since 2014. So the Orkney and Moray protests were mounted by local people, not a bunch of hastily flown in agent provocateurs from Glasgow. The reason they turned out was simple. Mr Johnson was visiting their home patches in his official capacity as Prime Minister and Tory leader, flanked by cameras with a heavily trailed intention to wax lyrical about the benefits of the Union.
That's very different from a private, family visit, with partner and child and no public pronouncements. So while some folk might take a different view, I'd be astonished if Yes-supporting locals planned to acknowledge the PM's presence at all. Highlanders generally dislike confrontation and the pointless fuss that accompanies publicity and celebrity. Doubtless, that's why his bodyguards thought Applecross was such a safe holiday destination.
I'm reminded of the late Splash Mackillop on Berneray, North Uist, who kept journalists away from Prince Charles during his tattie-planting days on the island's machair in the 1980s. I'm pretty sure Splash wasn't a massive royalist. He just respected a visitor's desire for peace and quiet.
Nor is the Central Belt prone to experiencing "Yes mobs".
Without living here, it may be hard to weigh one hostile banner outside Edinburgh airport against dozens of complaint-free, AUOB marches, with 100,000 peaceful, self-stewarding participants. But I'd guess most Scots can identify the rule and the exception. And I'd wager many English voters can too.
Despite repeated attempts to ramp up cross-border tension after Nicola Sturgeon's warning about visitor restrictions, thousands of English voters now prefer her daily press briefings to those conducted by their "own" ministers. Why? More clarity, caution, contrition, logic and strategy; less buck-passing and evasion and no un-sackable advisers.
But there's another reason anti-English accusations don't stick to the SNP. The Scottish Government could have made ethnicity the basis of voting in the 2014 indyref but instead chose residency, even though that ruled out famous expats such as Sir Sean Connery and ruled in tens of thousands of English-born folk like myself. So let's toss the excuses aside. There are far more likely explanations for Mr Johnson's decision to head home.
One, the midges. Two, the need to be seen camping once the press arrived. Three, terrible newspaper headlines about his absence during the English exam crisis. Maybe Mr Johnson and his entourage will have better luck camping incognito in the Highlands next time.
But since the PM's "hug-a-haggis" strategy will so clearly end with the Holyrood election in May, baby Wilfred may well have had his first and last night sleeping with the midges.