Why a Green New Deal and Universal Basic Income are now possible – Joyce McMillan
The response by governments to the coronavirus pandemic has revealed the true power of the state, so we know how much could be done to tackle poverty and climate change, writes Joyce McMillan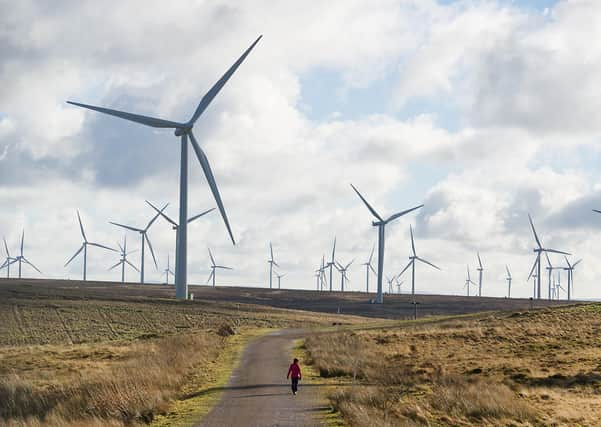 The month of July, albeit a strange one; and although the UK's Covid-19 infection and death rates remain frighteningly high by most European standards, attention swivels to the business of "getting the economy moving again". In the House of Commons, the Chancellor of the Exchequer announces a £30 billion recovery plan which amounts to a strange mixed bag of welcome and necessary measures, and an odd, blinkered kind of sleepwalking back towards business as usual.
So on one hand, there's a welcome "green" £3 billion to support increasing energy efficiency in homes and public buildings, and an essential scheme to support the employment of young people against what threatens to be a "lost generation" of 16-24 year olds; on the other, a temporary stamp duty reduction, for England, that does little but encourage already well-to-do people to move house more often, and – for the month of August only – a fistful of £10 subsidies for non-weekend nights out at Nandos or Pizza Hut, a move that, all in all, could hardly do less for the sustainable future of the nation.
There, though, is the rub; for no matter how useless, ugly, and even self-destructive large sections of our 21st-century economy are, we are addicted to it largely for one reason only: because it provides us with jobs. During the early weeks of lockdown, we were able both to glimpse, and to think about, the shape of a world in which we all rush about less – getting and spending and laying waste our powers, as Wordsworth put it. We have heard the birdsong, and seen the skies clear; we have had time to cultivate our gardens, if we are lucky enough to have them, and also to get to know our neighbours, rebuild community networks, and draw closer to those whose disabilities and other problems have often made them lonely bystanders to our high-speed daily routines. We have learned, in other words, that a very large 25 per cent slice of what we currently value as economic activity – and constantly encourage, to feed the gods of growth – is at best often irrelevant to our well-being, and at worst actively damaging, both to us, and to the planet.
Yet still, the assumption is that things must "return to normal" as soon as possible; and why? Because we need the work. We work in aviation even though we know that people must begin to fly less; or we work in shops that sell £1 t-shirts, even though we know that the future lies in better-quality clothes that last longer, and generate less waste. And so long as our livelihoods depend on these industries, we are not only trapped in the old system, but actively motivated to campaign against change, as many business groups and unions are doing at this moment.
Two things are therefore blindingly obvious, about this strange crisis that Covid-19 has inflicted on us. The first is that, for all its horrors, it represents a clear chance to pause and think, before we simply press the re-start button on our old economy. In December, voters across the UK decisively rejected the manifesto for economic transformation and greater social justice put forward by Jeremy Corbyn's Labour Party, mainly because they saw such proposals as "pie in the sky", and unaffordable because "there is no magic money tree".
Yet now, just seven months later, we have seen quite clearly that given the motivation, even a right-wing British government can transform national economic life in ways that make the Corbyn manifesto seem, if anything, too unambitious. They can shut down whole swathes of economic activity, and find the money to pay the wages of millions of workers; and they can do all this with strong public support, provided most people understand the need for it, and feel secure in the knowledge that their basic needs will be met.
What the Covid-19 crisis has shown us, in other words, is the size and scale of the toolkit available to governments, if they truly decide to tackle climate change; which matters, because the second obvious truth about this crisis is that it comes at a time when every government worth the name should be investing massively in, and putting into action, a plan for economic transition to a green, low-carbon economy that should, to be effective, dwarf even the massive spending of Roosevelt's New Deal or the postwar Marshall Plan. Work in areas that can only contribute further to catastrophic climate change should be wound down, and workers re-trained to play a part in our sustainable future; and public support for this huge and disruptive change should be made possible – indeed can only be made possible – by offering every citizen a combination of basic security, provided through a Universal Basic Income, and a guarantee of retraining and of future work, should they want it.
Of course, it will be said by many that such dreams of a sustainable future are all very well, but are simply unaffordable, even at current rock-bottom interest rates. Yet whether we implement the kind of transition plan envisaged above or not, it is clear Britain faces what one union leader called a "tsunami of unemployment" this winter; and if government is already spending scores of billions on applying "sticking plaster to economic disaster", it becomes increasingly hard to argue that those billions and more should not be spent instead on a transformation that may be our children and grandchildren's best hope of any future at all.
And just imagine, if you can, the relief of finally setting our feet firmly on that path; imagine the energy that would be unleashed if people could finally lift their eyes, stop avoiding the long view for fear of what they will see, and believe, once again, that they are working for a long-term, sustainable future for the whole society they live in, as well as for themselves and for their families.
And then tell me again, in the light of what has happened in the last six months, that this is something that we can't or shouldn't do; because believe me, the moment we choose to, yes we can.
A message from the Editor:
Thank you for reading this article on our website. While I have your attention, I also have an important request to make of you.
With the coronavirus lockdown having a major impact on many of our advertisers - and consequently the revenue we receive - we are more reliant than ever on you taking out a digital subscription.
Subscribe to scotsman.com and enjoy unlimited access to Scottish news and information online and on our app. With a digital subscription, you can read more than 5 articles, see fewer ads, enjoy faster load times, and get access to exclusive newsletters and content. Visit www.scotsman.com/subscriptions now to sign up.
Our journalism costs money and we rely on advertising, print and digital revenues to help to support them. By supporting us, we are able to support you in providing trusted, fact-checked content for this website.
Comments
 0 comments
Want to join the conversation? Please or to comment on this article.