White Stag reminds us how our history makes a deep and simple mark
Around 150 years ago, estate workers built a landmark to commemorate the wedding of their laird and the Stag of Mormond Hill emerged as a proud expression of their home and their place within it.
Today, those same feelings have been revived as the stag near Fraserburgh shows itself once again.
Volunteers have spent five-years restoring the monument built in love and dedication as the echoes of the past ring loud for those living in its shadows today.
Inch-by-inch the stag was uncovered as gorse was cleared and bracken shifted to expose the beast which was built by tenants using horse and cart to ferry tens of thousands of stones to the site. Back breaking work, both then – and now.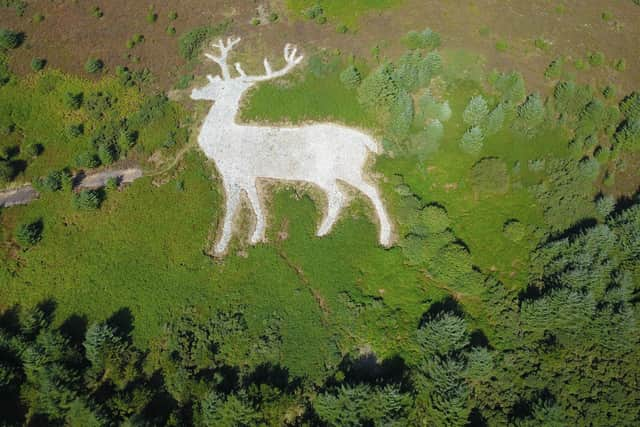 It remains the only hill figure of its kind in the world and marks home for those in its midst.
As the restoration project deepened, extraordinarily rare and faded photos of past caretakers of the stag appeared like magic. Tales of the stag with its gleaming pile of quartz for an eye were shared. An old map helped to find the landmark, which had been hidden for many years, as locals were pulled to their history and those who had forged it. In an increasingly frightening and unstable world, our past is perhaps something we can more happily invest in.
Mormond Hill has changed over the years as mobile phone masts and commercial forestry take their stake but the deep regard for the monument and its place on the hill appears to be timeless.