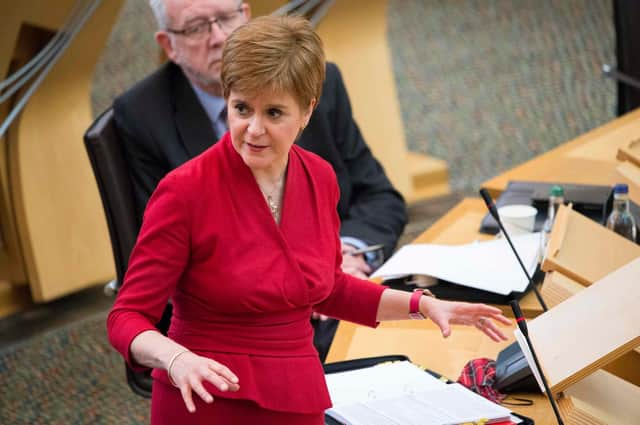 No politician, no leader of a government would have wanted to face the challenge presented by the Coronavirus pandemic. I do not envy her and am sure it has given her sleepless nights and a great deal of worry.
In many respects she has acquitted herself well, having an assertive and controlled style of communication that sounds authoritative. One senses every word has been chosen carefully rather than blurted out – although that offers the possibility that if she has chosen the wrong words then she is left with no hiding place.
Being so self-assured, so definitive can be a double-edged sword in politics.
Remember the time when the First Minister assured us that thanks to her government "fracking is banned in Scotland" – only for her advocate in the court to admit this was not actually the truth but a "gloss"?
The arrival of the Coronavirus itself was bad enough – any time would be bad – but for it to come when attending to the collapse in Scottish education standards was her sworn priority – by which she wanted to be judged – was unfortunate for Scotland's school children. Looking ahead this time last January the First Minister would, I am sure, have been keenly looking forward to publishing the OECD report into Scotland's educational decline – a trend which started following the SNP coming to power.
She would have wanted to spend the next 14 months in the run up to this May's Scottish elections introducing new teaching initiatives, unveiling new spending proposals to invest in learning and ensuring iPads or other teaching aids could help the most disadvantaged pupils. That's what you do when you make education your priority.
But Covid came along; as early as April publication of the OECD report was postponed by more than a year, conveniently until after this May's election – a decision taken at a time when we were being told lockdown would last no more than a month or two. Then decisions on how to manage teaching in schools during the lockdowns were followed by embarrassing U-turns. And iPads? Who knows how many have really been delivered to help pupils, or where they are now? With our schools now likely closed until after Easter – when comparative data does not support such a damaging decision – convinces me the commitment to make education a priority was nothing more than a vacuous headline grabber.
In December 2019 general election the First Minister campaigned with a big yellow bus promising to "Stop Brexit" but then after Christmas 2020 ordered SNP MPs that Scots elected to vote for "No Deal" – considered by her the hardest Brexit of all. "You turn if you want to, this lady's definitely for turning", to paraphrase another female politician.
It should have come as no surprise, for back in March 2019 when there was a chance that Westminster might put into law SNP policy that any agreement with the EU must keep us in its Customs Union the First Minister ordered her 35 footsoldiers to abstain. The motion was lost by 8 votes.
We have also had the First Minister's commitment to co-operate fully with the Scottish Parliament's inquiry into her Government's handling of the accusations against Alex Salmond that were – after great public expense and defeats in the courts – dismissed by a jury in a court of law. Now it is clear great efforts are being made by her Government to be as uncooperative as possible, extending to an apparent resistance to supply materials that now require an unprecedented court order for them to be released.
The First Minister's uncooperative approach has been condemned by the Scottish Parliament but rather than pay respect to our hallowed institution of devolution that one might especially expect from a minority government, that decision – like others before it – is ignored. Such damage to the will of the people is a kick in the teeth to devolution and its worth.
Our First Minister is a politician who chooses her words carefully. Nothing is said that is not calculated to do anything other than reassure us anything wrong will be fixed – or any threat to our society will be rebuffed – all the while ensuring any front page will not go without a headline.
I have no doubt Covid is a huge challenge, that it has proven a distraction, and Nicola Sturgeon might be worthy of our sympathy. Yet what happened last week – a task force for independence and an eleven-point plan to hold a referendum are announced. How has she had time to direct, review and agree those? Where's the eleven-point plan for education?
Being so assertive, so precise means that by her own words the First Minister must stand or fall. Education a top priority? Protecting us from Covid? Stopping Brexit? Co-operating fully with the Parliament's Salmond inquiry? Respecting the will of the Scottish Parliament? None of the headline claims have transpired. Doing her utmost to deliver a referendum most Scots don't see as their top priority? Don't fear, the First minister has an eleven-point plan for that.
Brian Monteith is a former member of the Scottish and European Parliaments.