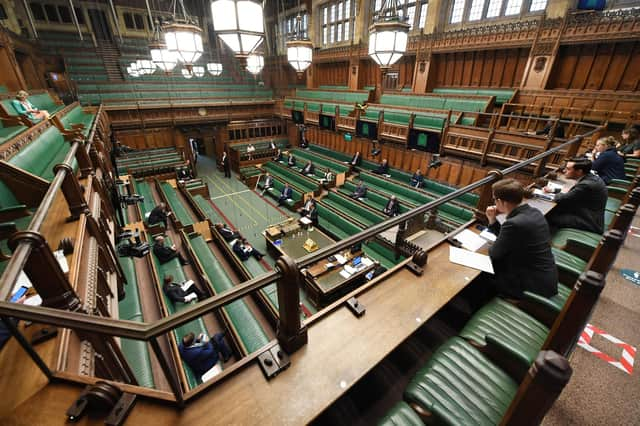 MPs observe social distancing during Prime Minister's Questions, while others take part remotel (Picture: Jessica Taylor/UK Parliament/PA Wire)
For those who take an interest in these things, history was made this week as the British parliament convened during the pandemic whilst observing the law on social distancing. A limited number of MPs met in the House of Commons chamber and 120 more joined in online. Everyone kept more than two metres apart and tried to be nice to each other – nicer than usual, anyway.
For the record, no SNP MP made the trip to Westminster as we figured there was nothing we could not do remotely – and if we are demanding millions of others work from home we ought to lead by example.
Does it matter? Did it work?
Firstly, let's admit the scale of what just happened. These are baby steps into the digital age by an institution steeped, indeed pickled, in its own traditions. But the fact that they happened at all – and in a matter of a few short weeks – shows just how traumatic and massive the fallout from Covid-19 is and is going to be.
I think it does matter. Elected representatives must be able to hold the Government to account. But this is not just an abstract point of democratic theory. It has a real effect on what happens.
As evidence I refer you to week zero. Remember (it seems a long time ago) that week when the Government told everyone to stay away from pubs and restaurants but didn't say they should close.
That provoked an avalanche of political activity demanding that if the Government was going to close business down, it would need to pay for it. For four days on the trot MPs of every party got stuck in. As a result, the political reality on the ground percolated through to ministers and senior civil servants heralding the Chancellor's remarkable package of support measures on 23 March.
And then parliament went on recess and it seemed as if the Government developed an immunity to pressure. The head of HMRC, facing criticism at the Treasury select committee last week, more or less argued that because they had moved so quickly and with such scale there were bound to be flaws. Well, maybe. But that's no reason not to sort them out.
I hope that with parliament back those in charge of this get the message loud and clear that there's no laurel-resting needed. We need action.
And did it work? Well it was better than nothing but there's much room for improvement. The hybrid nature of the experiment is the biggest problem. No matter how good the technology – and it needs to be better – if we allow a group of people to meet in a real place, those joining virtually will always look like also-rans. If everyone was in the same boat, it would not only be fairer to all, it would provide an incentive to make it work better.
Days of gentlemen's club are over
But the other big problem is that it will always look odd when procedures and formats are forced into a medium they were not designed for. It's the same reason why stand-up comedy is always better live than on telly. So, the agenda and format of proceedings need to change too if this is to work. The Punch and Judy Q&A needs to be replaced by more forensic examination of ministerial action. Sessions should be based not on the actions of specific departments but be general and allow inquisition of the government.
There will be many in the House of Commons who view what is happening with alarm and long to get back to the way things were. But there is no going back. Nor should there be. In a world where millions vote online during weekly entertainment shows and grannies throughout the land are using their iPads to take part in family quizzes, parliament must embrace the digital age.
This will allow MPs to spend more time in their constituencies, grilling ministers and working in committees remotely, coming together in physical plenary only when necessary. The days of the gentlemen's club are well and truly numbered.
Tommy Sheppard is the SNP MP for Edinburgh East