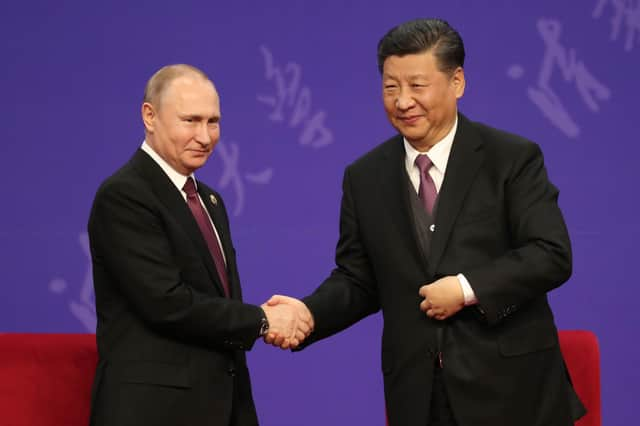 The sanctions adopted thus far fall into three categories. First, there are personal, targeted sanctions against individuals and corporations believed to be involved in, or supporting, the aggression against Ukraine.
These may hurt a small number of individuals. However, they were telegraphed long in advance. Most will have moved their assets into safer jurisdictions and they may be willing to live without the benefit of shopping at Harrods.
Second, there are specific measures intended to economically isolate the self-declared republics of Donetsk and Lubansk. These are largely symbolic. There are hardly any economic ties between them and the West.
Third, there are steps directed against the Russian economy as such, seeking to impose costs on Russia for Mr Putin's adventure. These steps too are rather limited. The Kremlin has long prepared for far worse, retaining significant cash reserves, moving away from the dollar and pivoting its economy towards Asia and particularly China.
There is also hesitancy about firing the big gun – the removal of Russia from the Swift banking system. Many fear that this, much like cutting Moscow off from further foreign loans, would put at risk the western banks holding chunks of Russia's US$500 billion foreign debt.
Even the suspension of the Nordstream 2 gas pipeline project by Germany was not unexpected. Moscow is not desperately dependent on the sale of the gas that was meant to flow through it. The £10 billion venture involves considerable western investment. And Mr Putin will be confident that the project will go on stream after a period of dignified outrage in the West. Western Europe, after all, receives over 30 per cent of its gas supply from Russia.
It is clear that there is no prospect of mandatory sanctions that range beyond the West and that could really hurt. The UN Security Council is subject to the Russian veto.
Given these limited options, what else can be done? The Biden Administration has ensured that the West is confronting Russia in a perhaps unexpectedly united way. The White House has called Russia's game early, anticipating the aggressive moves likely to be taken by the Kremlin.
This strategy is making it far more difficult for Moscow to insist on a 'balanced' view by other states, international organisations and the media, when considering its actions. Moscow's propaganda moves do not grip this time around. Aggression is being unmasked as aggression.
Russia has now re-packaged its previously covert military presence in the two Ukrainian provinces. Consecrating Donetsk and Luhansk as supposed states is meant to create legal authority for them to invite Russian 'peace-keepers'.
This transparent manoeuvre, intended to disguise the further armed intervention, was immediately rejected by the UN Secretary-General – an office normally keen to portray strict neutrality in controversies among UN members.
The verdict of the international court of public opinion will likely be strengthened when the UN General Assembly considers the matter over the coming days. The Assembly already overwhelmingly rejected the supposed referendum on independence in Crimea that led to its purported annexation by Russia in 2014.
Can there be more formal action, for instance in the World Court? After 2014, Ukraine invoked anti-terrorism and anti-discrimination conventions which allow reference to the court. But such legal proceedings typically take many years and are narrowly focused on the substance of those treaties. The court can however issue emergency orders to the parties, requiring them to cease on-going violations.
Ukraine has also accepted the jurisdiction of the International Criminal Court to prosecute those committing crimes on its territory since 2014. This would allow the court to initiate proceedings against Russian service-members active in Ukraine. Still, this threat is unlikely to have much of an impact on decision-making by President Putin.
Looking at the limited range of options available, it seems that the West is at present doing most of what can be done. As long as the UN Security Council cannot be brought to bear on the situation, tightening the screw of western economic sanctions remains the most powerful weapon that can be deployed.
Even outside of Nato, Ukraine is of course entitled to request foreign support in the exercise of its right to self-defence. The US and UK have commendably led the way in seeking to enhance the capacity of the Ukrainian military to mount a credible defence.
Mr Putin's bid for a return to great power status was inaugurated with Moscow's direct armed intervention in Syria, including round-the-clock air attacks and televised cruise missile launches, on behalf of its beleaguered president, Bashar Assad. Russia had no hesitation in risking a military confrontation with western forces supporting the opposition in the country, knowing full well that Washington would exercise sufficient restraint to avoid such a dangerous outcome.
Similarly, there is of course no appetite in the West for the exercise of collective self-defence on behalf of Ukraine. Short of the use of force, and universal sanctions adopted by the UN Security Council, the most important task is to maintain unity and keep calling Moscow's game, extending international opposition to Mr Putin's gamble beyond the West and thus denying him the international credibility and standing he craves.
A key element in this campaign must be engagement with China. Beijing has already toned down its initial support for the Russian adventure, returning to its usual exhortations that conflicts must be settled peacefully. China's leaders must be made to calculate whether they really want to come along on the wild ride that Mr Putin may have in store for us, risking its own ambition to be recognised as a respected world power.
Marc Weller is professor of international law and international constitutional studies at the University of Cambridge
A message from the Editor:
Thank you for reading this article. We're more reliant on your support than ever as the shift in consumer habits brought about by coronavirus impacts our advertisers.
If you haven't already, please consider supporting our trusted, fact-checked journalism by taking out a digital subscription.