We need team work to provide care at home for the elderly - Kevin Dorren
News of Glasgow City Council ending funding for Food Train, a charity providing lifeline food deliveries to older people, highlighted Scotland's health and care crisis.
If older people can't receive care in their own homes – including hot meals and friendly chat – then there's a knock-on effect.
Ambulances can't respond to 999 calls, because they can't admit patients to hospitals, because hospitals have no free beds, because people can't be discharged to care homes or for care-at-home. And so the cycle repeats.
Councils once provided these "meals-on-wheels" services directly. Yet a decade of austerity saw services migrate from councils to charities, and now inflation stoked by the war in Ukraine has brought funding to this crisis point.
This sequence of events should come as no surprise. We've known for decades that Scotland's and Britain's populations are ageing. Pupils have learnt about Japan's ageing population in geography lessons since the 1980s.
Bed blocking is now an emergency, and older people are being vilified. This can no longer only be about medium- and long-term solutions, such as hiring more desperately needed carers. This must also be about easing pressure on hospitals in the coming days and weeks, not just months and years.
One solution must involve the public, private, and voluntary sectors working more closely together. Political ideologies must be laid aside because this isn't about "privatising the NHS". Much of Scotland's social care is commissioned by local councils and already delivered by companies and charities.
In Bath, our Parsley Box food delivery service worked with older people's charity Age UK, the local council, and the NHS Trust to provide discharge packs for patients. These included meals to heat at home in their microwaves, along with essentials like tea and milk. Donating meals also helps us to avoid food waste – an important step in tackling climate change.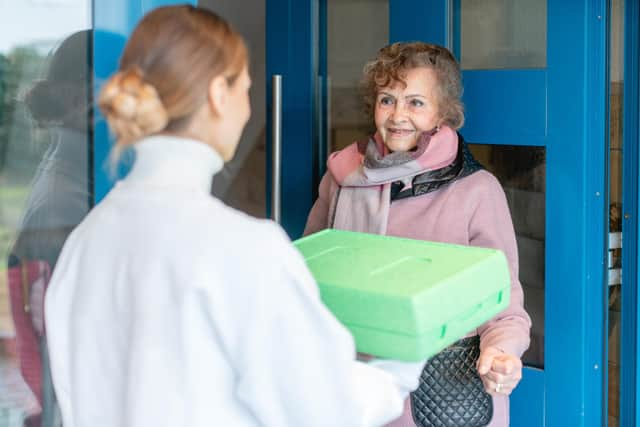 Helping older people is about more than a hot meal though – it's also about the conversation with the carer or the charity's volunteer or befriender who comes into their home to heat that meal for them. That's why companies, charities, and public sector bodies must work together to provide care at home.
We also need dedicated ministers for older people in both the Scottish and UK governments. Solving bed blocking in the NHS is a massive challenge alone – with figures last week showing a record 1,950 beds were blocked in November – but helping older people cuts across government departments, especially planning.
Social housing, sheltered housing, and retirement homes all have a role. Ultimately, older people need homes where they can live in communities with like-minded people. Incredible scientific and medical advances are helping us live longer – but that gift is wasted if people live lonely lives.
Kevin Dorren is a serial entrepreneur and chief executive at meal delivery service Parsley Box.
Comments
 0 comments
Want to join the conversation? Please or to comment on this article.