We can secure Scotland's energy future and its seabird population - Alex Meredith
In his new nature series, national treasure Sir David Attenborough gave us an insight into why Britain's seabirds are facing decline.
The great man pointed out that the key reasons for such bird population numbers struggling were that climate change and overfishing are harming the sand eels they rely on for survival.
He closed the show by saying: "Though rich in places, Britain as a whole is one of the most nature-depleted countries in the world. Never has there been a more important time to invest in our own wildlife. To try and set an example for the rest of the world and restore our once wild isles for future generations."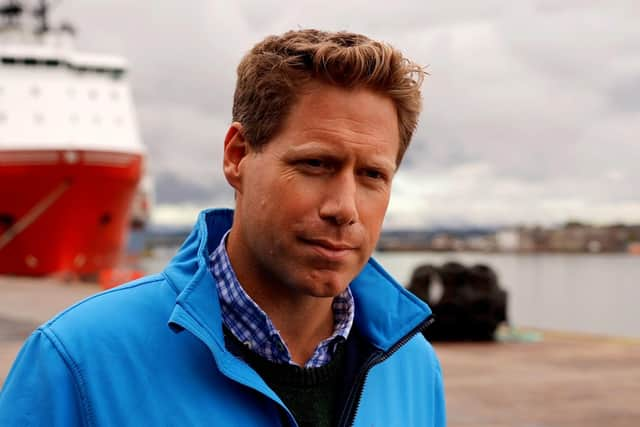 It's a stark warning. And an issue that needs tackled.
Which is why at SSE Renewables we have been working closely with the UK and Scottish Governments and key environmental bodies, including Marine Scotland, to ensure that a world-leading green energy project has careful stewardship of nature at its core.
Over ten years, SSE Renewables conducted one of the world's largest aerial bird surveys and we have used the data to refine our plans, carry out detailed analysis and put forward environmentally sensitive designs for the pivotal Berwick Bank Wind Farm project.
Berwick Bank is located roughly 30 miles off the coast of East Lothian. It is poised to generate up to 4.1GW of offshore wind power – generating enough clean, renewable energy to power more than five million homes. This would make the Berwick Bank project one of the largest offshore opportunities in the world currently under development, and help support Scotland's position as a global leader in offshore wind production.
In addition to the renewable energy supply benefits, an independent consultancy carried out an impact study that revealed at peak construction in 2026, the Berwick Bank project could generate about 4,650 direct, indirect, and induced jobs in Scotland – and 9,300 in the UK - contributing an estimated £8.3 billion to the UK economy over the project's lifetime.
However, projects like this must not come at the expense of Scotland's precious marine life.
To achieve a win-win situation, stakeholders must work together to support offshore wind delivery while promoting thriving seabird colonies in Scotland, and our research has allowed SSE Renewables to propose new measures to boost seabird populations in the North Sea as part of the Berwick Bank scheme.
The proposed strategic solution to support the delivery of Berwick Bank, and future offshore wind projects such as the recent ScotWind licensing round, is to halt sandeel fishing off the east coast of Scotland.
The modelling indicates that key seabird species, including Guillemot, followed by Kittiwake, Razorbill, Puffin, and Gannet, could benefit from increases of more than 20,000 birds annually if such ecosystem management measures are implemented. By putting in place targeted sandeel closures, we can increase seabird numbers while delivering large-scale offshore renewable projects in Scotland.
Innovative solutions like these must be taken forward urgently if Scotland is to achieve its environmental targets, power the move away change away from fossil fuels - and become a global leader in offshore wind production.
Actions, not ambitions, are needed to secure Scotland's energy future - as well as its seabird populations.
Alex Meredith, Berwick Bank Project Director
Comments
 0 comments
Want to join the conversation? Please or to comment on this article.