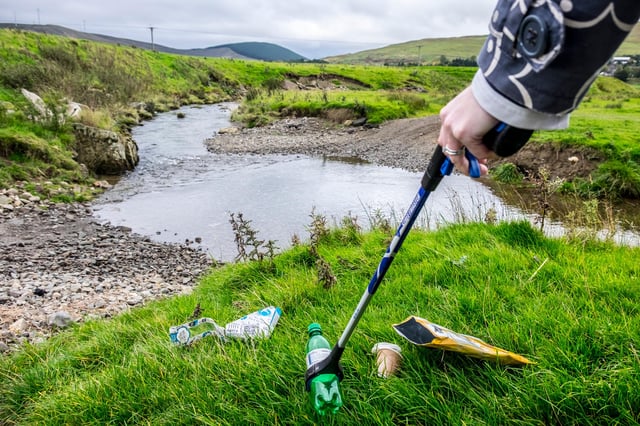 A clean up on the River Clyde.
The psychology and reasons for littering are complicated. The illegal behaviour should be an easy one to fix. But it isn't. For decades, Keep Scotland Beautiful, and many others, have been working hard to make it easy for people to do the right thing – to bin their litter or take it home with them. We've supported people across the country to do litter surveys and clean ups when people do the wrong thing. Without all this work things could be far worse.
But, the bottom line is that we are facing a litter emergency. At the end of 2020 we published our latest report, 'Time for a new approach to tackling litter', with damning evidence that the cleanliness levels of our cities, towns, villages, and beauty spots are worse than ever.
Our report called for a cross sector approach to tackle the complex interlinking problems leading to increasing litter levels and further collaboration to bring together a reinvigorated Scottish network to jointly reverse the decline.
The nationwide frustration and increased awareness of litter and the state of local spaces following the first Lockdown was helpful. It galvanized action. We've spent the first couple of months of 2021 working with key stakeholders to collectively come up with consistent national messaging to target this illegal behaviour – scaling up our potential impact and reach with a consistency not seen before.
In mid-March we jointly hosted a Litter Summit, with Zero Waste Scotland and the Scottish Government providing an opportunity to reflect on the current situation, including the impact of Covid-19, and to discuss how to restart the development of a new national strategy for tackling litter and identify some immediate priorities and actions.
As I write this the second Lockdown is due to end in April. The weather is improving. We're expecting people to start spending more time outside. This is likely to lead to more shocking images flooding social media as the national parks, beaches and mountains which are so important to our economy and personal health and wellbeing are trashed by some of those visiting.
Despite this, we are looking forward positively. We are preparing to reset, to harness the power of the angry citizens and turn that into action. We have had to postpone our normal spring clean activity this year, but instead will be encouraging people to collect data about the standard of their neighbourhoods, and to carry out litter picks this summer in household groups locally and most importantly to share the messaging to encourage people to do the right thing - making leaving litter socially unacceptable as well as illegal.
Turn anger into action on litter.
We can support you to turn your anger into action. To make litter a focus of conversations in your community, to reinforce correct behaviours and stimulate action. But we also need you to turn your tweets into litter picks. Your Facebook posts into surveys. All of Scotland can be beautiful. Help us reset your community's relationship with litter.
Barry Fisher, CEO, Keep Scotland Beautiful