Warmongering Iran regime's nuclear missile programme may prompt attack by Israel, triggering a major new conflict – Struan Stevenson
Revelling in its pariah status, the Iranian regime has violated all international standards in humanitarian behaviour.
Exploiting the tragedy of the earthquake in February that killed over 6,000 Syrian and 45,000 Turkish people and left millions homeless, without access to food or water, the mullahs have used so-called 'relief flights' to ferry arms and military equipment into Syria to bolster their ally Bashar al-Assad. Israeli intelligence noted that after the quake, hundreds of flights from Iran began pouring into Syria's Aleppo, Damascus and Latakia airports, pretending to be carrying aid. Instead, the regime's planes were loaded with spare parts for Syria's Iran-built air-defence network, together with advanced communications equipment and radar batteries, all of which have been extensively deployed during the on-going civil war.
According to Israeli intelligence, the flights were organised by the Quds Force, the extra-territorial wing of the Islamic Revolutionary Guards Corps (IRGC), blacklisted in the West as international terrorists. Iran has denied these reports, but Israel moved quickly to target the sanction-busting flights, using warplanes in late March to fire missiles at the runway at Aleppo's airport, putting it out of action shortly after two Iranian cargo planes, loaded with military equipment, landed.
Under United Nations' humanitarian-relief strategies, planes carrying aid can seek permission to land in the affected zones and are exempted from sanctions. The Syrian authorities granted special permission to flights from Russia and Iran, raising concern in Israel. And the Israelis are right to be worried.
Quite apart from arming and assisting Israel's sworn enemies in the Middle East, Iran now boasts that it has enriched 70kg of uranium to 60 per cent purity, only a fraction short of weapons' grade, and 1,000kg to 20 per cent purity. It is accelerating its development of a nuclear weapon and ballistic missile delivery systems, with the often-stated intention of wiping Israel off the map.
The Israelis have successfully eliminated several of the Iranian regime's top atomic scientists, but fear the threat of a nuclear strike is growing almost daily. Israel's hard-line prime minister, Benjamin Netanyahu, will not tolerate the idea of a nuclear-armed Iran and, without active intervention from the West, may take unilateral action to destroy the mullahs' top-secret, underground nuclear bunkers, triggering regional and perhaps international conflict.
Meanwhile, the West continues to dither and dawdle over Iran. It seems that no amount of provocation can stimulate a robust response. Under Joe Biden, the Americans diligently pursued the reinstatement of the defective Joint Comprehensive Plan of Action (JCPOA) nuclear deal with Iran, notwithstanding abundant intelligence that the mullahs were using the deal as a cover for creating a nuclear weapon. Iranian insistence on the lifting of all sanctions to re-boot their collapsing economy, together with their supply of kamikaze drones to Vladimir Putin for use in his illegal war in Ukraine, put paid to further negotiations.
Meanwhile, a bipartisan group of lawmakers in the US House of Representatives and Senate has introduced legislation in April to permanently authorise a law allowing the president to implement punishing sanctions on Iran's economy. The Solidifying Iran Sanction Act permanently extends a previous Act, which had been due to expire in 2026. Republican Representative Michael McCaul, chairman of the House Foreign Affairs Committee, said: "The Iran Sanctions Act is one of the most important tools in US law to compel Iran to abandon its dangerous and destabilising behaviour. This bill takes the long overdue step of striking the arbitrary sunset clause from the law, so that sanctions will only be lifted if Iran stops its threatening behaviour."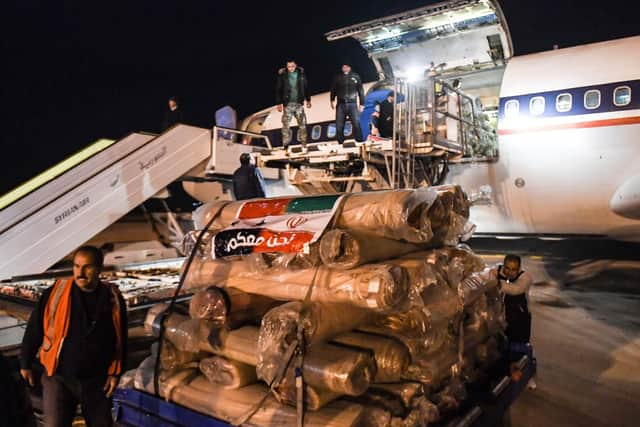 The EU and UK also need to ditch their appeasement policy towards the mullahs and reinforce sanctions, recall ambassadors, and show outright support for the 85 million Iranian people who are demanding regime change. Only the removal of the current regime and its replacement with a democratically elected government offering freedom, peace, justice and an end to the nuclear threat can resolve the growing menace to regional and world security posed by the theocratic, fascist mullahs.
Struan Stevenson is the coordinator of the Campaign for Iran Change and author of Dictatorship and Revolution. Iran – A Contemporary History
Comments
 0 comments
Want to join the conversation? Please or to comment on this article.