I sweep the floor, dust the counters, price and display merchandise for sale, and banter with the customers to raise thousands of pounds for vital cancer research. Across the country, there are 600 Cancer Research UK shops and mine is one of the smallest. However, this tiny shop is part of a charity network that, in 2021-2022, helped raise £668 million to support life-improving, life-saving research. I am simply a very small cog in a very big and important wheel.
When I retired from 47 years of university teaching, I wanted to continue to make a positive impact upon people's lives. My criteria for a regular voluntary post was a place within walking distance of my home where I could make a positive contribution. The Cancer Research UK shop just around the corner has, over many years, fulfilled that role for me.
In the month before I started, four of my lifelong friends had died of cancer. Instead of wringing my hands in grief, I chose to roll up my sleeves and volunteer in a shop where we raise funds to support scientific research. While doing this, I also have a lot of fun!
My late father owned a hardware store and I worked in his business until my early teenage years. I learned that when a customer enters the shop they must be welcomed and given an offer of assistance. The first time I did this in our Cancer Research UK shop, the customer appeared startled as this approach is so rarely taken in many businesses.
Undeterred, I still follow Papa's advice about laughter being the best way to encourage a customer to relax and part with their hard-earned cash. Therefore, I regularly tell our customers that "all of our trousers are on sale. If you purchase one leg, you get one free!" When I notice a customer looking at our extensive book collection, I tease them with a sly wink and say they must be at least 18 to purchase certain titles. The customer, usually over 50, smiles and sometimes even winks back as they know that I'm telling them how good they look.
When a customer enters the dressing room, I note the colour of the garment they are trying on and select items such as jewelry, shoes and scarves that will perfectly accessorise their selection. When they emerge from the dressing room, they carefully inspect the treasures I have selected and often add them to their purchase which helps raise more funds for vital research.
Finally, at the till, I tell the customer I have selected them as a "Chic Customer of the Day" and suggest they might like to try the ladies' lingerie on the third floor (we have never had a third floor). Once again they smile and sometimes even raise their eyes up, looking hopefully.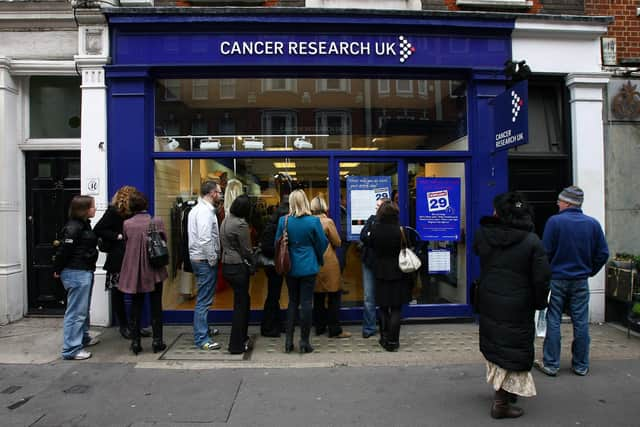 When they decline my invitation for additional purchases, I apologise, explaining I'm a volunteer who works every week to help fund cancer research. When their final amount appears on my computer screen, I invite them to become my "Philanthropist of the Day" by making a small additional contribution. More than 90 per cent of my customers make additional donations and some are quite sizeable.
One day a young woman said to me "if all the volunteers in shops like this were as enthusiastic as you, cancer would be cured!" I blushed and smiled. I then told her that I was just doing what I pledged to do when I accepted this small volunteer role. Each time I walk through the door, I am working with others to help people with cancer.
Our volunteers range from university students to senior citizens and are from many backgrounds. Some provide a couple of hours each week as I do and some donate full days of their time. The full-time manager is excellent in looking after her volunteers by regularly offering us coffee and always saying "thank you" at the end of our shift. Some volunteers have worked at the shop for decades while others only a few months. However, we all share the same commitment to the cause.
The customers are also varied in age and background. About 50 per cent are what I call regulars who visit us once a week or even more in search of the latest treasures. Many of these customers are also donors of merchandise that we are able to sell. Nothing that comes in is wasted. If we are unable to sell an item in our shop, it will be taken to another one in our network.
One of the best aspects of the dozens of charity shops in Edinburgh is the ethos of reuse, recycling and reduction that supports the sustainable development goals of our city and country. Our shop annually receives thousands of items from local citizens that are used to raise critical funds for cancer research, thereby keeping them in use for longer.
While standing at the till, I have heard many sometimes tragic and always heartfelt stories from customers who have suffered from cancer or have lost loved ones to this disease. Each one of them offers to top up their purchase price out of gratitude for the excellent cancer care they have received.
I now know where these miracles begin and how they are cultivated. Thousands of charity shop volunteers create them by selling one frock, one tea cup, one book at a time with the hope that our efforts will help scientists reduce suffering for others. And all this magic happens in a little shop of miracles just around the corner.